In a previous post we announced that Sacred Heart and the parish Knights of Columbus had answered the call from Catholic Charities to support the Hillsborough Hope initiative. Palm Sunday morning, Grand Knight Walt Pjetraj delivered 110 breakfast meals to the people of the encampment. How did this all come together?
Late in the week, Fr. George was contacted by Catholic Charities to see if we would be willing to commit to providing one breakfast a week to the residents of Hillsborough Hope. Fr George responded "absolutely — how many, when and where"…. and then immediately reached out to several ministries to garner support. The Knights, 90 members strong, agreed to take on the task to supply the Palm Sunday breakfast. Friday, they acquired enough for the first week and delivered it to the parish office. Later on Friday we put out the call to the parish: Palm Sunday, Hillsborough Hope and You. Saturday afternoon a small team of Knights came to the parish hall to assemble the 110 breakfast meals.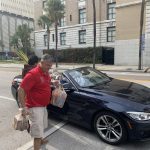 An hour later the Friars and the Knights were outside to meet,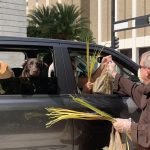 greet and accept an amazing outpouring of generosity from the parishioners of Sacred Heart.  175 cars dropped by to deliver an amazing amount of food donations, turn in their Sunday envelopes (a welcomed surprise), pick up their blessed palms – and talk with the Friars. It was fun, charitable, and the Friars loved the chance to chat, even if for only a moment.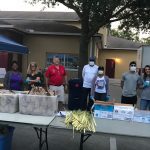 Sunday morning the Knights delivered the breakfast and blessed palms. Sunday afternoon the Knights returned to organize the donations from the previous day and decided while they were there to assemble another 110 breakfast bags. And it was good that they did. Hillsborough Hope called to tell us that not all morning breakfast times were covered this week. They inquired if we could supply another meal this week. We were ready. Stay tuned!
Sacred Heart – a parish offering Hope, Holiness, Healing, and Hospitality.
---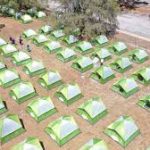 Tampa Bay Times article on Hillsborough Hope: