Advent and Christmas Season 2022/23 Masses and Programs:
— Christmas Eve —
Saturday, Dec. 24 | Vigil Masses Only
4 p.m. | Children's Christmas Play at 3:30 p.m.
6 p.m. | 8 p.m.
Mass During the Night | 11 p.m. | Music at 10:30 p.m.
— Christmas Day —
Sunday, Dec. 25 | 7:30 a.m. | 9 a.m. | 10:30 a.m. | Noon
— Holiday Docent Tour of the Church —
Monday, Dec. 26 | 3 p.m. | Reception to follow
— Daily Mass & Confessions | December 26-30 —
12:10 p.m. Mass | 11:30 a.m. Confessions
No 7 a.m. Mass during this week
 — The Solemnity of Mary, Mother of God —
New Year's Day | Sunday, Jan. 1, 2023 | 7:30 a.m. | 9 a.m. |10:30 a.m. | Noon | 5:30 pm
— The Epiphany of The Lord — 
Sunday, Jan. 8, 2023 | 7:30 a.m. | 9 a.m. |10:30 a.m. | Noon | 5:30 pm
---
Christmas Eve and Day Parking Update
Parking in the adjacent Madison Building Garage will be free during all Mass times on Christmas Eve and Christmas Day. Parishioners and visitors are asked to NOT take a parking ticket when entering the garage, contrary to our normal procedures for weekend Masses.
*Be advised that attendants will charge any vehicle remaining in the garage after 1:45 p.m. on Christmas Day.*
We would like to thank our friends at the Madison Building for their gift of convenience and accessibility for our parishioners and visitors this Christmas.
For general parking information, click here.
---
Live Streaming
Three Masses will be streamed live for those who are unable to join us in-person this Christmas.
Click Here for the 2022 Christmas Live Stream Page
Both the 4 p.m. Family – and – 11 p.m. Night Mass will be streamed on Christmas Eve. These broadcasts will begin 30 minutes prior to each Mass, to include festive offerings from our musicians and choirs. On Christmas Day, our 10:30 a.m. Mass will be streamed.
If you can't join at these specific times, the livestream videos will be available to view 15-30 minutes following the conclusion of each Mass.
---
Christmas Poinsettias | Order By December 15

Remember a loved one during the Christmas season with a poinsettia used to decorate our sanctuary. A long-standing Sacred Heart tradition, each plant that you see has been given in remembrance or honor of loved ones whose names will be memorialized online.
Request forms can be found on the table near the church entrance, or at the link below. All forms, along with the suggested donation of $15 per plant, must be received by Thursday, December 15.
Click here to download your 2022 Poinsettia order form
---
A Day of Christmas Shopping | 12/2/22 | 10 a.m.-8 p.m.
Join us for our annual day of Christmas shopping at the Sacred Heart Gift & Book Store on Friday, Dec. 2, from 10 a.m.-8 p.m.
In addition to having deals on amazing gifts for the Christmas season, our team at the gift store will serve spirits and snacks, and give away door prizes throughout the day.
What a great time to get your Christmas shopping done, pick up a little something for yourself, and enjoy Christmas cheer with fellow parishioners and the gift store team.
---
Blessing of the Creche | 12/2/22 | 6 p.m.
Join the Friars of Sacred Heart at The Franciscan Center (3010 N. Perry Ave. Tampa, 33603) on Friday, Dec. 2 from 6-7 p.m. for a very special tradition, the annual Blessing of The Creche.
This blessing is a yearly tradition at the Franciscan Center, and holds deep roots within the Franciscan order. Guests are invited to bring a figurine from their own Nativity scenes to be blessed. Christmas caroling, baked goods, and refreshments will be provided by the Franciscan Sisters of Allegany.
Toy, individually wrapped candy, and non-perishable food donations benefitting will be collected prior to the blessing. Educational and developmental toys and games, as well as culturally diverse toys for ages ranging from 5 to 13 years are of the greatest need. For more information, contact Mary Beth Sabo at marybeth@franciscancentertampa.org or 813-229-2695.
---
Cookies with St. Nicholas | 12/4/22 | 11:30 a.m.
Sacred Heart is hosting its annual Cookies with St. Nicholas event on Sunday, Dec. 4, from 11:30 a.m.–2 p.m. in the North Campus Auditorium.
Children can decorate cookies, play games, make crafts, and take pictures with jolly old St. Nicholas himself. Mark your calendars and make plans to join us!
If you're interested in volunteering, baking cookies or helping in general, contact us via email.
---
Historic Christmas Tour of Sacred Heart Church | 12/26/22 | 3 p.m.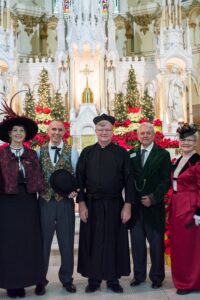 Join the Docents of Sacred Heart on Monday, Dec. 26 at 3pm for an historic Christmas tour of our Church. Decorated splendidly for the Christmas season, including the historic "creche", the tour of the church will include multiple stations featuring our docents, in period dress, and special guests explaining extraordinary features of the church including:
— the motivation behind the significant donation of the altar and altar rail
— unique architecture and design elements
— original relics that were obtained for the dedication of the church in 1905
— memorial stained glass windows
— renovations to improve and sustain our church
Learn about these and so many more interesting aspects of this ecclesiastical jewel of downtown Tampa. As always, docent-led lecture and tours are free, and open to the public.
A reception with light refreshments will follow the tour in St. Francis Hall.
Donations are gratefully accepted and used to continue the renovation and restoration of the church.