Knights Walk to Assist Pregnancy Center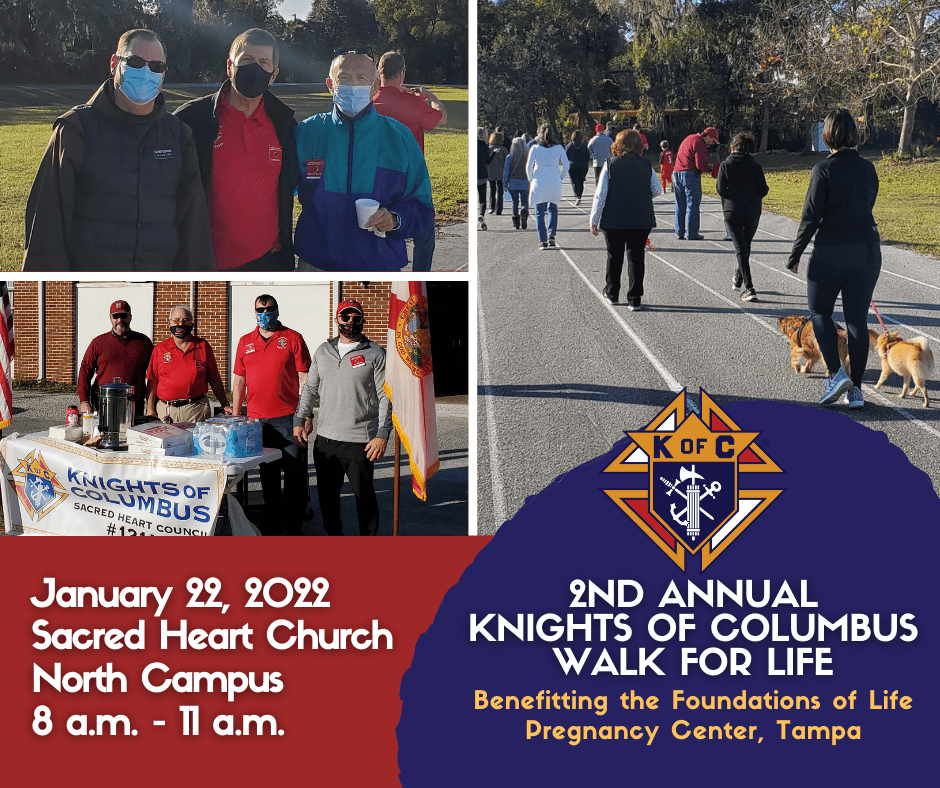 Sacred Heart's Knights of Columbus Council #12110 will host their second annual Walk for Life on Saturday, Jan. 22 from 8-11 a.m. at the North Campus (3515 N. Florida Ave.).
Money raised will help support the Foundations of Life Pregnancy Center in Tampa, with representatives from the center in attendance. The event will include praying the Rosary as you walk around the track.
Votive Angels are available for a donation of $10 in support of the walk and Foundations of Life by clicking here.
For more information, contact Knights members Bob Batson or Michael Cabrera at 813-389-6145 or via email.
Our thanks to the Knights and all ministries involved!
---
Fr. Stephen Announces Early 2022 Transfer
In an announcement made at all Masses on the weekend of 12/19/2021, pastor Fr. Stephen Mimnaugh, OFM notified the parishioners of Sacred Heart of his transfer to the friar fraternity at St. Bonaventure University in Olean, New York, effective in January, 2022.
Fr. Stephen's new assignment will see him working alongside those at the 163-year-old Catholic university,  learning the connections between higher education and social service agencies, and setting him on a path toward further service in post-secondary education administration for the Franciscan Friars of Holy Name Province.
Our own Fr. Mike Jones, OFM will assume the role of pastor on January 17, 2022, as described in a letter from Fr. Kevin Mullen, OFM, the Provincial Minister for Holy Name Province, regarding Fr. Stephen's upcoming transfer.
Coming to Sacred Heart in 2020, Fr. Stephen worked diligently to help guide the parish through the trials of the COVID-19 pandemic over the last year and a half. In a companion letter, Fr. Stephen stated his admiration for the "exemplary Christian discipleship" displayed by the parishioners of Sacred Heart, as well as his excitement for a new beginning.
The friars, deacon, and staff of Sacred Heart wish Fr. Stephen well on this new assignment.
Read the letters from both Fr. Kevin Mullen & Fr. Stephen below:
Letter from Fr. Kevin Mullen, OFM, Provincial Minister for Holy Name Province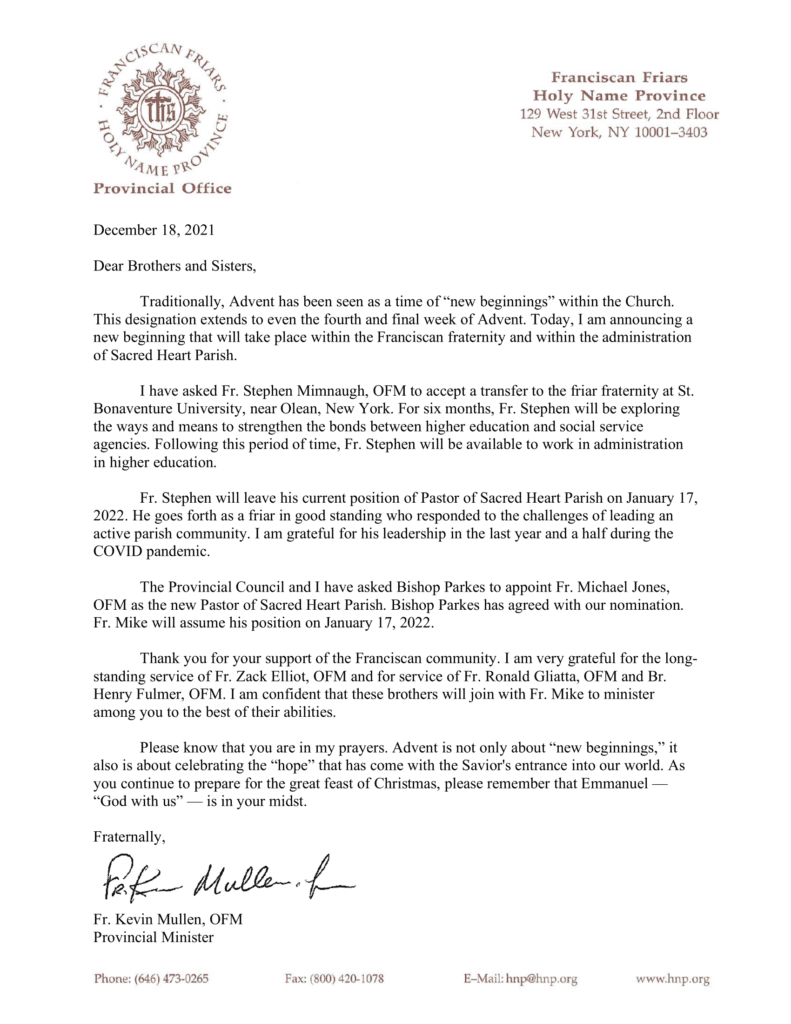 ---
Letter from Fr. Stephen Mimnaugh, OFM, Pastor of Sacred Heart Catholic Church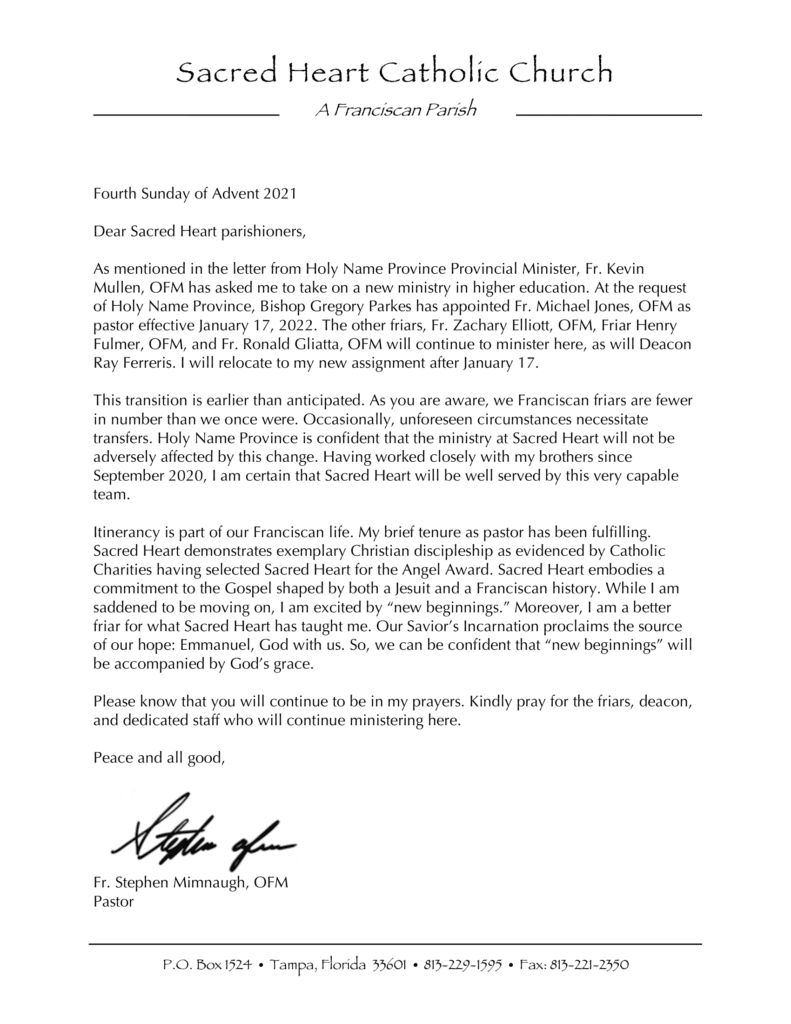 ---
Remembering Loved Ones During the Christmas Season
The flowers displayed in our sanctuary for the Christmas Season have been given in remembrance or honor of loved ones whose names are listed on the following pages.
Click here for a complete list of names and tributes.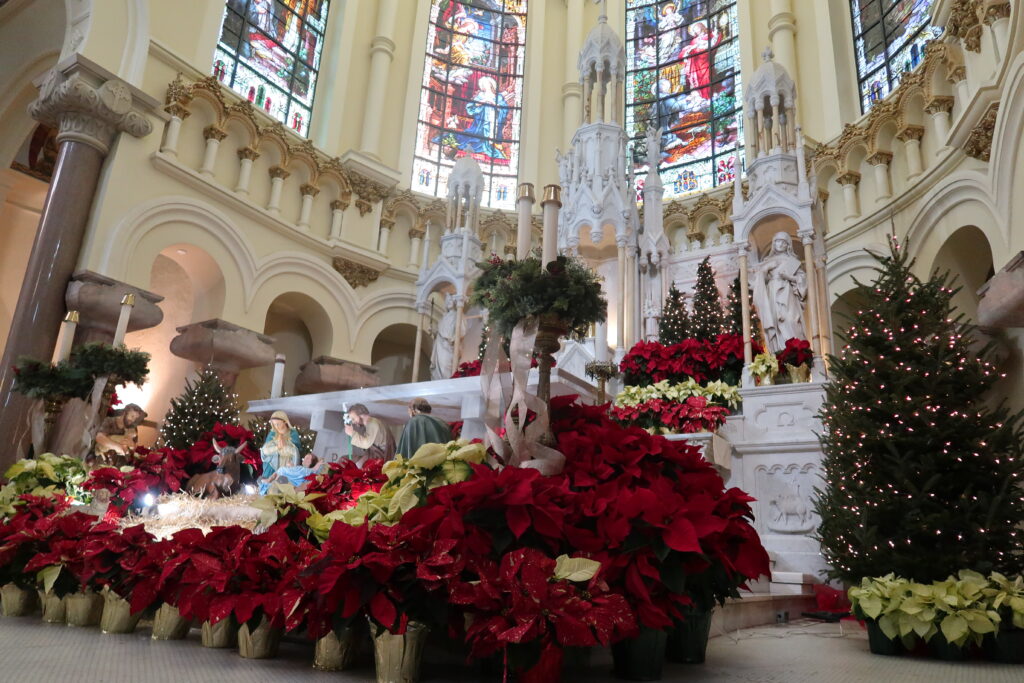 ---
Liturgical Resource Guides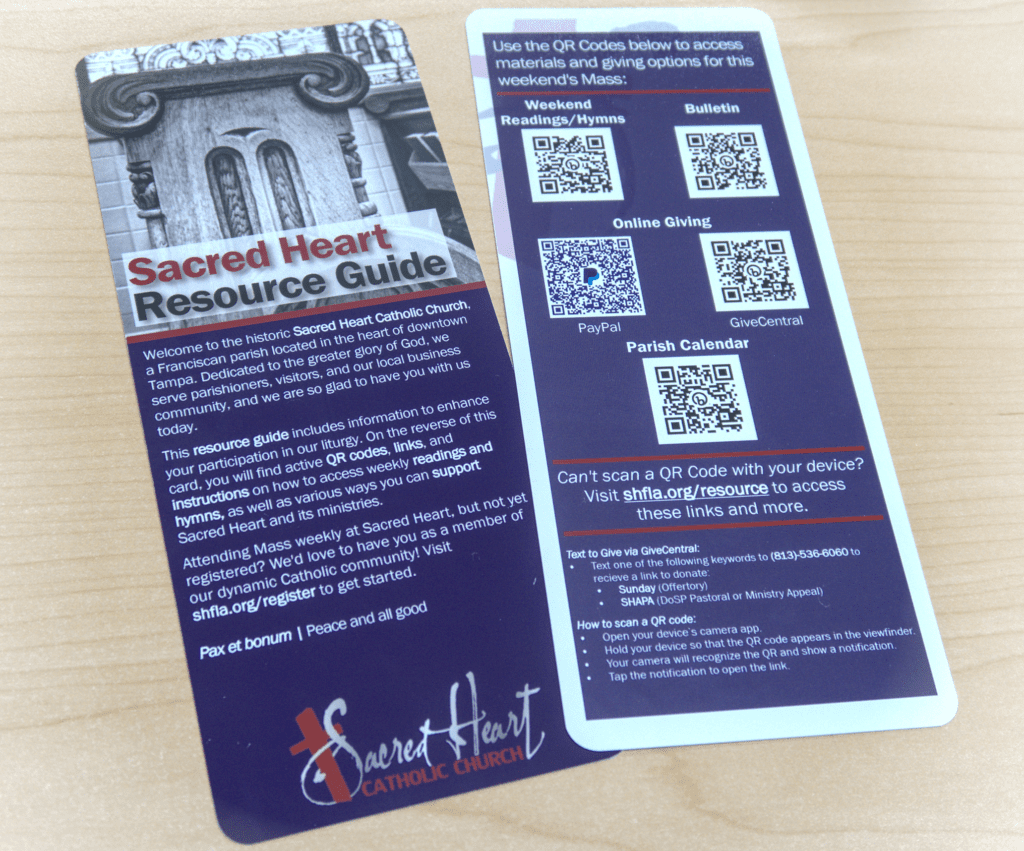 As we continue to respond to changes in our liturgy due to the COVID-19 pandemic, Sacred Heart will provide a new liturgical guide in the pews, featuring QR codes and links to resources commonly utilized during Mass.
On the card, you will find easy links to weekly readings and hymns, online-giving options, the parish calendar, and even the digital version of our weekly bulletin. Instructions on how to use a QR code are available on the guide, along with directions for alternate access to these resources for parishioners with devices that cannot scan a QR code.
We ask all parishioners to leave these guides in the pews, just as you would a hymnal or missal. These resources are also available at shfla.org/resource.
---
Choir Sings Again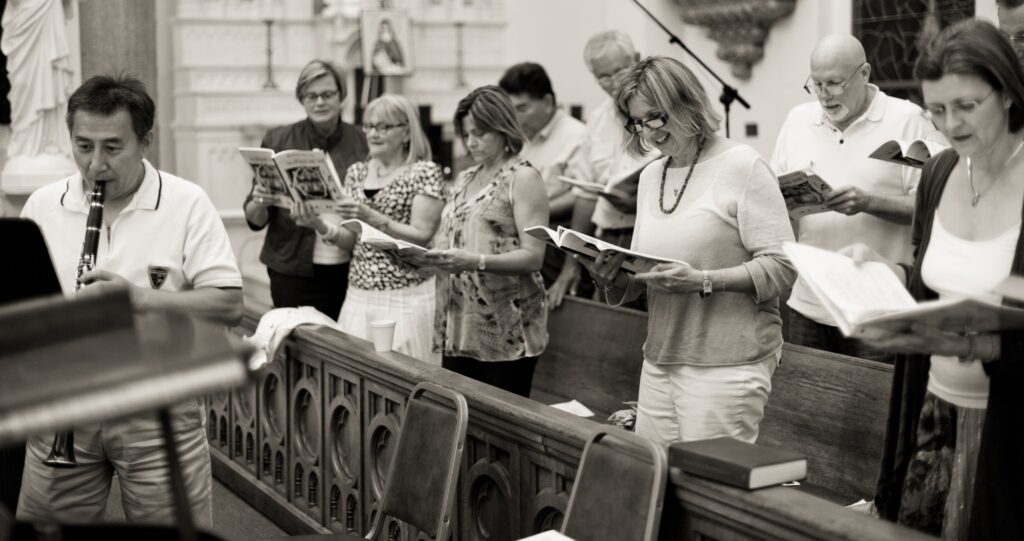 The parish choir has returned, and alongside it the start of a new children's choir!
The children's choir will support the 9 a.m. Mass each Sunday. Parents should have their children meet in the pews near the organ 30 minutes before Mass. Weekly rehearsals for the children's choir are scheduled for Saturdays at 10 a.m. at the North Campus.
The Parish Choir will support the 10:30 a.m. Mass each Sunday. Weekly rehearsals currently take place at 7 p.m. on Tuesdays at the North Campus.
To register, please contact our director of music, Philip Jakob, via email.
---
Interested in Becoming Catholic?
Are you, or someone you know, interested in becoming Catholic? Or do you have a child over the age of seven who has not yet been baptized? Or did you receive the Sacrament of Baptism as a child, but you haven't yet celebrated the Sacraments of Confirmation and Eucharist?
Sacred Heart offers the opportunity to come together in a small group to learn more about the Catholic faith. Sessions focus on the teachings and experience of Church and prepare individuals to celebrate the Sacraments of Baptism, Confirmation, and Eucharist during the Easter season. We welcome you to participate in the process with your questions, insights and faith story in a warm, accepting setting.  For more information on our Inquiry period, click here.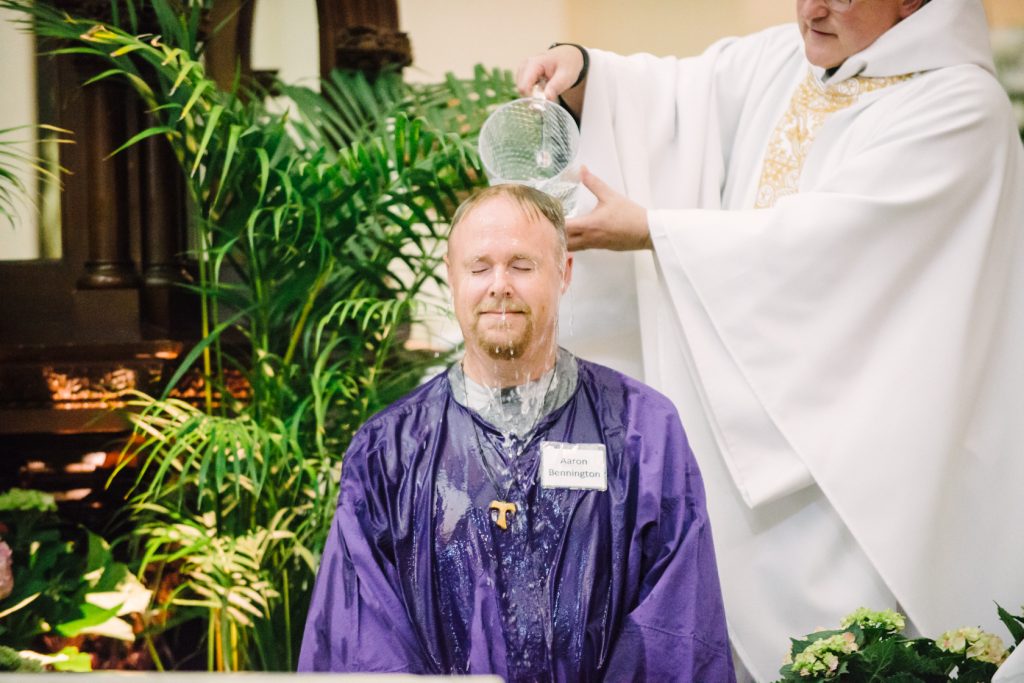 Adult Sacrament Preparation Starting Soon
Are you a practicing Catholic who has received the Sacraments of Baptism and Eucharist, but not Confirmation? We are beginning the  preparation process for those desiring to complete their Christian Initiation through the reception of the Sacrament of Confirmation. Sessions start Thursday, Jan. 20, at 7 p.m., in St. Francis Hall.   For more information, please contact Barbara Ferreris at 813-229-1595, Ext. 204, or bferreris@sacredheartfla.org.
---
Safety Guidelines
Please note: As we continue to monitor changes in our area regarding COVID-19 and the omicron variant, Sacred Heart will have the following items/protocols in place for the 2021 Christmas Season:
Sanitizing stations will be available at every entrance/exit of the church.
Protective masks are recommended while inside the church building, North Campus, or any area where crowds have the potential to gather, except when receiving Communion.

Masks will be available for those who would like them in the back of the church.

Communion will be distributed in the hand only.
Bishop Parkes has removed the General Dispensation from attending Mass beginning May 22-23, 2021. To read his letter, click here.
Our highest priority at Sacred Heart is to keep our parishioners safe. The friars and parish staff will continue to monitor for changes and adjust as needed. We thank you for your cooperation and support.


---
Avoid Money & Gift Card Scams
Have you received text messages, emails, or direct messages from either Bishop Parkes or Fr. Stephen asking for money and gift cards? Scams have been plaguing parishes, pastors, and priests across the country, so please be aware before you respond. Learn more about such scams here.
---
Looking for Our Online Mass?
Mass is available via live stream each and every Sunday during the 9:00 am Mass. Visit our Online Mass page or watch directly on Vimeo. We hope you'll continue to celebrate with us each week.
---

Stay Connected with Sacred Heart
If you would like to receive the latest updates about life, events, and opportunities in the parish, fill out the form below and join our parish Flocknote system of parish-wide texts and emails: