Public Mass Resumes at Sacred Heart.
Bishop Parkes announced that the public celebration of Sunday Mass can begin again starting on Pentecost Sunday, May 31, at the discretion of the local pastor. Sacred Heart has already resumed the 12:10 pm weekday Mass and that has helped us to prepare for and understand how to begin to accommodate for future Sunday celebrations.
Please know that we understand many of you remain hesitant to attend Sunday Mass in person, so we will continue to provide our live stream Mass via Facebook Live each Sunday at 9:30 am for the foreseeable future (see below for more information). The dispensation from the obligation to attend Sunday Mass also remains in effect.  Fr. George will be speaking about our plans for resuming public Sunday Masses at Sacred Heart during the live stream Mass this Sunday, so stay tuned!
How Will Sacred Heart Prepare?
As we begin our planning to resume public Sunday Mass, we realize that our capacity inside the church will be far lower than allowed, as our church configuration makes social distancing more challenging and limiting. Our initial experience with the weekday Mass has proven successful as everyone has been cooperating with the safety guidelines in place, the limited open hours (11:45 am until the end of Mass), and the closed/restricted restroom area.
To understand how our parishioners are feeling, we recently sent out a survey asking about your Sunday Mass plans. We will use this information to help inform how we move forward, but please know that our Mass schedule will be adjusted to accommodate for the required sanitizing and cleaning of the entire church between Masses.
Our Current Safety Measures
As we gather again to be joyfully present for the celebration of Mass, we are asked to do our part to prevent the spread of COVID-19. We will continue to follow Bishop Parkes' guidelines and the CDC recommendations and ask for your cooperation in taking the necessary precautions, which include:
Sanitizing your hands when entering and leaving the church.
Wearing a protective mask while inside the church building, except when receiving Communion.
Restricting attendance so that social distancing can occur.
Respecting the 6-feet distancing from others who are not in your household.
This page can be checked for any additional updates.
---
Memorial  Day:  Please note in lieu of an early morning holiday Mass, the Memorial Day Mass, Monday, May 25 will begin at 12:10 pm. We hope you can join us!
---
Ushers Needed for Daily Mass. As we gather for the celebration of daily Mass beginning Monday, May 18, we will need ushers to assist in ensuring the safety and well-being of our faith community as we join in public worship once again. If you are able to usher at daily Mass, please go here to sign up.
---
Thank you to our amazing Parishioners!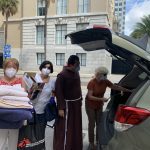 Saturday morning, May 9th, more than 100 parish households dropped by the parish hall to donate food items, laundry products, toiletries and personal care items, water bottles, sanitizing wipes for the folks at Hillsborough Hope. It was an amazing outpouring of generosity and love. Thank you!
The Friars, Deacon Ray, and the entire parish staff were there on the sidewalk to greet the people, receive their donations, chat, share a Mother's Day carnation, and let them know they are missed. Behind the scenes, the Knights of Columbus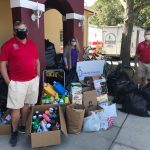 cleaned, sanitized, organized and inventoried all the gifts, readying them for delivery to Hillsborough Hope.  It truly was the work of many hands, courageously living the Gospel.
To read more about Hillsborough Hope and the generosity of our outstanding parishioners, click here.
---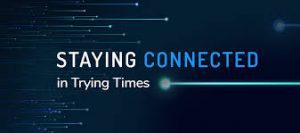 For several months we have been sheltering at home as the community at-large joins efforts to stop the spread of the pandemic virus.  Slowly the community is inching towards re-opening. Our Parish Office is closed as our staff slowly makes the transition from working in remote to return to the office.  We plan for the office to be fully open June 1. In the interim, if there is something you need, please email us or give us a call. You can locate emails and phone numbers on our Staff webpage.  And although there are no public Sunday Masses (news on daily mass), we have found new ways to have parish events, programs, and ministry meetings since we are still called to be church for one another, for the community around us – all for the greater Glory of God.
This is a page of Updates of how we will "Stay Connected, While We Are Apart, We Are the Church." We pray the community can return to work, play, and worship soon, but until then we will give praise to God and learn new ways to be a faith community to one another.
---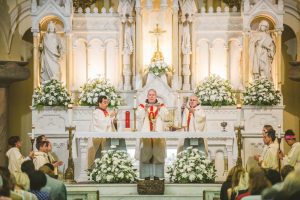 Sunday Mass. Although we cannot gather as a community on Sundays, we encourage you to participate in our online liturgies as if you were physically there. Please join us online to celebrate Mass and also prepare your home for Mass!  We have also provided some great ideas of how you can prepare your home to celebrate Mass (click here) or click on the blue button on this page.  And please remember to give as you are able. You can mail in your envelopes or checks or you can donate online.

---
Weekly Bulletin: Stay up to date with what is happening at Sacred Heart. Although we are not printing our bulletins, we have a digital bulletin. And you can even sign up to receive an email each week with a link to the current week's bulletin.
---
Virtual Volunteer Appreciation. The pandemic has affected so many things… including our plans for the Volunteer Appreciation Event to honor and thank all our fabulous Sacred Heart volunteers. While we are not able to meet in person at the Columbia Restaurant Museum as we have in the past, we are still having our event! Nothing will deter us from acknowledging our wonderful volunteers and letting all of you know how much you are appreciated (and missed). We just need to be creative!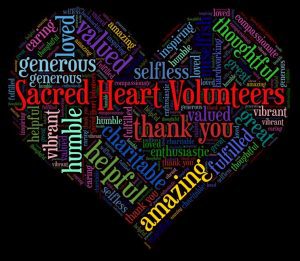 So, join us on Zoom for a virtual Volunteer Appreciation on Saturday, May 30, from 5-6 p.m. We will have door prizes, games, and time to socialize!
Look for an invitation in your email (even your JUNK mail) and please RSVP by May 23 so we know how many to expect. If you're a volunteer and did not receive an invitation, please contact Pam Ferron. We can't wait to see you!
---
Checking in with parish households. We are calling every parish household – just to say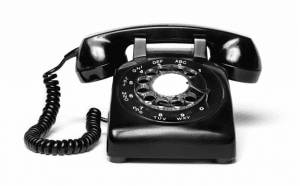 hello and check-in. There are two projects going on: a special outreach to our senior parishioners, and, in parallel, we are also calling our other parish families and households.
Our volunteers are having so much fun talking to and checking in on our parishioners! Are you available to make calls and be a friendly voice on the phone to let people know we miss them and we care?
Email Jennifer Williams for more information.
---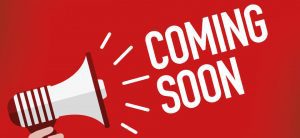 Coming Soon! Update on Fr. Zack's bee hives! Check this page weekly to learn more about connecting and being community!
---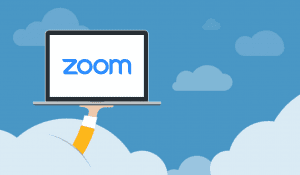 Ministries Inventing New Ways to Minister: Bible studies are meeting online, outreach groups are planning on Zoom, liturgical ministry training is in remote, Rosary Group is praying with each other online. Explore these ministries and more: "Get Involved"
---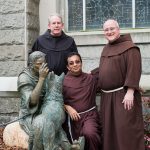 Deepen your spiritual life. We are making lots of resources available for you and your family on our Resources page.  But take the opportunity to connect with our parish priests on the Daily Friar Reflections when our Friars offer some simple reflections on the Word of God. And take advantage of the great online digital resources described in the next section!
---
Trade in Netflix for Catholic Videos.  The parish maintains two amazing subscriptions to premier Catholic digital channels offering video, books, children's programs, and more – all aimed at deepening the Faith.  Learn more about FORMED and WORD ON FIRE  and change your evenings at home.  At the moment we are promoting the Word on Fire video series by Bishop Robert Barron: "He Is Risen!" – interested?  Text "FireSH" to 84576.
---

Stay Connected.If you would like to receive the latest updates about life, events, opportunities in the parish as well as the coronavirus and how it is affecting Sacred Heart, fill out the form below and join our parish Flocknote system of parish-wide texts and emails: