What's New at Sacred Heart?
Our Sacred Heart Business Manager, Larry Cabrera, walks us through some of the major projects and renovations we are undertaking during this period of quarantine.
---
Faith Formation is Going Virtual!  How Can YOU Help?
Our Children's Faith Formation program will be held virtually this year in order to keep our children and families safe and healthy. We need help in a variety of forms, from technology to energetic people willing to be catechists. If you would like more information on how you can help, please email Barbara Ferreris and Maria Giral.
---


Virtual Bible Study Has Started – and it is not too late to join!
Tuesday, Aug. 4, Bible Study went virtual! More than 80 parishioners participated live and many more watched the recorded session at a later time. The series is designed for everyone from beginners to those who regularly read and study scripture. Tuesday sessions begin at 6:30 p.m. and last 30-40 minutes. The series began with the basics, "What is the Bible, who wrote it, and how should I read it." – this week: "How to Read the Bible."
For more information, to access the login and password, or to make sure you are on the distribution list for recorded sessions, please email Mace or Vickie Davis or call them at 813-368-2608.
---
Our Busy Bees Need Help With A Garden!
As you have heard, Fr. Zack has become a beekeeper and his bees up at our North Campus are quite happy and busy. But these productive pollinators need something to pollinate. If you're interested in helping or volunteering with the development, design, planting, and ongoing maintaining of a new North Campus garden, email Angela Newkirk.
---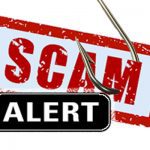 Did you receive an email or text from the Pastor?
Did he ask for gift cards, wire transfers, or something that made you think, "Really?" You were the target of a scam that is plaguing  parishes, pastors and priests all across the nation. Read about such scams here.
---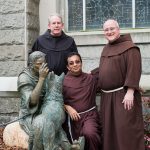 Deepen your spiritual life
. We are making lots of resources available for you and your family on our
Resources
page.  But take the opportunity to connect with our parish priests on the
Daily Friar Reflections
when our Friars offer some simple reflections on the Word of God.
Here's a sample:
---

Stay Connected.If you would like to receive the latest updates about life, events, opportunities in the parish as well as the coronavirus and how it is affecting Sacred Heart, fill out the form below and join our parish Flocknote system of parish-wide texts and emails: