Bishop Parkes' Statement
on the death of George Floyd and the subsequent Protests: 
"Please join me in reflecting on how we, including our institutions and families, can be part of the solution to end cycle of racism in our nation." 
Read the full statement
here
.
---
Weekend Masses for June 2020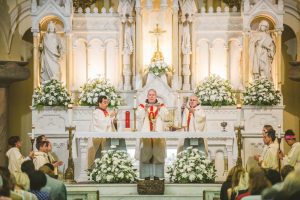 Sacred Heart has resumed the celebration of Sunday Mass on a modified schedule. Masses will be celebrated at the following times:
– 5:30 pm (Saturday Vigil)
– 7:30 am
– 9:30 am (and via livestream here)
– 11:30 am
– 5:30 pm
*The dispensation from the obligation to attend Sunday Mass remains in effect.
See our Mass Times page for more information on the necessary changes to our weekend schedule, such as modified times, limited seating, safety guidelines, communion routes, restrooms, and child care.
---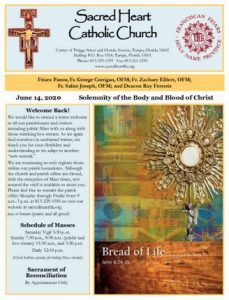 Bulletins Available in Church. Don't miss out on what's happening at Sacred Heart! We have just started to print our weekly bulletin and make them available in church…so if you're in Mass, make sure you grab one on your way out of the church. If you're joining us via our livestream Mass, you can get a digital copy! View our bulletin online, and you can even sign up to receive it in your email.
---
Ministries that need your help!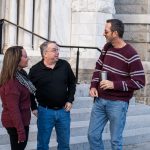 Greeter Ministry – Like your home, when visitors come, you like for them to feel welcome and part of the family. This hospitality begins at the front door. Our ministry of Greeters are the people who "answer the doorbell" and welcome visitors and parishioners alike.  Email Jen Crocker to get more information.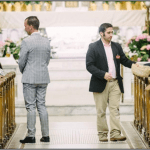 Ushers – Our ushers have always played an important role in our Mass, but now that we have some restrictions in place with seating and the communion route, the ushers role is even more important in keeping all of us safe and healthy. Consider trying out this ministry – and there's even on-the-job training! Sign up here to help at the Mass you're attending next week.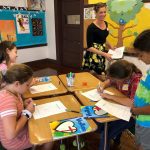 Faith Formation Catechist – Consider sharing your time and faith with our parish children in the Faith Formation ministry. Our Faith Formation will all take place on zoom this year. We are in need of lead catechists, assistant catechists and 'behind the scenes' help. We will provide training and formation so don't worry if you have never been involved. Please contact Maria Giral at 813-229-1595, Ext. 214, or email Maria.
Readers/Lectors at Mass – Our Readers share the Word of God at every Mass. As the congregation listens, we have the opportunity to prayerfully reflect on God's word, and what it means in our lives. We have a shortage of readers right now since there are some who are yet comfortable coming back to Mass. If you are interested in becoming a reader, please email Don Murray.

---
Checking in with parish households.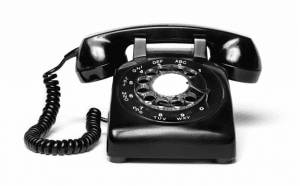 Our sincerest thank-you to all those whom in amidst of the pandemic, volunteered to call every parish household — just to say hello and check in. We had two projects going on: A special outreach to our senior parishioners, and, in parallel, we also called our other parish families and households. Our volunteers had so much fun talking to and checking in on our parishioners! We can't thank you enough for opening your hearts and conversations in a time when so many needed a friendly voice on the phone to let them know they are missed and we care. Our volunteers were the presence of Christ in the lives of others and the source of God's love.
---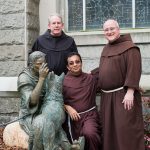 Deepen your spiritual life. We are making lots of resources available for you and your family on our Resources page.  But take the opportunity to connect with our parish priests on the Daily Friar Reflections when our Friars offer some simple reflections on the Word of God. And take advantage of the great online digital resources described in the next section!
---
Trade in Netflix for Catholic Videos.  The parish maintains two amazing subscriptions to premier Catholic digital channels offering video, books, children's programs, and more – all aimed at deepening the Faith.  Learn more about FORMED and WORD ON FIRE  and change your evenings at home.
---

Stay Connected.If you would like to receive the latest updates about life, events, opportunities in the parish as well as the coronavirus and how it is affecting Sacred Heart, fill out the form below and join our parish Flocknote system of parish-wide texts and emails: