Order Your Christmas Poinsettia
Remember a loved one during the Christmas season with a poinsettia used to decorate our sanctuary. A long-standing Sacred Heart tradition, each plant that you see has been given in remembrance or honor of loved ones whose names will be memorialized online.
Request forms can be found on the table near the church entrance, or download one here. All forms, along with the suggestion donation of $15 per plant, must be received by Thursday, December 16th.
Click here to download your 2021 Poinsettia order form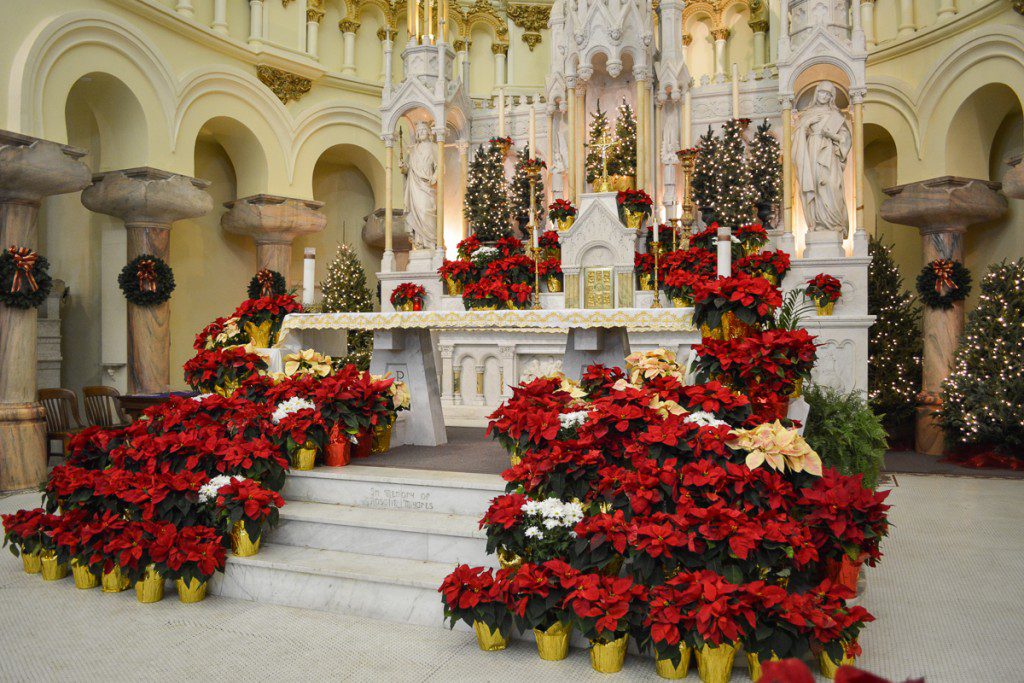 ---
Giving from the Heart's December 2021 Donation Drop-Off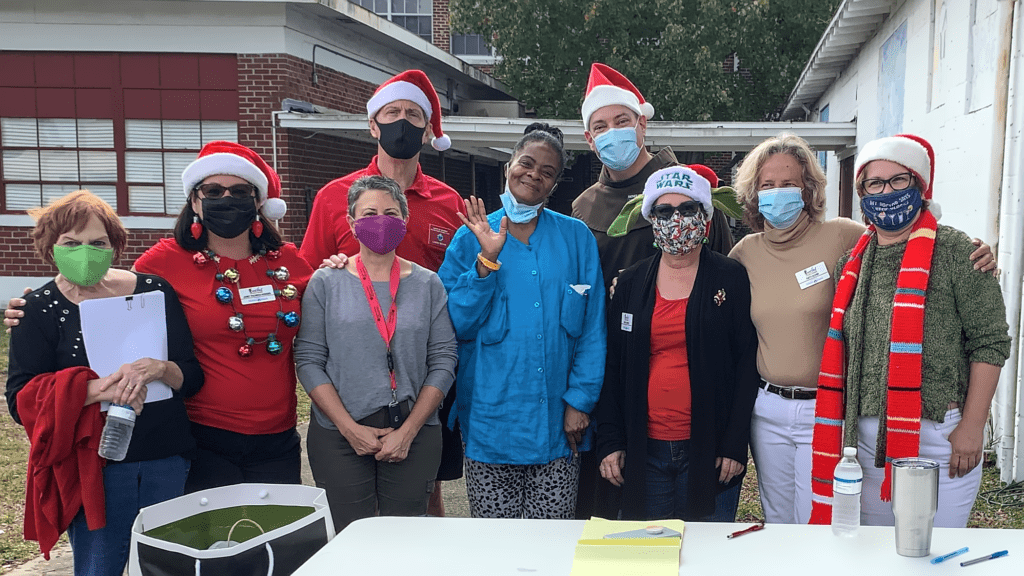 In our continued effort to meet the growing needs of the Tampa/Hillsborough County community, Sacred Heart is holding its latest Giving from the Heart drive-through donation drop-off on Saturday, Dec. 11, at the North Campus from 10 a.m.-noon. The December event is a collaborative effort of three ministries who have identified three beneficiaries with specific needs ahead of the Christmas season.
Sacred Heart's Young Professionals will be collecting non-perishable food items to benefit the St. Vincent de Paul Society and their efforts to prepare Christmas meals.

Items needed include:

Cereal
Canned Meat or Fish
Dry Pasta, Rice, Macaroni
Canned or Boxed Dinners
Canned Vegetables
Sacred Heart's Council of Catholic Women will be collecting clothing and women's products to benefit the Crisis Center of Tampa Bay:

Items needed include:

Tee shirts (Sizes: S, M; all colors)
Sports Bras (All colors)
Leggings (All sizes; black)
Blankets (Throws or lap)
Reusable totes/grocery bags
All NEW clothing items are welcome
Sacred Heart's Open Doors Ministry will be collecting toys and gifts for teens and tweens to benefit Foster Angels of Hillsborough County and their mission to help foster children enjoy the Christmas season.

Items needed include:

Gift Cards to Department/Game/Electronics Stores
Makeup Kits
Men's Grooming Kits
Board Games
Cell Phone Accessories
If you have questions about the upcoming "Giving from the Heart" initiative, or would like to volunteer, please contact:
We thank you in advance for your generosity and continued support of our neighbors.
---
Liturgical Resource Guides Debut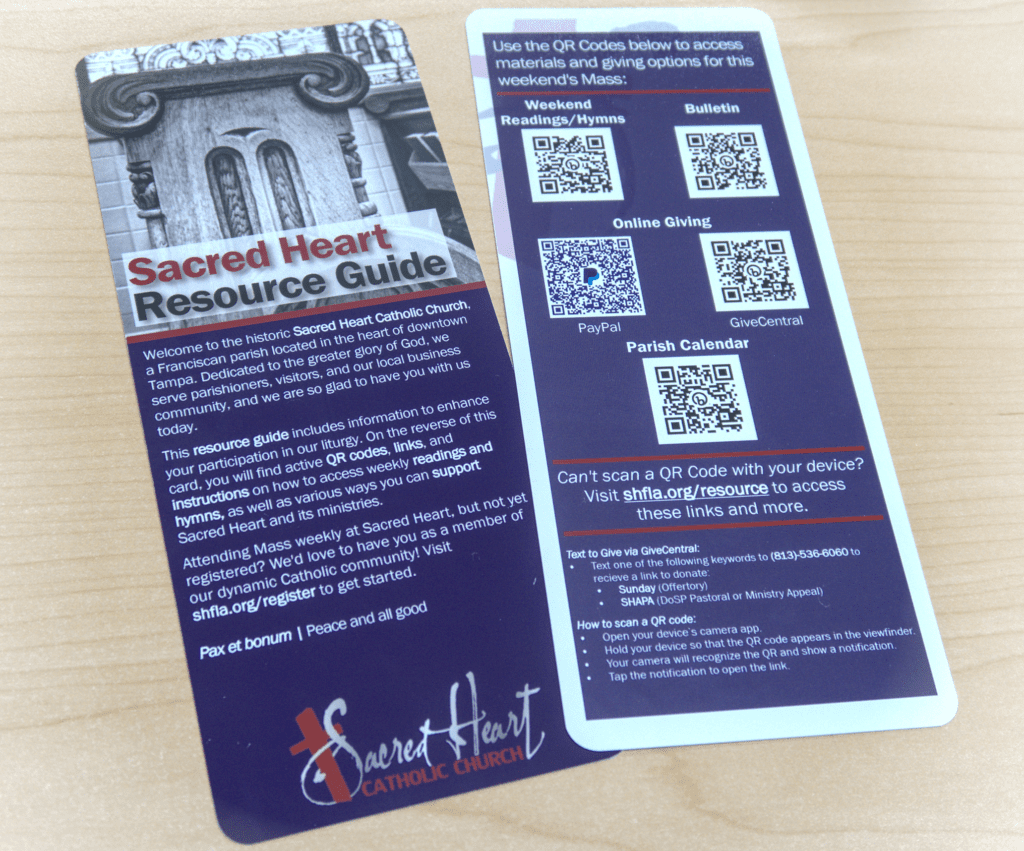 As we continue to respond to changes in our liturgy due to the COVID-19 pandemic, Sacred Heart will provide a new liturgical guide in the pews, featuring QR codes and links to resources commonly utilized during Mass.
On the card, you will find easy links to weekly readings and hymns, online-giving options, the parish calendar, and even the digital version of our weekly bulletin. Instructions on how to use a QR code are available on the guide, along with directions for alternate access to these resources for parishioners with devices that cannot scan a QR code.
We ask all parishioners to leave these guides in the pews, just as you would a hymnal or missal. These resources are also available at shfla.org/resource.
---
Choir Gets Ready to Sing Again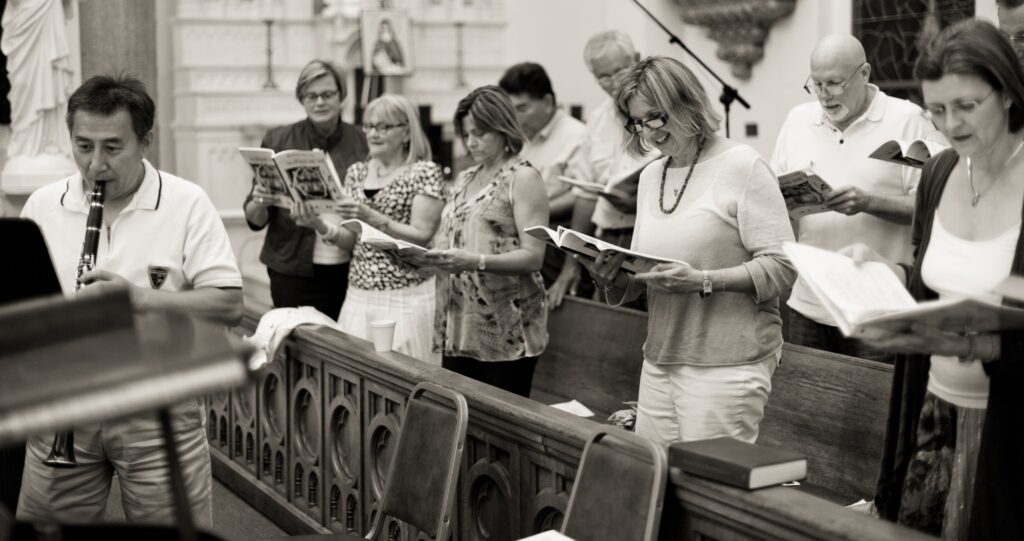 The long-awaited return of the parish choir, alongside the start of a new children's choir will coincide with the beginning of Advent on Sunday, Nov. 28.
The children's choir will support the 9 a.m. Mass each Sunday. Parents should have their children meet in the pews near the organ 30 minutes before Mass. Weekly rehearsals for the children's choir are scheduled for Saturdays at 10 a.m. at the North Campus.
The Parish Choir will support the 10:30 a.m. Mass each Sunday. Weekly rehearsals currently take place at 7 p.m. on Tuesdays at the North Campus.
To register, please contact our director of music, Philip Jakob, via email.
---
Interested in Becoming Catholic?
Are you, or someone you know, interested in becoming Catholic? Or do you have a child over the age of seven who has not yet been baptized? Or did you receive the Sacrament of Baptism as a child, but you haven't yet celebrated the Sacraments of Confirmation and Eucharist?
Sacred Heart offers the opportunity to come together in a small group to learn more about the Catholic faith. Sessions focus on the teachings and experience of Church and prepare individuals to celebrate the Sacraments of Baptism, Confirmation, and Eucharist during the Easter season. We welcome you to participate in the process with your questions, insights and faith story in a warm, accepting setting.  For more information on our Inquiry period, click the red button below.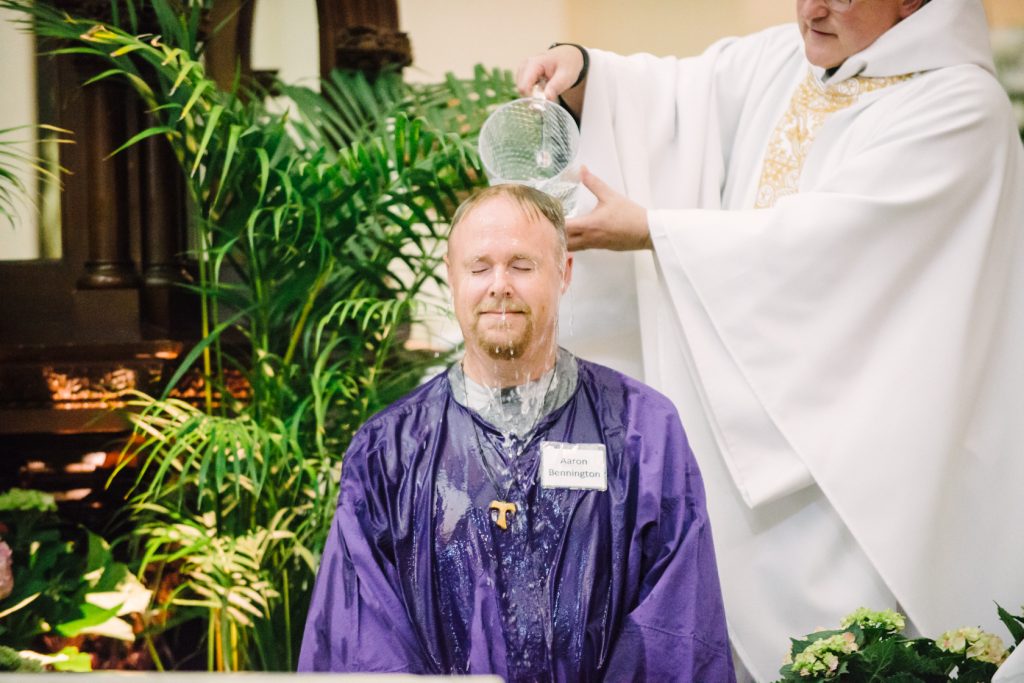 ---
Safety Measures in Place
As you return to our pews, we know safety remains a top priority. Our goal continues to be a welcoming parish and a place where everyone feels as safe and comfortable as possible. Under the advisement of the CDC and the Diocese of St. Petersburg, Sacred Heart will have the following safety measures in place:
Providing hand sanitizing stations at each entrance of the church.
Reducing our social distancing seating to 3-feet from others who are not in your household.
Removing ropes from the pews in the center aisle, while limiting seating to every other pew in the side aisles. Parishioners are asked to choose seats according to your comfort level.
Restoring Holy Water to the fonts at all entrances.
New Mask Guidelines
In May 2021, the CDC issued a statement about wearing masks during the pandemic. Sacred Heart will now follow those directives, including:
Fully-vaccinated persons are no longer required to wear a mask while celebrating Mass at Sacred Heart; however, if you are apprehensive or have some level of discomfort regarding this directive you are more than welcome to continue wearing a mask during Mass, even if fully vaccinated.
Those who are not fully vaccinated are asked to continue wearing a mask, for their own health, safety, and well-being.
Our highest priority at Sacred Heart is to keep our parishioners safe. The friars and parish staff will continue to monitor for changes and adjust as needed. We thank you for your cooperation and support.


---
Avoid Money & Gift Card Scams
Have you received text messages, emails, or direct messages from either Bishop Parkes or Fr. Stephen asking for money and gift cards? Scams have been plaguing parishes, pastors, and priests across the country, so please be aware before you respond. Learn more about such scams here.
---
Looking for Our Online Mass?
Mass is available via live stream each and every Sunday during the 9:00 am Mass. Visit our Online Mass page or watch directly on Vimeo. We hope you'll continue to celebrate with us each week.
---

Stay Connected with Sacred Heart
If you would like to receive the latest updates about life, events, and opportunities in the parish, fill out the form below and join our parish Flocknote system of parish-wide texts and emails: