Coffee & Donuts Returns
The Coffee and Donuts Ministry is back up and running on the second and fourth Sunday of every month. We invite you to stop by the St. Francis Hall following the 9 a.m. Mass on scheduled Sundays to grab a donut, a cup of coffee, and catch up with an old friend (or maybe even make a new one!).
The Coffee and Donut Ministry will serve following the 9 a.m. Masses: July 11th and July 25th.
---
Register Now for Faith Formation
Faith Formation is now accepting registrations for the upcoming 2021-22 year. We are excited that this year, Family Faith Formation will be offered both in person as well as virtually, including:
Sunday Morning Family Faith Formation (in-person):
– Available for Pre-K 4 through high school. Families stay together the entire time.
Wednesday Evening Family Faith Formation (virtual):
– Available for Pre-K 4 through high school. Families participate together via Zoom.
Children's Liturgy of the Word:
– Available for 5-year-olds through 5th graders during the Sunday 9 a.m. Mass.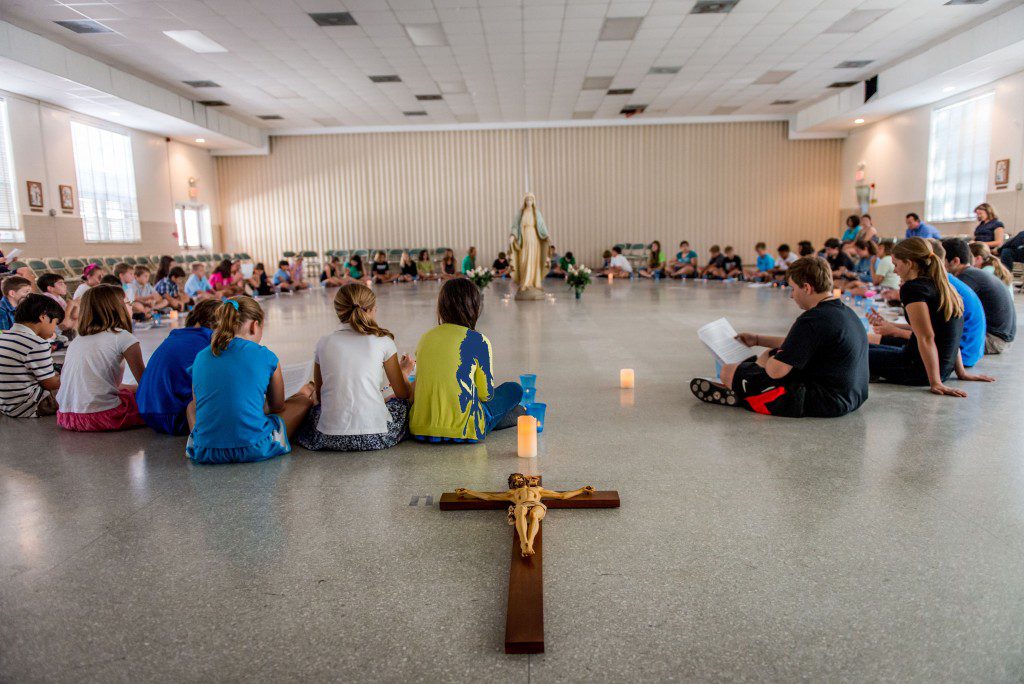 ---
Faith Formation Volunteers Needed
Our parishioners have faithfully answered their Baptismal call and have responded to our need for volunteers in our Faith Formation programs. But, there is still room for more! If you are prayerfully considering offering your time and talent in this ministry, we have many ways you can help, including:
– Sunday Morning Faith Formation catechists and assistants (in-person)
– Wednesday Family Faith Formation catechists and technology support (virtual)
– Children's Liturgy of the Word (Sunday during the 9 a.m. Mass)
– Sunday morning office and administrative supportWe invite you to become a part of our amazing team — serving God and our Sacred Heart community!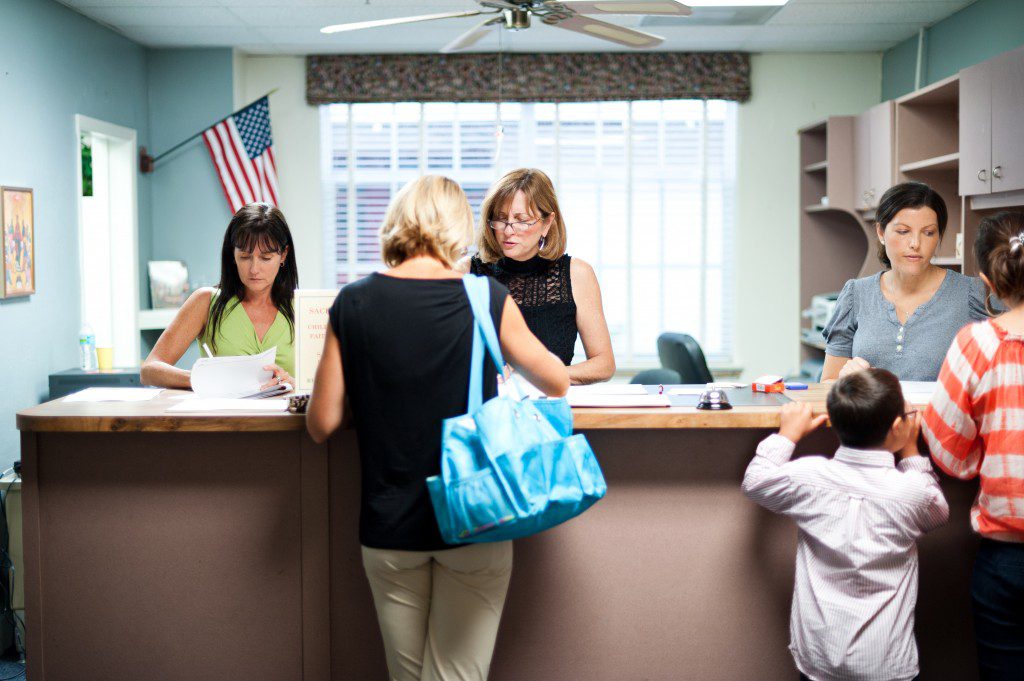 ---
Interested in Becoming Catholic?
Are you, or someone you know, interested in becoming Catholic? Or do you have a child over the age of seven who has not yet been baptized? Or did you receive the Sacrament of Baptism as a child, but you haven't yet celebrated the Sacraments of Confirmation and Eucharist?
Sacred Heart offers the opportunity to come together in a small group to learn more about the Catholic faith. Sessions focus on the teachings and experience of Church and prepare individuals to celebrate the Sacraments of Baptism, Confirmation, and Eucharist during the Easter season. We welcome you to participate in the process with your questions, insights and faith story in a warm, accepting setting.  For more information on our Inquiry period, click the red button below.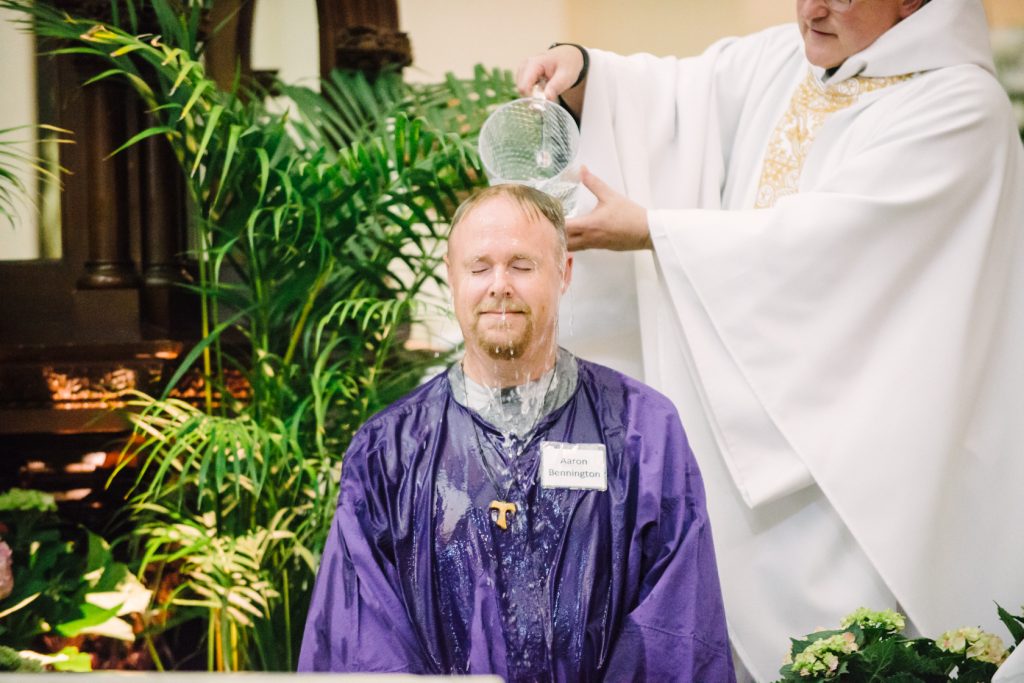 ---
Planning Your Return to Mass?
It's hard to believe that at this time last year we were quarantining from family, friends, and coworkers, and Sacred Heart was bringing Mass into your homes each and every week through your phone, tablet, or computer.  What a difference a year makes! With Bishop Parkes' recent announcement that the general dispensation from the obligation to attend Mass each week has ended, we have seen more and more parishioners returning to celebrate Mass with us in person.
Sacred Heart can't wait to welcome you back, too. From safety measures to Mass times to parking information, we've collected some helpful information here to ensure you are fully informed.  We want you to feel comfortable celebrating with us again, and we can't wait to see you soon.
---
Safety Measures in Place
As you return to our pews, we know safety remains a top priority. Our goal continues to be a welcoming parish and a place where everyone feels as safe and comfortable as possible. Under the advisement of the CDC and the Diocese of St. Petersburg, Sacred Heart will have the following safety measures in place:
Providing hand sanitizing stations at each entrance of the church.
Reducing our social distancing seating to 3-feet from others who are not in your household.
Removing ropes from the pews in the center aisle, while limiting seating to every other pew in the side aisles. Parishioners are asked to choose seats according to your comfort level.
Restoring Holy Water to the fonts at all entrances.
New Mask Guidelines
On May 13th, the CDC issued a statement about wearing masks during the pandemic. As of this coming weekend, June 5th – 6th, Sacred Heart will now follow those directives, including:
Fully-vaccinated persons are no longer required to wear a mask while celebrating Mass at Sacred Heart; however, if you are apprehensive or have some level of discomfort regarding this directive you are more than welcome to continue wearing a mask during Mass, even if fully vaccinated.
Those who are not fully vaccinated are asked to continue wearing a mask, for their own health, safety, and well-being.
Our highest priority at Sacred Heart is to keep our parishioners safe. The friars and parish staff will continue to monitor for changes and adjust as needed. We thank you for your cooperation and support.


---
Avoid Money & Gift Card Scams
Have you received text messages, emails, or direct messages from either Bishop Parkes or Fr. Stephen asking for money and gift cards? Scams have been plaguing parishes, pastors, and priests across the country, so please be aware before you respond. Learn more about such scams here.
---
Looking for Our Online Mass?
Mass is available via live stream each and every Sunday during the 9:00 am Mass. Visit our Online Mass page or watch directly on Vimeo. We hope you'll continue to celebrate with us each week.
---

Stay Connected with Sacred Heart
If you would like to receive the latest updates about life, events, and opportunities in the parish, fill out the form below and join our parish Flocknote system of parish-wide texts and emails: