A Special Invitation from Fr. Stephen
For more information on our Thanksgiving Dish Exchange and Food Drive, click here.
---
Have You Seen Our Rapid Friar Challenge?
Over the last few weeks, we've brought you our version of a "Rapid Friar Challenge," where our friars try and answer as many questions as possible in 60 seconds. Who do you think will win? If you missed any of the other friars on the hot seat, you can watch here.
Friar Henry
---
Our Livestream Mass is Now on Vimeo
You can click here to watch our Livestream Mass on Sundays at 9:30 a.m. or you can access the link by either visiting our Online Mass page or our Facebook page. We hope you continue to participate digitally with us at our new home, and if you have questions, visit our Vimeo FAQs for more information.
If you can't watch live, don't worry. We'll post the complete Mass video on Online Mass page, so that you can watch and experience our Mass at whatever time is most convenient for you. Plan to tune in and celebrate with us.
---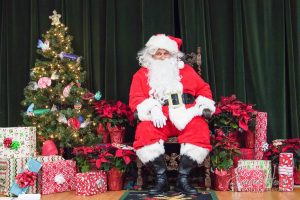 Save the Date – Cookies with St. Nicholas
Mark your calendars for our annual Cookies with St. Nicholas event! While we won't be able to gather as we usually do, we still have lots of exciting things planned. So join us this year on Saturday, Dec. 12, between 10 a.m. – noon for a socially-distant celebration. Families will stay in their cars, drop off their letters to Santa, and receive individually wrapped cookies from St. Nicholas and his elves. We hope to see you there!
---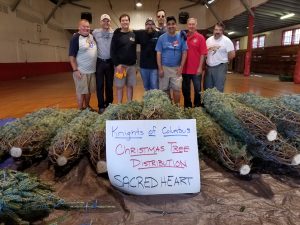 Knights of Columbus Christmas Tree & Silhouette Sales
The Knights of Columbus are once again pre-selling Christmas trees and wreaths. The trees are grown in Laurel Springs, NC, and come in a variety of sizes ranging from 2′ to 8′. Various wreath sizes are also available. Both the trees and the wreaths will be ready for pickup at the North Campus in late November. Order Christmas Trees and Wreaths here.
The Knights will also be selling Nativity yard sign and door decorations. Each silhouette displays "Tis the Reason for the Season" along the bottom in your choice of English or Spanish. They are made of fade-resistant, white PVC plastic and can withstand rain, harsh sunlight, and strong winds. Order Christmas Silhouettes here.
All proceeds form either sale help benefit the Sacred Heart Knights of Columbus and their efforts within our parish and the larger community.
---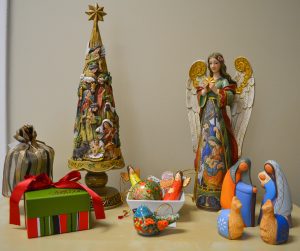 Holiday Shopping Event at the Sacred Heart Gift & Book Store
The Sacred Heart Gift & Book Store will once again be hosting an evening of Christmas shopping – on two different dates this year!  In addition to their amazing selection of holiday gifts, there will be light refreshments and door prizes given out throughout the evening.  It is a fantastic way to get your Christmas shopping done, to pick up a little something for yourself, and to enjoy some Christmas cheer with your fellow parishioners and the Gift & Book Store team.  We'd love to see you there!
Wednesday, November 18, 4-8 p.m.
Wednesday, December 9, 4-8 p.m.
---
Sacrament of Reconciliation

The Sacrament of Reconciliation has resumed in the church. Confessions will be prior to the daily Mass from 11:30 a.m.-noon and also prior to the Vigil Mass on Saturdays from 4:15-5 p.m. Masks and social-distancing are required.
---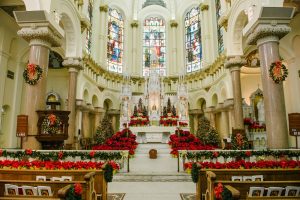 Christmas Plans are Moving Along 
Thank you to all who responded last week to our very "informal and preliminary" survey. As we continue to make plans for Christmas Masses, we strongly encourage you to check our website and your emails (check your Junk folder for Flocknote emails) frequently.
Details have not been finalized, but we will require some form of reservations to attend Christmas Masses. More details will follow in the upcoming weeks.
---
We Welcome Our New Friars to Sacred Heart!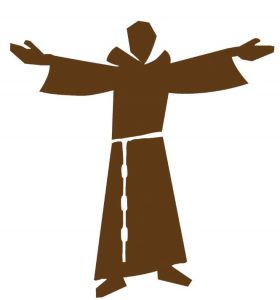 We hope you'll join us in welcoming our new friars to Sacred Heart.  Pastor, Fr. Stephen Mimnaugh, OFM; Fr. Ronald Gliatta, OFM; Fr. Mike Jones, OFM, and Friar Henry Fulmer, OFM join Fr. Zack here at the parish. We are thrilled to have them with us, so make sure to say hello, introduce yourself, and give them a warm Sacred Heart welcome.
Did you see our interviews with Fr. Stephen, Fr. Mike, Friar Henry, and Fr. Ron? If you missed them, watch their interviews and read their bios here.
---
Bishop Parke's Issues Dispensation of the Sunday Obligation to Attend Mass
Here is a letter distributed by Bishop Gregory Parkes on March 13, 2020, regarding a dispensation for Catholics in the Diocese of St. Petersburg.

*Please note: If you do plan to attend Mass in person, social distancing guidelines are being followed and masks will be required while inside the church building, except during the reception of communion.
---
Did you receive an email or text from the Pastor?Did he ask for gift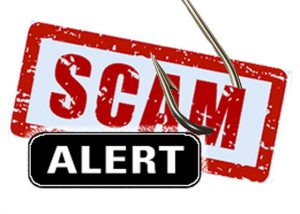 cards, wire transfers, or something that made you think, "Really?" You were the target of a scam that is plaguing  parishes, pastors and priests all across the nation. Read about such scams here.
---

Stay Connected.If you would like to receive the latest updates about life, events, opportunities in the parish as well as the coronavirus and how it is affecting Sacred Heart, fill out the form below and join our parish Flocknote system of parish-wide texts and emails: