Sacred Heart has a number of meeting spaces and facilities that are utilized throughout the week and weekends during Masses. If you are planning to join a meeting or ministry group at Sacred Heart, you will typically be notified in advance of the location either via email or in the bulletin. Should you need further instruction on where each of our meeting rooms are located, we've provided a map below.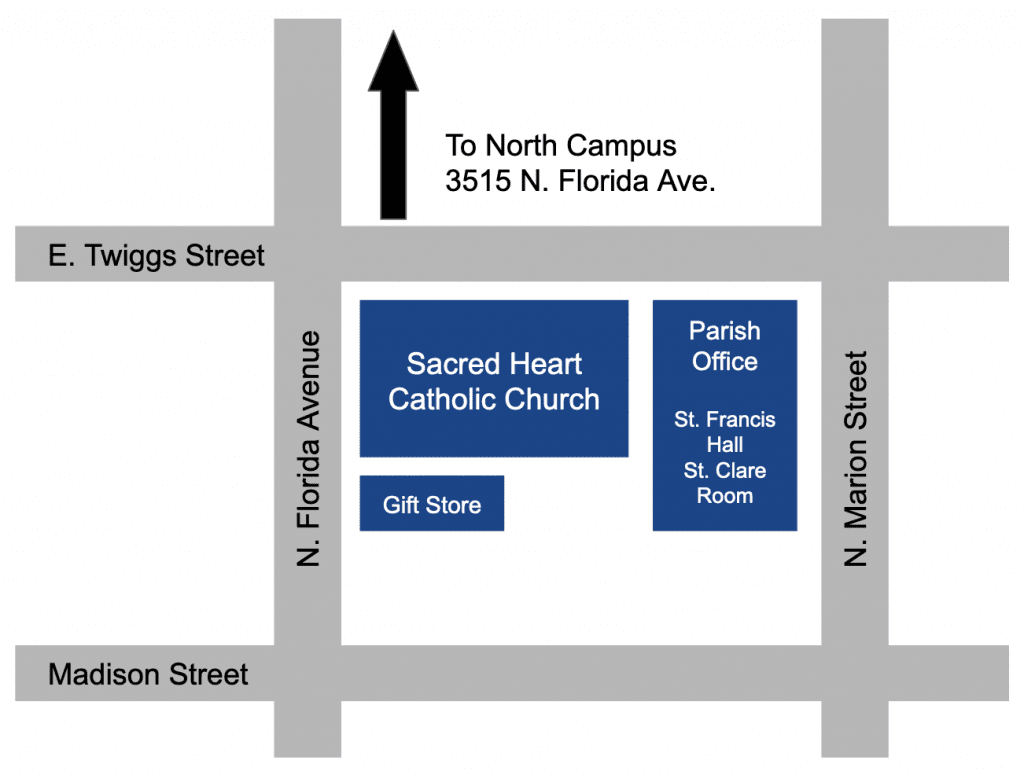 St. Francis Hall
The St. Francis Hall is located at the corner of E. Twiggs St. and N. Marion St. and is one of the larger meeting spaces. Typically used for New Parishioner Welcome dinners and some faith formation classes, the St. Francis Hall provides a classroom type setting with the availability to host meals.
St. Clare Room
The St. Clare Room is located within the Parish Office at 518 N. Marion St. Located on the second floor of the office, it is typically reserved for smaller meetings for both Adult and Children's Faith Formation as well the parish Book Club and council meetings.
North Campus
The Sacred Heart North Campus is located just north of the Church at 3515 N. Florida Ave. The North Campus is used for Faith Formation, RCIA, ministries and more, and parish events like the Annual Picnic and Family Movie Nights. Also, there are big plans for the North Campus that are part of our True North Vision. Click to learn more!
*New* – Drone Tour

See our church like never before! Thanks to our friends Taste and See Tampa Bay and ABC Action News – WFTS – Tampa Bay, you can take a drone tour of Sacred Heart, filled with breathtaking views of the altar, choir loft, sanctuaries and stained glass windows.