The Sacred Heart Gift & Book Store is located next to the church and offers a wide array of religious items and specialty gifts. Our store takes pride in the unusual, unique pieces from around the world, including art and sculpture as well as jewelry and handmade products from Italy, Germany, and throughout the United States. Stop in to browse, ask questions, or even place a special order. We look forward to helping you select that perfect something special.
Sacred Heart – Our Feast Day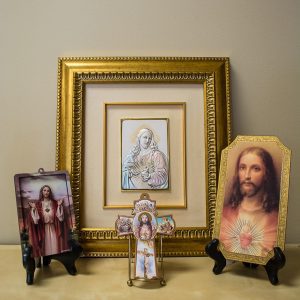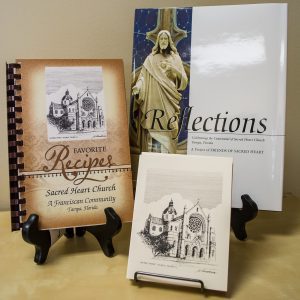 The month of June is a very special time for Sacred Heart, as it is the month when we celebrate our feast day – The Solemnity of the Most Sacred Heart of Jesus. If you're interested in Sacred Heart memorabilia and collectibles, or artwork and statues representing this feast, look no further than the Sacred Heart Gift & Book Store.
If you haven't stopped in to take a peek, we invite you to drop by and say hello to Gail and the gift shop team. We can even make suggestions for that hard to find gift or special occasion. So come stop by. We can't wait to meet you.
Some of the unique, hard-to-find items we sell include:
Carruth Studio
George Carruth is the artist behind Carruth Studio, an art studio specializing in American-made, handcrafted sculptures for any home garden. From a limitless imagination, Carruth offers original and whimsical home décor, all meticulously hand cast from original clay and stone sculptures.
Creator Mundi
Creator Mundi offers a unique heirloom quality collection of religious art, including bronze art from Germany, handcrafted dolomite, and carved wood statuary from France, as well as Nativity sets from Lithuania, and liturgical art and original works from the United States. All of Creator Mundi's symbols of faith are biblically based, artistically beautiful, and culturally authentic.
Michal Golan
Michael Golan is an Israeli-born, New York City-based jewelry designer. She creates hand worked jewelry pieces combining the look of the antique with contemporary fashion sensibility. Her products include 24K gold, sterling silver, semi-precious stones, freshwater pearls, Swarovski crystals, and glass.
Raku Potteryworks
Raku Potteryworks is a ceramic art studio inspired by the beauty in nature, such as turquoise, feathers, fallen branches, and crystals. Each piece is made by hand and is one of a kind, made with brilliant colors of copper, blue, silver, gold, magenta, green, and brown.
Gail Lewis
Manager
Address:
507 N. Florida Ave. Tampa, FL 33602
Phone:
813-229-3400
*Phone calls preferred.
Store Hours
– Mon: Closed
– Tues – Fri: 10:00 am–3:00 pm
– Sat: 5:00 pm–5:30 pm, 6:30 pm–7:00 pm
– Sun: 8:30 am–1:30 pm