Welcome to Sacred Heart's Online Mass page, where you can watch Mass each Sunday along with other special liturgies and celebrations. We hope you enjoy watching with us each week.
---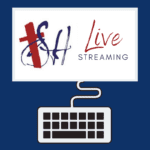 Livestream Time Change Effective May 1
Sacred Heart's livestream Mass is set for a time change beginning Sunday, May 1. In a bid to offer those who are sick, homebound, or facing safety concerns regarding a return to Mass a chance to experience the newly reformed choir, our weekly livestream Mass will move to the 10:30 a.m. Mass each Sunday.
---
The Ascension of the Lord (Seventh Sunday of Easter, 5/29/22, 10:30 a.m.)
---
Past Events: The Sixth Sunday of Easter (5/15/22, 10:30 a.m.)
---
Past Events: Easter Sunday & The Resurrection of the Lord (4/17/22, 10:30 a.m.)
---
Past Events: Mass of the Lord's Supper | Holy Thursday (4/14/22, 7 p.m.)
---
Having trouble hearing the audio? Make sure you "click to unmute" in the top, center of the video itself. Screenshot below.

---
Interested in Viewing a Previous Mass?
Visit our Vimeo Showcase page here.