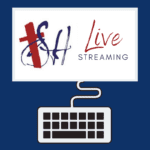 Welcome to Sacred Heart's Online Mass page, where you can watch Mass each Sunday along with other special liturgies and celebrations.
We hope you enjoy watching with us each week.
Live Stream Mass Schedule: Each Sunday at 10:30 a.m.
---
Pentecost Sunday | May 28 at 10:30 a.m. 
---
Past Events: The Solemnity of the Ascension | May 21 at 10:30 a.m.
---
Past Events: Easter Vigil | Holy Saturday, April 8 at 8 p.m.
---
Having trouble hearing the audio? Make sure you "click to unmute" in the top, center of the video itself. Screenshot below.

---
Interested in Viewing a Previous Mass? Visit our Vimeo Showcase page here.