Sacred Heart Church is a dynamic and growing community of faith here in downtown Tampa. But change is on the horizon. Downtown Tampa is growing at an exponential rate, and in the next five years, there will be an estimated 25,000 new residents within a 1.5-mile radius of our church. Approximately 5,000 of these new residents are expected to be Catholic.
Our challenge and opportunity is to plan for our future now. We are called to offer a vision by which we continue to live our mission, even as we build our future. A vision that continues our center of worship in our downtown church but provides us the ability to seek space and opportunity that will serve us during this new wave of growth.
We call our vision True North, and this vision will set our sights on the North Campus, a 9.5-acre facility we already own and operate, as our designated center of ministry and family life. Just think, with a new, centralized location for ministry, primed for continued growth, we will have a greater opportunity for collaboration between our ministries. We can sustain and support new and expanded ministries to strengthen our outreach to the larger community, and we can provide a gathering place for families and youth to continue to build up our growing community of faith.
As part of this vision, we've made plans to improve our North Campus space, from curb appeal to ministry offices, and even a future parish center. But how will this vision come to life? The True North vision will come to fruition because of the passion and generosity of committed parishioners like yourself.
This week in the mail, you will receive more information about our True North Vision. Our goal is to fund this vision through our regular Sunday offertory program, and our hope is that in doing so, we can make these improvements as part of our normal parish operating expenses. We would forego our usual campaign for the Annual Pastoral Appeal (APA) as well as the need for a capital campaign for the next several years. It would all be rolled up into your everyday giving, and your commitment allows us to better plan and be good stewards of your gifts.
So what do you do? We ask that each family prayerfully consider what you can financially contribute to help us realize our True North vision. Included in the mailing is a Commitment Card. Bring it with you to Mass next weekend and drop it in the offertory basket during our special collection.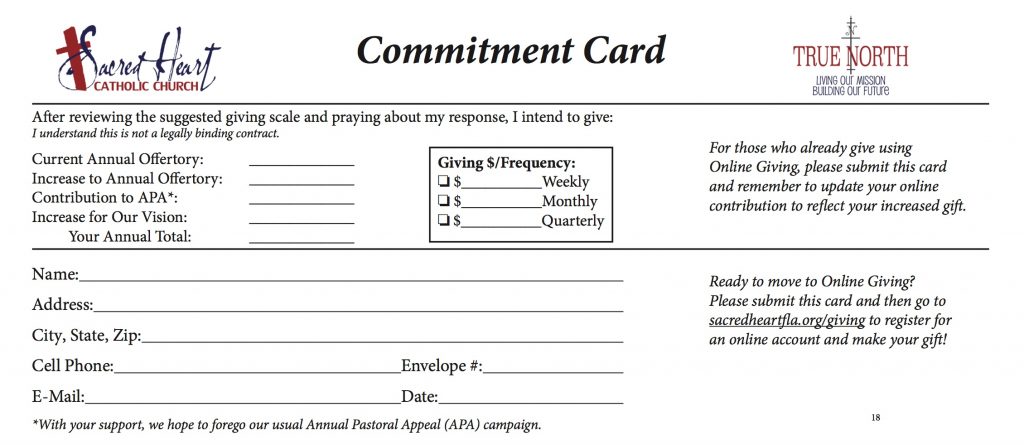 Commitment Weekend
October 13th – 14th
At All Masses
With so much about to change, Sacred Heart is called to be and do so much more. Will you be part of it?