Prayer
"Have no anxiety at all, but in everything, by prayer and petition, with thanksgiving, make your requests known to God." (Philippians 4:6)
Prayer is talking to God. It's telling Him what's going on, asking for help, thanking and praising him and seeking forgiveness. Prayer is also about listening to God. Sometimes we talk too much about what we want and fail to listen to what God is telling us. Complete the activities below to enhance your understanding of prayer and enrich your prayer life.
---
Handouts
Enjoy creating one sentence prayers as a family using this handout.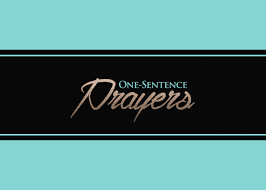 Parents:
Email Ms. Maria your prayers.
---
Games
It's family game night! Gather everyone and play Prayer Bingo together. Have fun while engaging with each other and learning about the theme of prayer.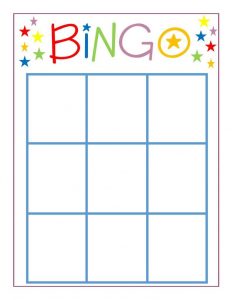 Parents:
Email Ms. Maria what your family learned from playing Prayer Bingo.
---
Crafts
Two simple activities are provided to complete together as a family.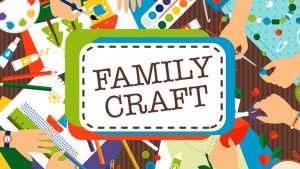 Parents:
Send us a picture of your finished craft. Send Ms. Maria a picture of one or the other when completed.
---
Catholic Updates
We must discover ways to remind ourselves that God is present in our daily lives. Prayer can show us the way.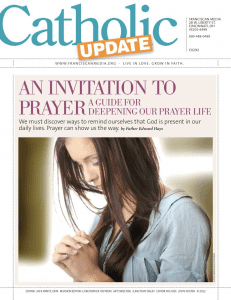 Is there a way in this noisy world to be still and listen to God? Or is such a treasure reserved for cloistered monks, ancient mystics, and long-dead saints?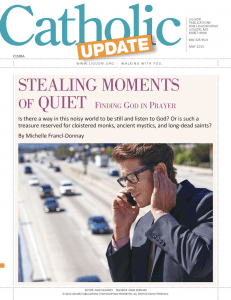 *If you have any trouble viewing the Catholic Update articles, simply click on the "Open HTML5 Flipbook" button when prompted.
Parents:
Parents, what are two things you learned from reading these articles? Email Ms. Maria and let her know.
---
Videos

Tips for Praying
Listen as Fr. Mike Schmitz shares about when, where, what and why to pray.
Parents:
Parents, Fr. Mike had a lot of great tips for praying. What tips did you and your family like best and which are you going to practice. Ms. Maria is ready for your feedback so email her.
---
Saint Videos
St. Theresa of Avila's feast day is on October 15th. Get some popcorn and candy, curl up on the sofa and learn about this holy woman's life and devotion to God.
St. Luke's feast day is October 18th. He is known as the patron saint of physicians and artists.
The Rosary in Two Minutes: This short video explains how and why we should practice praying the rosary. Our Blessed Mother always leads us to her son.
Parents:
Parents, what did your family learn about the life of St. Theresa of Avila and St. Luke and the devotion of praying the rosary. Please email Ms. Maria and share.
PREVIOUS TOPICS
FAITH & TRADITION
Maria Giral
Associate Director of Faith Formation