Click here to view an update letter from Fr. Mike Jones, OFM and Pastor of Sacred Heart, regarding the 2021 Annual Pastoral Appeal. (March 2022)
March 4, 2022
Dear Parishioners,
For more than 20 years, the Annual Pastoral Appeal (APA), supported the diocesan budget as well as ministry, programs and outreach. As many of you know, APA was retired at the end of 2021.  However, Sacred Heart's 2021 APA assessment remains a parish obligation.  And I am reaching out to you, the faithful stewards of Sacred Heart, to help me satisfy our APA goal.
It is through sharing the faith and reaching out to others we encounter the face of God. Our APA contributions go towards supporting the Bethany Center for Spiritual & Formation Development, Faith Formation & Evangelization, Lay Pastoral Ministry Formation Program, Marriage & Family Life, Media-Based Communication Ministry, Ministry to Catholic Schools & Tuition Assistance Grants, Ministry to Multicultural Communities, Ministry to Youth & Young Adults and Prison Ministries to name just a few.
APA also supports our priests, deacons, and lay leaders in their pastoral journey so they may continue offering our people the formation and foundation needed to bring God's message, mission, and ministry to our faith communities and world.
To embrace God's call to serve means to hear His call and actively carry out His mission and ministry with love, gratitude and concern for others. Sacred Heart has until June 30, 2022 to satisfy our 2021 call to serve. Please consider contributing to the 2021 APA assessment.
Thank you for your prayerful consideration of our request.
Sincerely yours in Christ,
Fr Michael P. Jones, OFM
Pastor
---
Sacred Heart's 2021 Goal:

$289,081

.
We have raised over $90,000, with 175 of 1504
households contributing as of December, 2021.
What is APA?
Annual Pastoral Appeal (APA): APA is just the marketing campaign for the "diocesan parish assessment." APA was meant to help the parishes raise monies in support of the diocesan ministries, larger scale projects of compassion, Catholic Charities, and support of diocesan seminaries. The assessment is a bill. How we "campaign" is up to the parish. We decided that support of the diocese's mission was simply ours to do and shouldn't have a "campaign" as though it were something apart. This year we did not take three to four Sundays and talk about APA. Many of you donate directly to the parish via Online Giving and parish envelopes. Some donate via the diocesan online giving or direct-mail appeal. In the end it all goes to support of the diocese.
What happens if we don't make our goal by the end of the year?
The diocese depends on us to contribute our fair share. So, come the end of the calendar year, if we fall short, we will have to make up the funds from parish savings.
Do we have the same number of parishioner households giving as in prior years?
In 2019, we had 163 families who made their APA contributions directly to the parish with another 232 households who gave through the Diocese of St. Petersburg portal. The combined number of giving households totaled 395. In a past years we have had as many as 550 households that donate.
Will we make our goal by the end of the year?
We are hopeful because the people of the parish are so generous. As we let people know about our progress, more people will contribute. We have made our goal every year since 2012!  If you have not yet made your contribution, we hope that you will take a moment and make your gift via our parish Online Giving or the Diocesan portal.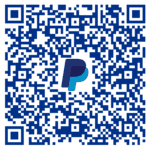 This year we have made some new opportunities for giving to APA available to you.  Our new ways for you to give to the parish include:
– APA Envelopes: These will be part of the regular parish offertory envelopes received in the mail, or you can pick one up parish office.
– Online Giving: Simply select the option of "Ongoing Diocesan Support (APA)" and enter your contribution amount.
– PayPal: Click on or scan the QR code with your device.
---
As in years past, you can also give through the Diocese in the following ways:
APA Envelopes from the Diocese
All registered parishioners have received materials by USPS, including a donation envelope. In addition, there will be envelopes available at the back of the church. You can make a one-time donation or establish a monthly giving plan. You can donate using checks, cash, credit card, or a deduction from your checking account. Simply fill out the materials and drop it into the offertory basket at any Mass in the coming weekends. You can even drop it off at the Parish Office or at the Sacred Heart Gift & Book Store or simply put a stamp on it and mail it directly to the Diocese.
Online Giving via the Diocese
Through the Diocesan APA Online Giving page, you can choose a one-time donation, or set up planned giving through a series of monthly donations. You will be able to pay by credit card or have the donation deducted directly from your checking account. The diocesan portal is a new, upgraded system which will require you to create a new account or make one-time gift.
Please remember to select "Sacred Heart Parish Tampa," as there are two other parishes with the same name in Pinellas Park and Dade City.
---
Tax Advantaged Giving
Did you know that if you are over age 70-1/2 with tax-deferred IRAs, your required minimum distributions may be distributed directly to Sacred Heart, eliminating income tax on the amount of the distribution? For tax advantaged giving like this or donations of appreciated assets and stock, contact Larry Cabrera via email or call the parish office at (813) 229-1595.
For a full description of the IRA Charitable Rollover Gift Process, download the guidance from the Diocese of St. Petersburg by clicking here.
---
See Your APA Dollars at Work
How does your gift help our Diocese? Check out APA Dollars at Work for details and videos of the good accomplished in the name of Christ.