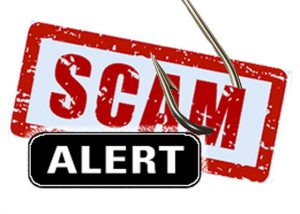 The email, text, or Instagram message arrives from Fr. Mike and you think, "Well…isn't that odd that he is texting me?" You read the message: "Are you available, now? Can you help me? I am at the hospital…." What follows is a request for gift cards, money orders, etc.   That little voice that wondered about whether it was true…. listen to it.
It has come to the attention of the church that parishioners have been receiving text messages or emails asking for money and gift cards from people pretending to be Fr. Mike. Our priests and staff never contact individuals via email, text message or social media to ask for money or personal information. Simply do not reply to such text, email or social media messages. Any suspicious activity should be reported to your email service, mobile phone provider or to the appropriate social media.
If you lost money to a scam that started with an email, please report it at ftc.gov/complaint. Also, here is a great resource from the Federal Trade Commission: How to Recognize and Report Scam Text Messaging.
To protect yourself from the scams and hoaxes, follow these tips from the Federal Trade Commission.
Legitimate organizations never ask for personal or financial information (such as usernames, passwords, PINs, credit or debit card numbers) via text message, social media, or emails.
Do not be rushed. Scams try to create a false sense of urgency by implying that an immediate response is required or that there is limited time to respond.
Never call any phone numbers that may have been included in the suspicious message.
Never click on an embedded link or email!
If you think, "maybe this a real request…" Independently look up the organization's real phone and speak to a representative who can assist you to verify the request.
Listen to that voice that says, "That's odd, why is Fr. Mike emailing/texting me?" Make sure to examine the sending number or domain name. If they are not something instantly recognizable to you, do not engage.
Learn ways to avoid scams at ftc.gov/spam and via the articles below.