Christmas 2021 Masses and Programs
— Christmas Eve —
Friday, Dec. 24 | Vigil Masses Only
4 p.m. | Children's Christmas Play at 3:30 p.m.
6 p.m. | 8 p.m.
Mass During the Night | 11 p.m. | Carols and Reflection at 10:30 p.m.
— Christmas Day —
Saturday, Dec. 25 | 7:30 a.m. | 9 a.m. | 10:30 a.m. | Noon
— The Feast of the Holy Family — 
Sunday, Dec. 26 | 7:30 a.m. | 9 a.m. |10:30 a.m. | Noon | 5:30 pm
— Holiday Docent Tour of the Church —
Monday, Dec. 27 | 3 p.m.
 — The Solemnity of Mary, Mother of God —
New Year's Day | Saturday, Jan. 1, 2022 | 9 a.m.
— The Epiphany of The Lord — 
Sunday, Jan. 2 | 7:30 a.m. | 9 a.m. |10:30 a.m. | Noon | 5:30 pm
---
Safety Guidelines
Please note: As we continue to monitor changes in our area regarding COVID-19 and the omicron variant, Sacred Heart will have the following items/protocols in place for the 2021 Christmas Season:

Sanitizing stations will be available at every entrance/exit of the church.

Protective masks are recommended while inside the church building, North Campus, or any area where crowds have the potential to gather, except when receiving Communion.

Masks will be available for those who would like them in the back of the church.

Communion will be distributed in the hand only.
Bishop Parkes has removed the General Dispensation from attending Mass beginning May 22-23, 2021.
To read his letter, click here.
---
Christmas Eve and Day Parking 2021 Update:
717 Parking has graciously donated the use of their two lots adjacent to our church for Christmas Eve and Christmas Day 2021:
We would like to thank our friends at 717 Parking for their gift of convenience and accessibility for our parishioners and visitors this Christmas.
Normal use of these lots will resume on Sunday Dec. 26,  requiring payment of the posted parking fee.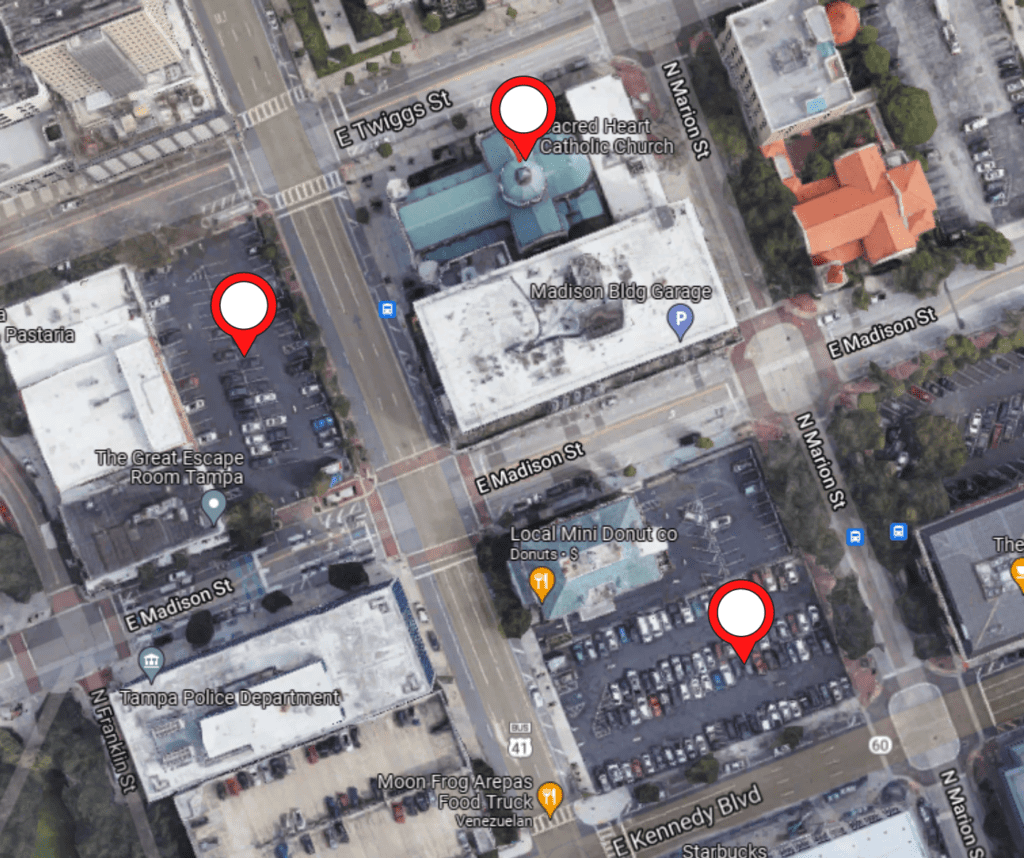 ---
Live Streaming
Three Masses will be streamed live for those who are unable to join us in-person this Christmas.
Click Here for the 2021 Christmas Live Stream Page
Both the 4 p.m. Family – and – 11 p.m. Night Mass will be streamed on Christmas Eve. These broadcasts will begin 30 minutes prior to each Mass, to include festive offerings from our musicians and choirs. On Christmas Day, our 9 a.m. Mass will be streamed.
If you can't join at these specific times, the livestream videos will be available to view 15-30 minutes following the conclusion of each Mass.
---
Support Sacred Heart During the Season of Giving
Advent is upon us, and so too is the proverbial Season of Giving, where many of us look for opportunities to emulate God's gift to the world though the birth of Christ with our own charitable efforts. Sacred Heart has a number of ministries that already benefit from the time, talent, and generosity of its parishioners, and will continue to rely on that spirit of Christmas this Advent. This Christmas, we encourage those who are able to consider giving toward the parish's current 2021 Annual Pastoral Appeal shortfall.
How to give toward Sacred Heart's 2021 APA Assessment:
– APA Envelopes: You can pick one up in the back of the church and drop into the collection basket at Mass.
– Online Giving: Simply select the option of "Ongoing Diocesan Support (APA)" and enter your contribution amount.
– PayPal: Click on or scan this QR code with your device.
---
Poinsettias: A Sacred Heart Christmas Tradition Continues
Remember a loved one during the Christmas season with a poinsettia used to decorate our sanctuary. A long-standing Sacred Heart tradition, each plant that you see has been given in remembrance or honor of loved ones whose names will be memorialized online.
Request forms can be found on the table near the church entrance, or download one from the button below. All forms, along with the suggested donation of $15 per plant, must be received by Thursday, Dec. 16.
---
Historic Christmas Tour of Sacred Heart Church | 12/27/21 | 3 p.m.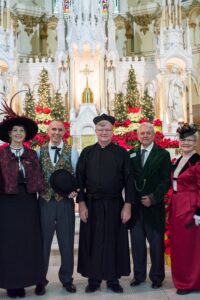 Join the Docents of Sacred Heart on Monday, Dec. 27 at 3pm for an historic Christmas tour of our Church. Decorated splendidly for the Christmas season, including the historic "creche", the tour of the church will include multiple stations featuring our docents, in period dress, and special guests explaining extraordinary features of the church including:
— the motivation behind the significant donation of the altar and altar rail
— unique architecture and design elements
— original relics that were obtained for the dedication of the church in 1905
— memorial stained glass windows
— renovations to improve and sustain our church
Learn about these and so many more interesting aspects of this ecclesiastical jewel of downtown Tampa. As always, docent-led lecture and tours are free, and open to the public. Donations are gratefully accepted and used to continue the renovation and restoration of the church.
---
Past 2021 Christmas Events
A Day of Christmas Shopping | 12/14/21 | 10 a.m.-8 p.m.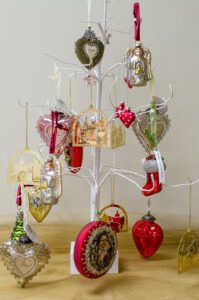 Join us for our annual day of Christmas shopping at the Sacred Heart Gift & Book Store on Tuesday, Dec. 14, from 10 a.m.-8 p.m.
In addition to having deals on amazing gifts for the Christmas season, our team at the gift store will serve spirits and snacks, and give away door prizes throughout the day.
What a great time to get your Christmas shopping done, pick up a little something for yourself, and enjoy Christmas cheer with fellow parishioners and the gift store team.
---
Sacred Heart Young Professionals Christmas Social | 12/17/21 | 7:30 p.m.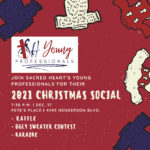 Sacred Heart's Young Professionals invite you to their 2021 Christmas Social on Friday, Dec. 17, starting at 7:30 p.m. at Pete's Place (4145 Henderson Blvd).
The social will feature a raffle, an ugly-Christmas-sweater contest, and karaoke. Come prepared to sing your favorite Christmas carol in your ugly sweaters!  For more info on the event, you can request to join the SHYP Facebook group at facebook.com/groups/tampashyp, follow them on Instagram, @tampashyp, or email at  shyamembership@gmail.com.
---
Blessing of the Creche | 12/10/21 | 6 p.m.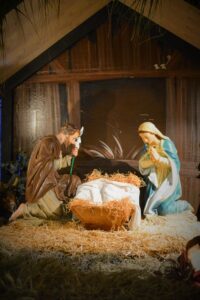 Join the Friars of Sacred Heart at The Franciscan Center (3010 N. Perry Ave. Tampa, 33603) on Friday, Dec. 10 from 6-7 p.m. for a very special tradition, the annual Blessing of The Creche.
This blessing is a yearly tradition at the Franciscan Center, and holds deep roots within the Franciscan order. Guests are invited to bring a figurine from their own Nativity scenes to be blessed. Christmas caroling, baked goods, and refreshments will be provided by the Franciscan Sisters of Allegany.
Toy donations benefitting Mary Lee's House, a non-profit dedicated to the prevention, intervention and treatment of child abuse, will be collected prior to the blessing. Educational and developmental toys and games, as well as culturally diverse toys for ages ranging from infant to 13 years are of the greatest need. For more information, contact Vicky McCarthy at vicky@franciscancentertampa.org or 813-229-2695.
---
Cookies with St. Nicholas | 12/12/21 | 11:30 a.m.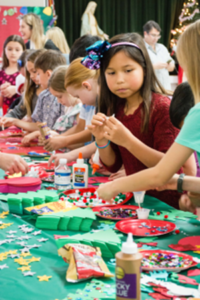 Sacred Heart is hosting its annual Cookies with St. Nicholas event on Sunday, Dec. 12th, from 11:30 a.m.–2 p.m. in the North Campus Auditorium.
Children can decorate cookies, play games, make crafts, and take pictures with jolly old St. Nicholas himself. Mark your calendars and make plans to join us!
If you're interested in volunteering, baking cookies or helping in general, contact us via email.
---
Open Doors Annual Christmas Party | 12/13/21 | 6 p.m.
The Sacred Heart "Open Doors" ministry,  an outreach and fellowship of LGBTQ people of faith, is hosting their annual Christmas party on Monday, Dec. 13, at 6 p.m., in the North Campus Auditorium. They will celebrate with fun games, gifts and plenty of food. For more information, please email opendoors.sacredheartfla@gmail.com.