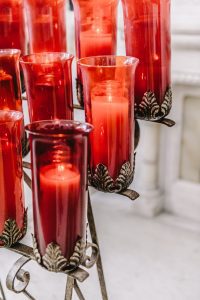 Centering Prayer is a method of silent prayer that prepares us to receive the gift of contemplative prayer, prayer in which we experience God's presence within us. It is a simple but rich way to grow in intimacy and love of God.
Centering Prayer is not meant to replace other kinds of prayer. Rather, it adds depth of meaning to all prayer and facilitates the movement from more active modes of prayer – verbal, mental, or affective prayer – into a receptive prayer of resting in God.
Following the teaching of Fr. Thomas Keating, O.C.S.O, a Trappist monk who introduced centering/contemplative prayer into the Catholic world, Sacred Heart will offer a 4-week session on learning and practicing centering prayer together.  Class dates and times are listed below.  We hope you will join us!
Tuesday, August 16th
7:00 pm
Tuesday, August 23rd
7:00 pm
Tuesday, August 30th
7:00 pm
Tuesday, September 6th
7:00 pm
All sessions will be held in the San Damiano Center.