Our Hospitality ministries go beyond just welcoming new and current parishioners – they also welcome our students studying close by at various universities, especially the University of Tampa. Each month, they host a home-cooked meal for our students who attend the 5:30 pm Sunday evening Mass.
In addition to participating in this meal, the dinners provide an opportunity for students to meet fellow Catholic students and active parishioners at Sacred Heart and enjoy a nice break from studying, homework, and other pressures of student life. Volunteers to this ministry help host, cook, set up, and clean up each event as well as get to know and form mentorships and friendships with the younger members of our parish community.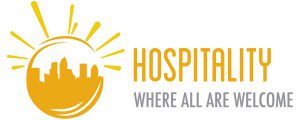 One of our volunteers, Jennifer Agana, tells us why she joined this ministry and what keeps her coming back…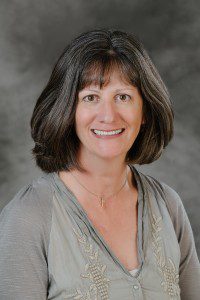 I was inspired to join the UT Dinner ministry after the worst event of my life, the loss of my son who was a college student. College can be a difficult time for our young students, and we strive to give them a spiritual outlet for their busy schedules. This ministry provides an outreach to students who are far from their home and church. Students can attend church, join us for dinners, and get to know our friars and hospitality ministers.
I was surprised to learn that we have a large group of Catholic students at UT, around 1,400. Fr. Michael is our go-to friar, and he helps with other events for the students. We have a Blessing of the Brains before spring and fall finals weeks. We offer Mass and ashes on Ash Wednesday, and we recruit students to help with our Children and Youth Faith Formation program.
Sacred Heart and UT have a special relationship. Our downtown location and close proximity offer a great venue for Catholic students to practice their faith.
We have a great hospitality crew who all chip in to prepare food, setup, serve and cleanup. We love to cook and it's great to see the way the food brings us together. We host seven to eight dinners each year. Lastly, our Sunday night College Dinners, although they are most often called UT Dinners, are for all college students, including USF and HCC. All you need to do is show up.
And Fr. Michael tells us why he has such a fondness for this ministry…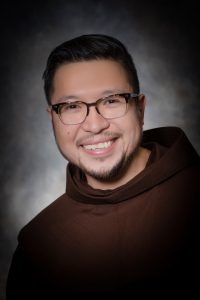 When I first arrived at Sacred Heart in February 2016, I was really excited when I noticed a good number of young college-aged students attending the 5:30 pm Mass. I became even more excited when I found out that we have an outreach program for the students here at SHC – the University of Tampa (UT) Sunday Dinner! It always inspires me to see young people being so fervent with their faith. Therefore, I always make sure to encourage and support them the best way I can.
The friars are very gracious with their time. We go to UT for Ash Wednesday Mass during Lent and the Blessings of the Brains Mass before UT's examination week. However, I feel like we can do more for the students at UT.
Therefore, together with the awesome UT Catholic Student Organization team at UT and their wonderful coordinators, we came up with "Café con Padre." It is basically a "theology on tap program" without the "tap," since some of the students are underage. We meet once a month and it involves open and informal conversation about life and faith in general. I am impressed and inspired by the depth of conversation and sharing that I had with some of the students at UT.
In addition to "Café con Padre," I also have a scheduled once-a-month Sunday late evening mass at UT. The mass starts at 9:00 pm with reconciliation at 8:30 pm. Celebrating Mass this late on Sunday night and on the campus draws a good number of students. It also helps that we have a very good musician, Sam Corson, providing us with contemporary praise and worship music. I am truly blessed to be a part of this awesome ministry! Go Spartans!
And one of our Sacred Heart students, Brittany Anderson, tells us what this ministry means to her…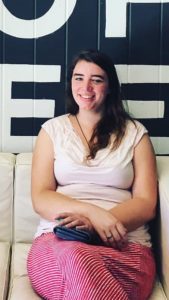 It's hard to believe that four years ago, I had no idea where I would spend my college years. Choosing a school was a not a decision I took lightly – ask my parents and they will (probably after taking a deep sigh) tell you about the hundreds of "please apply to our school" letters, countless spreadsheets, eighteen college visits, sixteen applications, and fifteen acceptance letters to schools from Tampa to Maine. Finally, I chose University of Tampa after an admissions counselor told me about the growing Catholic community. I was honestly nervous coming to a college that wasn't Catholic and I spent the summer before my freshman year wondering if I had made the right choice. I'm from New Hampshire and didn't know anyone when I got here; however, Sacred Heart has been such a blessing. The availability of the sacraments is a dream and the Friars are all wonderful and so welcoming. From the dinners for students every month to the masses on campus, to the sheer amount of events and ministries Sacred Heart offers that aren't a part of campus ministry at all, this community is one I consider myself lucky to be a part of. I have so many different memories here and it's hard to imagine what my college experience would look like without Sacred Heart. As a senior, I'm in a similar place as I was in four years ago. However, having been formed by Sacred Heart, I know I'll be okay wherever I end up.
---
If you're a student at the University of Tampa, or any of our local universities, you're invited to our next dinner…
Sunday, October 15th at 6:30 pm in the St. Francis Hall
*Immediately following the 5:30 pm Mass.