For Catholics around the world, Lent and meatless meals go hand in hand. But if you're not exactly hooked on fish, there is an alternative. Give it up for soup. For Sacred Heart, Lenten Soup Suppers have become a Friday night tradition. They not only provide parishioners with an opportunity to observe their meat-free Fridays, they also bolster a sense of fellowship and belonging.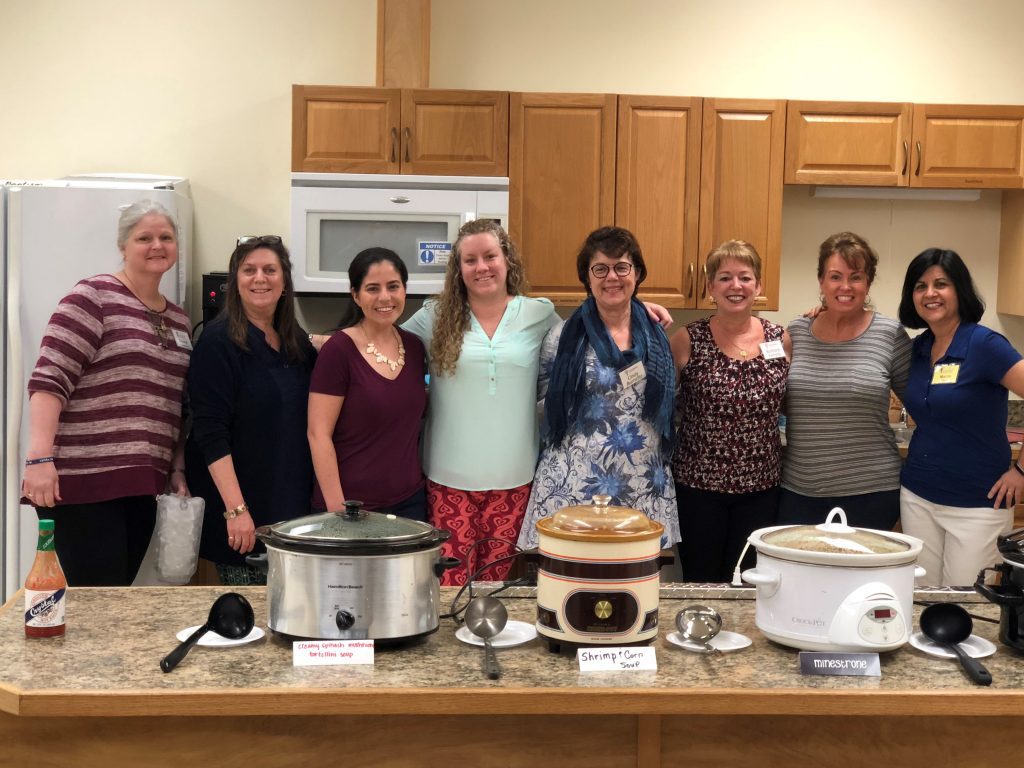 Each week, a different group is assigned to setup, to prepare the soups, and to do the cleanup. So far this year, we've had amazing soups provided by Faith Formation and Knights of Columbus, all coordinated by our Hospitality ministry. Any given week, we can have as many as eight different homemade soups. While the suppers attract new faces every year, there are many families who have been attending for years and look forward to another opportunity to share a simple Lenten meal with old and new friends alike.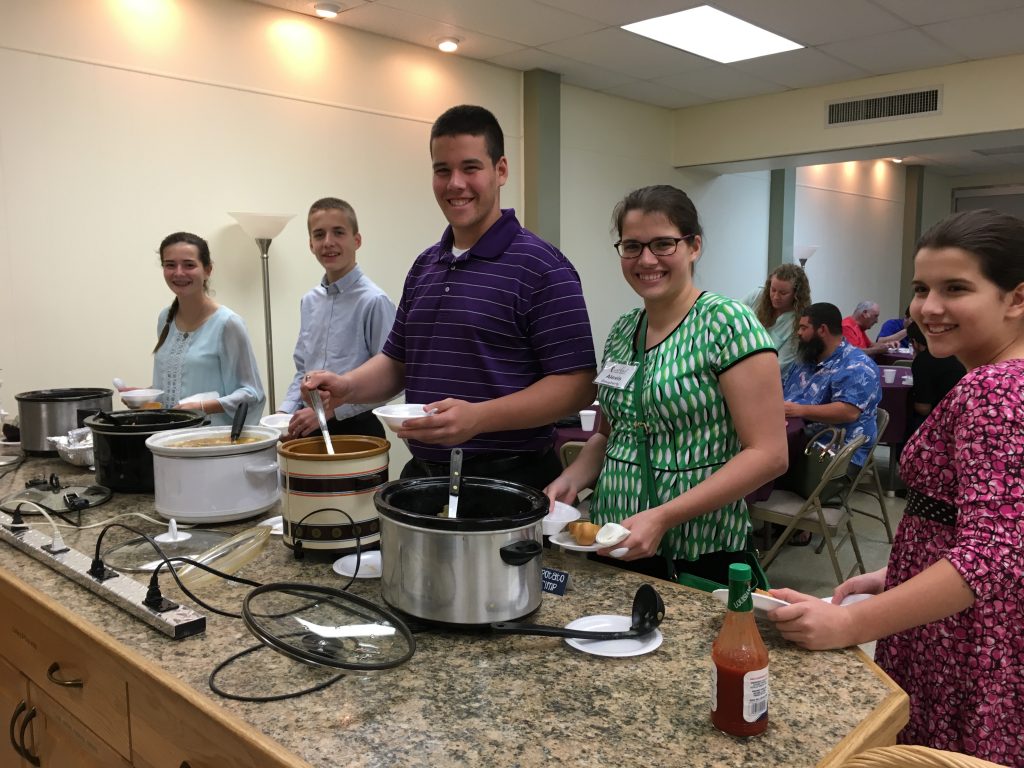 New and different soup recipes show up each and every week.  Here are some of our recent favorites…
Morgan Beeler's Creamy Tortellini Soup
Serves 6
Ingredients:
• 16 oz. baby spinach
• 2/3 C. Finely chopped yellow onion
• 3 Garlic cloves; minced
• 3 Tbsp. butter
• 1/2 Tsp. black pepper
• 1/4 Tsp. salt
• 5 C. of vegetable or chicken broth
• 1 1/2 C. half and half
• 1/2 Tsp. white pepper
• 1/2 Tsp. Italian seasoning
• 1/4 Tsp. Thyme
• 2 Tsp. Garlic powder
• 16 Oz. Bag of frozen cheese tortellini
• 3 C. Sliced mushrooms (white button)
• 1/2 C. Grated parmesan cheese
Instructions:
1. Melt butter in a large skillet.
2. Add onion, minced garlic and mushrooms.
3. Sauté for a few minutes on medium heat.
4. Add spinach, sprinkle with salt and black pepper; sauté until wilted.
5. Add mixture to a slow cooker.
6. Add all remaining ingredients to slow cooker. For a firmer consistently, you can add tortellini during last 30 minutes of cooking time.
7. Lightly stir. Cook on high for 3 hours.
Recipe Notes: For a creamier consistency, whisk 1/3 cup of flour.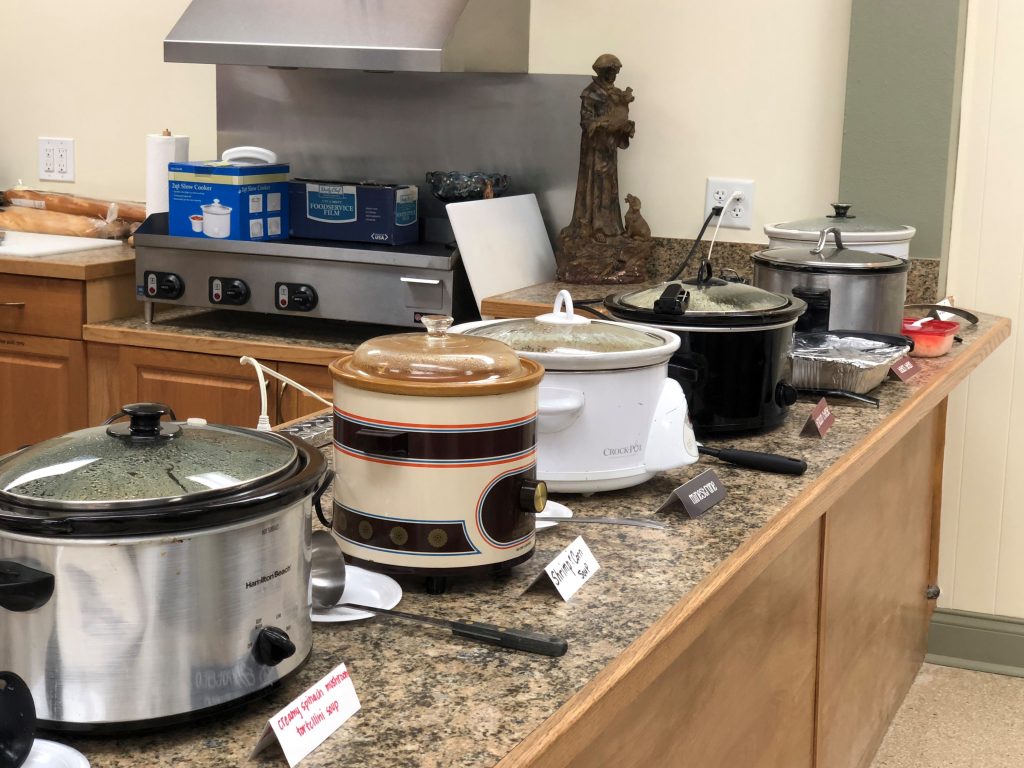 Cindy Burnette's Corn Soup with Shrimp
Serves 4-6

• 1 lb of shrimp, raw and deveined
• 1 1/2 c. fresh cut corn
• 1 pint crushed tomatoes
• 1/4 c. vegetable oil
• 4 tbsp. flour
• 1 large onion chopped
• 2 tbsp. chopped bell pepper
• 2 qts. of water
• 2 tbsp. chopped parsley
• Salt to taste
• 1 c. ham (optional)
1. Make a golden brown roux with oil and flour.
2. Add onions and bell pepper, cooking just a few minutes, stirring often.
3. Add ham (optional), shrimp, corn and tomatoes.
4. Smother about 30 minutes stirring occasionally to keep from sticking.
5. Add water and salt.
6. Simmer about 1 hour.
7. Add parsley, then cook another 15 minutes.
Our soup suppers are held in St. Francis Hall each Friday during Lent beginning at 6:30 p.m. followed by the Stations of the Cross at 7:30 p.m. in the church. Come join us this Friday for our last Soup Supper of the season!