Diocese of St. Petersburg  Consecrated to the Immaculate Heart of Mary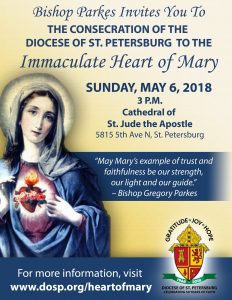 Bishop Gregory Parkes will lead a Holy Hour (Eucharistic Adoration – not a Mass) at St. Jude the Apostle Cathedral to consecrate the Diocese of St. Petersburg to the Immaculate Heart of Mary.
Sunday, May 6, 2018, 3 p.m.
Cathedral of St. Jude the Apostle
5815 5th Ave N, St. Petersburg
In an effort to lead all people closer to the Heart of Jesus, Bishop Gregory Parkes has announced that he will consecrate the parishes, schools, charities, ministries and all people who live in the five counties of the Diocese to the Immaculate Heart of Mary. To consecrate means to dedicate or set aside for a sacred purpose. Mary's life was set aside for the sole purpose of serving Jesus. By following her example, Catholics, too, can completely give themselves to Christ in a powerful way and give their lives to Him in service and love.
"An act of consecration to Mary is essentially an act of consecration to Jesus through Mary. As Saint John Paul II explained, 'Consecrating ourselves to Mary means accepting her help to offer ourselves and the whole of mankind to him who is holy, infinitely holy; it means accepting her help—by having recourse to her motherly heart,'" said Bishop Parkes, recalling the words of the former pope who had a great influence on his own vocation to priesthood.
The consecration takes place in May because our culture celebrates the gift of mothers during May and Catholics also thank God for the gift of the Blessed Mother. The Catholic Church dedicates May to Mary in honor of her role as the mother of Jesus and of those in Heaven and on Earth. She mothers everyone like a true mother, and she is the model for those who want to be faithful followers of Christ.
Learn more about Marian Consecration
If you are unable to attend – watch the consecration live! 
Participate with the Holy Hour Worship Aide