Are you looking for ways to get involved at Sacred Heart this week? We have plenty of opportunities for you with our various ministries and events. See below for this week's highlights and consider joining us. You would be most welcome!
Turn in Your Commitment Cards
You should have received more information about our True North vision in the mail a few weeks ago. Our goal is to fund this vision through our regular Sunday offertory program, and our hope is that in doing so, we can make these improvements as part of our normal parish operating expenses. We would forego our usual campaign for the Annual Pastoral Appeal (APA) as well as the need for a capital campaign for the next several years. It would all be rolled up into your everyday giving, and your commitment allows us to better plan and be good stewards of your gifts.
If you haven't turned in your Commitment Card yet, it's not too late!  We ask that each family prayerfully consider what you can financially contribute to help us realize our True North vision. Included in the mailing is a Commitment Card. Bring it with you to Mass next weekend and drop it in the offertory basket.
---
Christmas Tree Sales!
Looking to avoid the hassle of finding the perfect Christmas tree this year? The Knights of Columbus are selling premium-grade Fraser Fir trees and wreaths, which will be available for pickup on November 23rd and 25th. Order yours here: https://squ.re/2OJ3PMc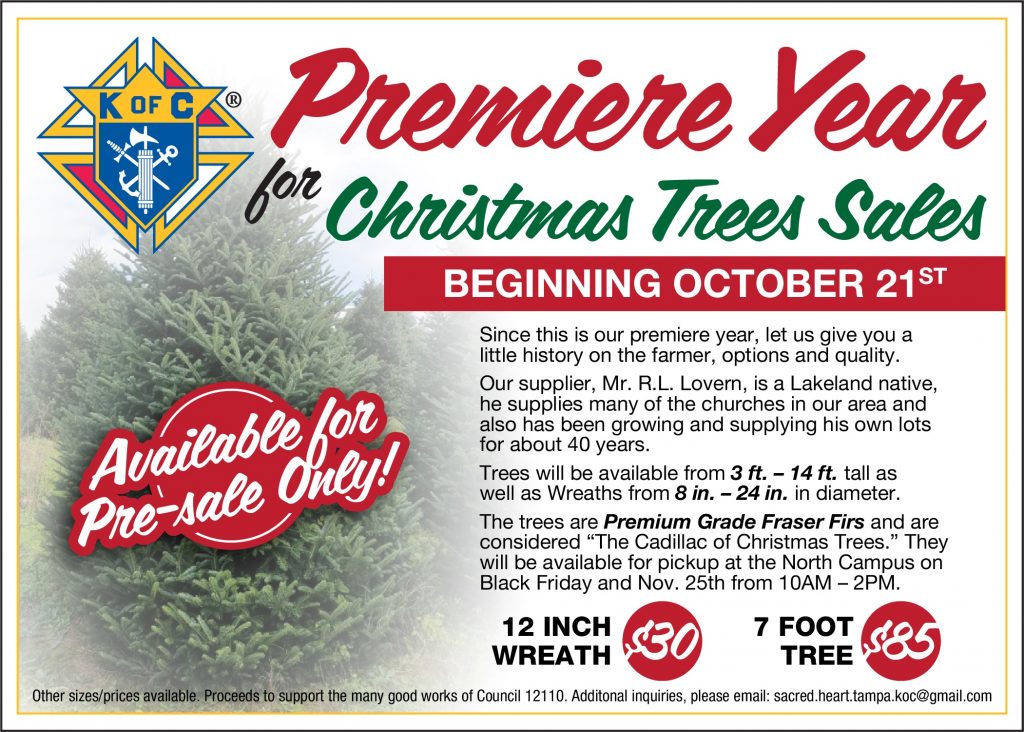 ---
Holy Day of Obligation – All Saints' Day
Thursday, November 1st, is The Solemnity of All Saints. Sacred Heart will hold Masses at the following times:
– 7:00 am
– 12:10 pm
– 7:00 pm