As the oldest Catholic church on Florida's West Coast, Sacred Heart has been a part of many moments both big and small – historical events, celebrations and sacraments that run throughout generations, and the every day, simple moments of quiet prayer.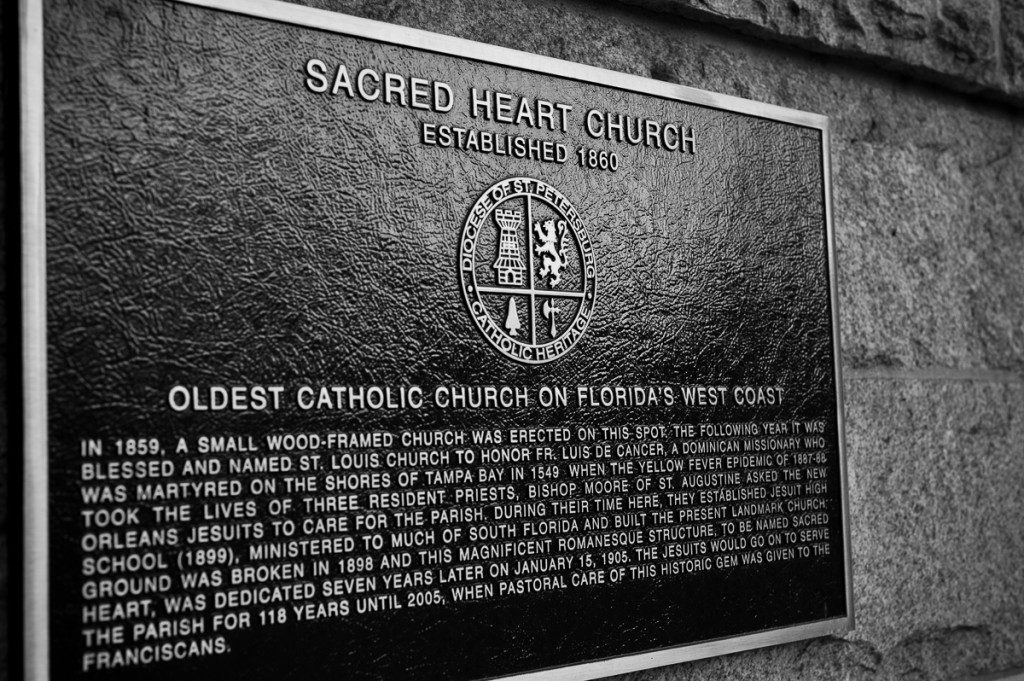 But did you know that Sacred Heart has a group of parishioners who are dedicated and committed to the preservation of our heritage? Through the collection and protection of parish archives and educational programs and tours, they call themselves Friends of Sacred Heart. And they are just that. Friends. Their ongoing mission is to preserve the history of our parish, supervise the parish archives, publish literature to capture the beauty of the church buildings and stained glass windows, maintain the parish museum, and run Docent-led tours of the church. No small feat.
You might say the Friends of Sacred Heart live in the past — as far back as 1549. They can tell you how Sacred Heart evolved into the magnificent church we worship in today. They can introduce you to the faithful, founding family who mortgaged one-fourth of their citrus acreage to pay for a church window. They can even tell you about the gentleman builder of the old St. Louis Church, who told his associate to, "Give the keys of the church to the pastor," even though money was still owed for the construction.  Or about the role the church played in the Spanish-American war. The members can enlighten you about all of these things and more, and they do so regularly at our monthly church tours. They even host a special, historical tour each year around Christmas where they dress in full period costume among the splendor of our Christmas decorations.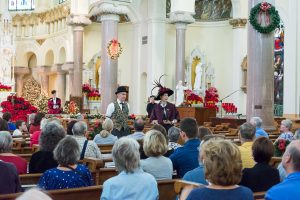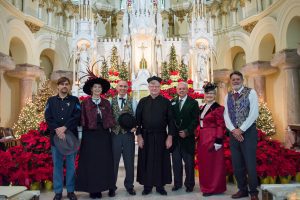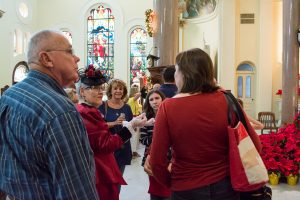 Have you ever attended one of their tours? Consider joining their next one, which typically take place on the second Sunday of each month at 1:15 pm. The tours last anywhere from 30 minutes to an hour and are open to everyone. Or if you're interested in learning more and taking an active role in the preservation of our Sacred Heart history, join their Ministry! They would love to have you participate in whatever way you'd like.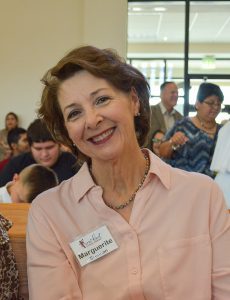 One of our Docents, Marguerite Brennan, had this to say about being involved with Friends of Sacred Heart:
"Being a docent is a joy — and an opportunity to share our beautiful church and faith with the many guests who join our tours. It would have been impossible for me not to join the team; I have been a docent at other venues, but this one is very special. My parents joined Sacred Heart in the 1950s and my sisters and I were Sacred Heart brides. When giving a tour, my goal is to share this living faith community that began in the 1800s and continues today. I feel privileged to be allowed to do so."
To learn more about Friends of Sacred Heart, click here.
Or to learn more about our Sacred Heart history, click here.