Are you looking for ways to get involved at Sacred Heart this week? We have plenty of opportunities for you with our various ministries and events. See below for this week's highlights and consider joining us. You would be most welcome!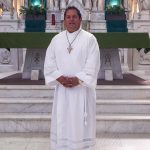 Welcome Ray Ferreris!
We are pleased to announce that Mr. Ray Ferreris, husband of Barbara Ferreris, our Director of Faith Formation, is a candidate for ordination as a Deacon for the Diocese of St. Petersburg. Already instituted as an Acolyte, you'll see him assisting the liturgy and ministry team here at Sacred Heart. Next time you see him, take a moment and say hello!
Save the Date – Family Faith Fest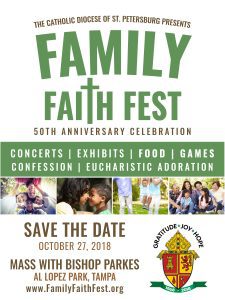 Bishop Parkes invites everyone to a faith and music festival commemorating the 50th anniversary of the Diocese of St. Petersburg. This free event will be held at the beautiful Al Lopez Park of Tampa. Festival will also include games and activities for children, fun, food, music, entertainment, Eucharistic Adoration, Confession, and the celebration of the Eucharist as a community in a special way with Bishop Gregory Parkes as principal celebrant.
Al Lopez Park is located on 132 acres of a natural preserve with plenty of trees, Florida wildlife, open green spaces, playgrounds, walking trails and two scenic ponds. It is centrally located between the major metropolitan areas of the Diocese with easy access to major highways. Visit www.FamilyFaithFest.org to learn more about the Family Faith Fest and to register for tickets and prizes!
2018 Annual Pastoral Appeal – Update
Thank you to everyone who has responded and participated in the 2018 Annual Pastoral Appeal. Your gift is received with great humility, thanks, and gratitude by the thousands of people supported through your donation. If you have not yet responded, please know we want and need your participation! Every gift, every prayer, and every sacrifice brings hope to someone seeking the love and mercy of Christ. Be part of that blessing!  Give here.
Goal: $293,391
To Date: $266,913