Are you looking for ways to get involved at Sacred Heart this week? We have plenty of opportunities for you with our various ministries and events. See below for this week's highlights and consider joining us. You would be most welcome!
Sacred Heart Lenten Mission
Join us for three unforgettable nights at our Sacred Heart Lenten Mission with renowned Catholic music artist, John Angotti. John is a full-time Catholic music missionary who travels the world sharing inspirational music and witness to all ages through concerts, missions, and liturgies. He's visited hundreds of parishes, traveled to 10 different countries on four different continents, and received the Male Vocalist of the Year award from the United Catholic Music and Video Association.
Come enrich your Lenten journey by joining one or all of our three-night event at the North Campus:
– March 10th: God in the Mystery of Suffering
– March 11th: Healed in God's Embrace
– March 12th: Return to the Fullness of Life
*Mass will be celebrated immediately prior to the Mission on Sunday, March 10th at 5:30 pm.
Our Lenten Mission is open to all parishioners and offers something for all ages. Make your plans to join us at the North Campus for this wonderfully inspiring event.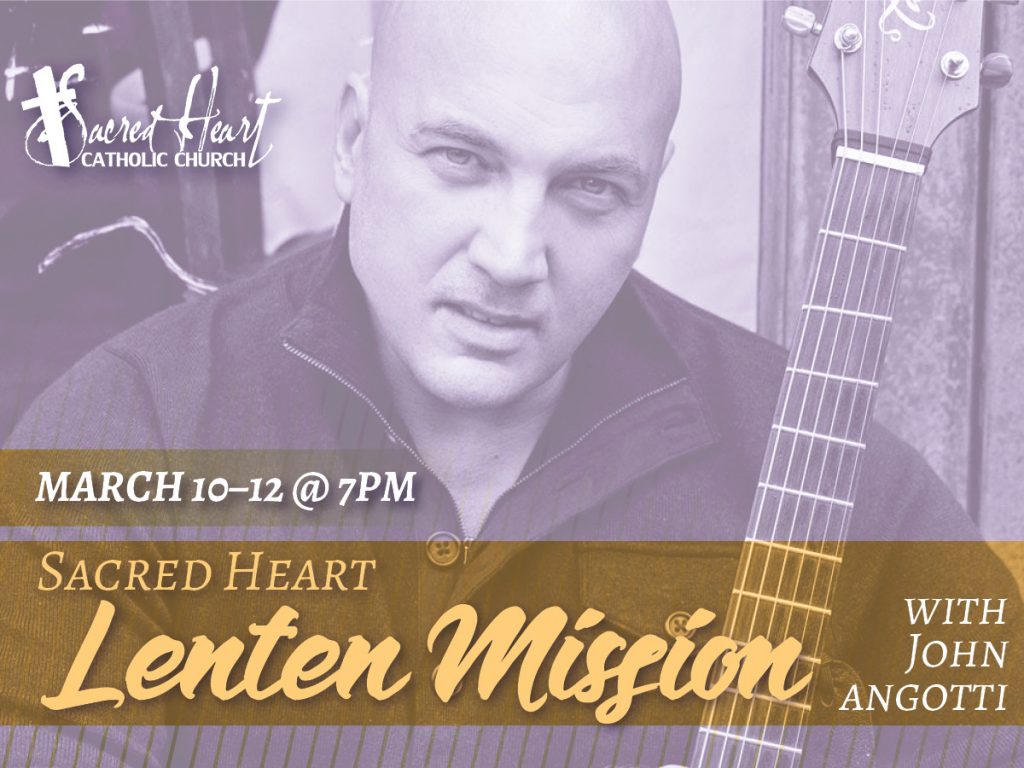 ---
Adult Confirmation
Did you miss receiving the Sacrament of Confirmation while growing up Catholic? We have a program here at Sacred Heart for adults who are active in their faith, have been Baptized, and received First Eucharist, but for various reasons were unable to receive the Sacrament of Confirmation. Our Spring 2019 sessions will be held weekly on Thursday evenings, beginning February 28th and ending on April 4th. The Sacrament of Confirmation will be conferred by Bishop Parkes on Sunday, April 7th. For more information, contact Barbara Ferreris.

---
University of Tampa Dinner
Attention university students! You are invited to join the Sacred Heart friars, hospitality ministers, and your fellow students for dinner on Sunday, March 3rd. Please join us for fun, fellowship, and a home-cooked meal. Our dinners are served immediately following the 5:30 p.m. Sunday Mass in St. Francis Hall.