Are you looking for ways to get involved at Sacred Heart this week? We have plenty of opportunities for you with our various ministries and events. See below for this week's highlights and consider joining us. You would be most welcome!
Sacred Heart Lenten Mission
Join us for three unforgettable nights at our Sacred Heart Lenten Mission with renowned Catholic music artist, John Angotti. John is a full-time Catholic music missionary who travels the world sharing inspirational music and witness to all ages through concerts, missions, and liturgies. He's visited hundreds of parishes, traveled to 10 different countries on four different continents, and received the Male Vocalist of the Year award from the United Catholic Music and Video Association.
Come enrich your Lenten journey by joining one or all of our three-night event at the North Campus:
– March 10th: God in the Mystery of Suffering
– March 11th: Healed in God's Embrace
– March 12th: Return to the Fullness of Life
*Mass will be celebrated immediately prior to the Mission on Sunday, March 10th at 5:30 pm at the North Campus as well as the church.
Our Lenten Mission is open to all parishioners and offers something for all ages. Make your plans to join us at the North Campus for this wonderfully inspiring event. Get your FREE ticket here.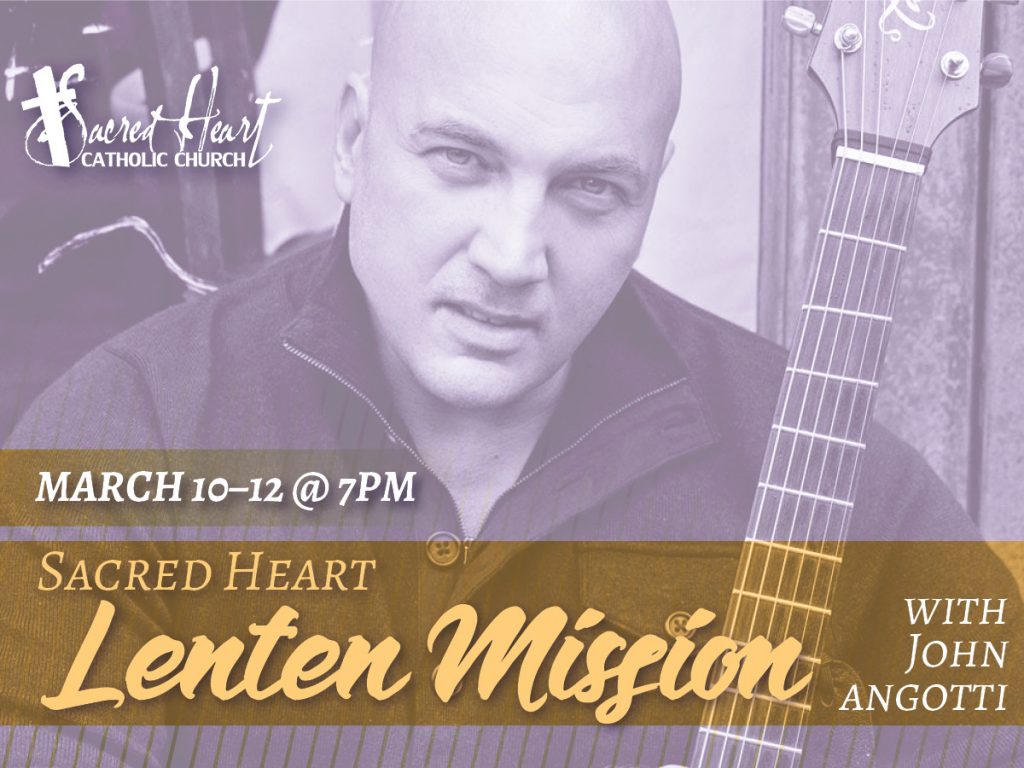 ---
Ash Wednesday
This Wednesday, March 6th, is Ash Wednesday and the beginning of Lent. Ashes will be distributed during the celebration of Mass at the following times:
– 7:00 am
– 12:10 pm
– 7:00 pm
There will also be a Prayer Service at 5:30 pm.

---
Lenten Soup Suppers & Stations of the Cross
Every Friday during Lent, the parish will host two evening events – our Simple Soup Supper and Stations of the Cross. Consider making this part of your Lenten spiritual practice and join your fellow parishioners in their Lenten journey.
– Simple Soup Supper: 6:30 pm in the St. Francis Hall
– Stations of the Cross: 7:30 pm in the church