Are you looking for ways to get involved at Sacred Heart this week? We have plenty of opportunities for you with our various ministries and events. See below for this week's highlights and consider joining us. You would be most welcome!
Sacred Heart Lenten Mission – STARTS MARCH 10TH!
Join us for three unforgettable nights at our Sacred Heart Lenten Mission with renowned Catholic music artist, John Angotti. John is a full-time Catholic music missionary who travels the world sharing inspirational music and witness to all ages through concerts, missions, and liturgies. He's visited hundreds of parishes, traveled to 10 different countries on four different continents, and received the Male Vocalist of the Year award from the United Catholic Music and Video Association.
Come enrich your Lenten journey by joining one or all of our three-night event at the North Campus:
– March 10th: God in the Mystery of Suffering
– March 11th: Healed in God's Embrace
– March 12th: Return to the Fullness of Life
*Mass will be celebrated immediately prior to the Mission on Sunday, March 10th at 5:30 pm at the North Campus as well as the church.
Our Lenten Mission is open to all parishioners and offers something for all ages. Make your plans to join us at the North Campus for this wonderfully inspiring event. Get your FREE ticket here.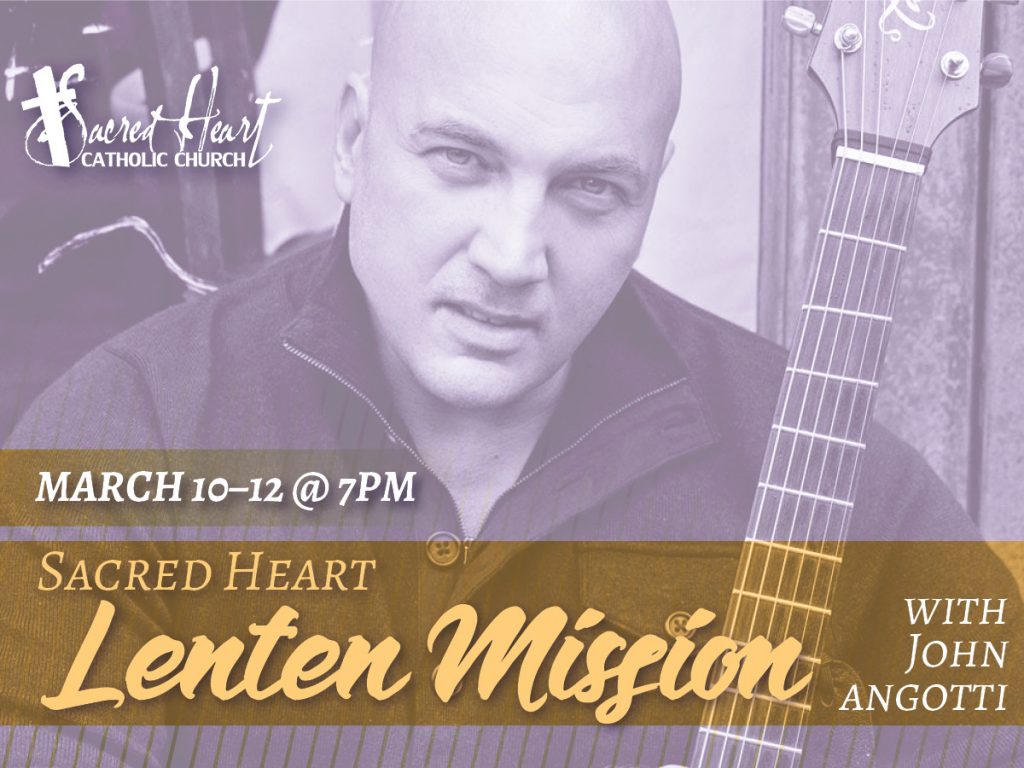 ---
Lenten Resources
Below are some opportunities for you to get more involved this Lent, whether through daily reflections or 6-week study programs. Consider using one of these in your daily life, a small Lenten group, or with your family.
Formed: Watch, Read, and Reflect for 10 Minutes a Day
Watch a beautiful video reflection from Ahava Productions' ECHO series, featuring Bishop Hying, read an inspiring passage from the Catechism, and reflect on how God's truth applies to your daily life. Sign Up.

Formed: A Lent to Remember
A Lent to Remember explores the ways God reaches out to each of us with his mercy. Through Christ's suffering on the cross in the Paschal Mystery and his perpetual reception of his people in the Sacrament of Reconciliation, God makes his love, his very self, present to us in the world. By reflecting on the Paschal Mystery and making a step-by-step examination of the Rite of Confession, A Lent to Remember communicates God's invitation to each one of us to come experience his indescribable love this Lent.  Access here.
Formed: Forgiven
Forgiven explores the grace and healing offered in Confession and shows how this sacrament of mercy reveals the depth and bounty of God's love. By looking at God's revelation of his mercy in Scripture and making a step-by-step examination of the Rite itself, Forgiven communicates God's invitation to each one of us to come experience his indescribable love in the Sacrament of Reconciliation. Access here.
*If you have not registered for Formed, use our customized link and create an account for free access to the Formed website. 
---
Lenten Giving Tree
During this Lenten season, instead of "giving up" something, consider "doing something" for others in the community. You will find our Lenten Giving Tree in the main entrance of the church. Please take a tag from the tree and prayerfully consider what you might be able to give to one or more of the needy charities we are collecting for this year. The charities include Catholic Relief Services, Heifer International's Mission, and Apostleship of the Sea of the U.S. Thank you for your support of these worthy causes!