Are you looking for ways to get involved at Sacred Heart this week? We have plenty of opportunities for you with our various ministries and events. See below for this week's highlights and consider joining us. You would be most welcome!

Join Us for Holy Week!
Make plans to celebrate the Easter Triduum with us – Holy Thursday, Good Friday, and Holy Saturday – this week. Our full schedule for Holy Week and Easter Sunday is noted below:
Thursday, April 18th: Holy Thursday
– Mass of the Lord's Supper: 7:00 pm
– Mass will be followed by a Eucharistic procession and "watching and waiting" with the Lord.
*There will be no daily Mass or confessions. The church will be closed all day for maintenance, cleaning, and organ tuning.
Friday, April 19th: Good Friday
– Stations of the Cross: 12:10 pm
– Celebration of the Lord's Passion: 7:00 pm
*There will be no daily Mass or confessions and the parish office is closed.
Saturday, April 20th: Easter Vigil
– Mass with RCIA Rites of Initiation: 8:00 pm
*There is no 5:30 pm Mass or confessions.
Sunday, April 21st: Easter Sunday
– Masses: 7:30 am, 9:00 am, 10:30 am, and 12:00 pm
*There is no 5:30 pm Mass on Easter Sunday.
Monday, April 22nd: Easter Monday
– Mass: 7:00 am
---

Parking for Holy Week
During our Holy Week and Easter celebrations, parishioners are invited to park in the locations listed below: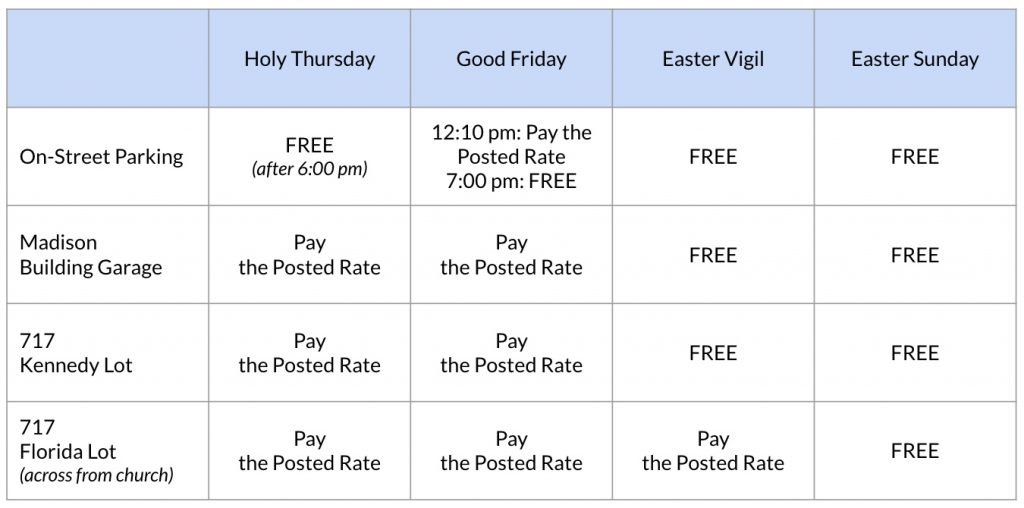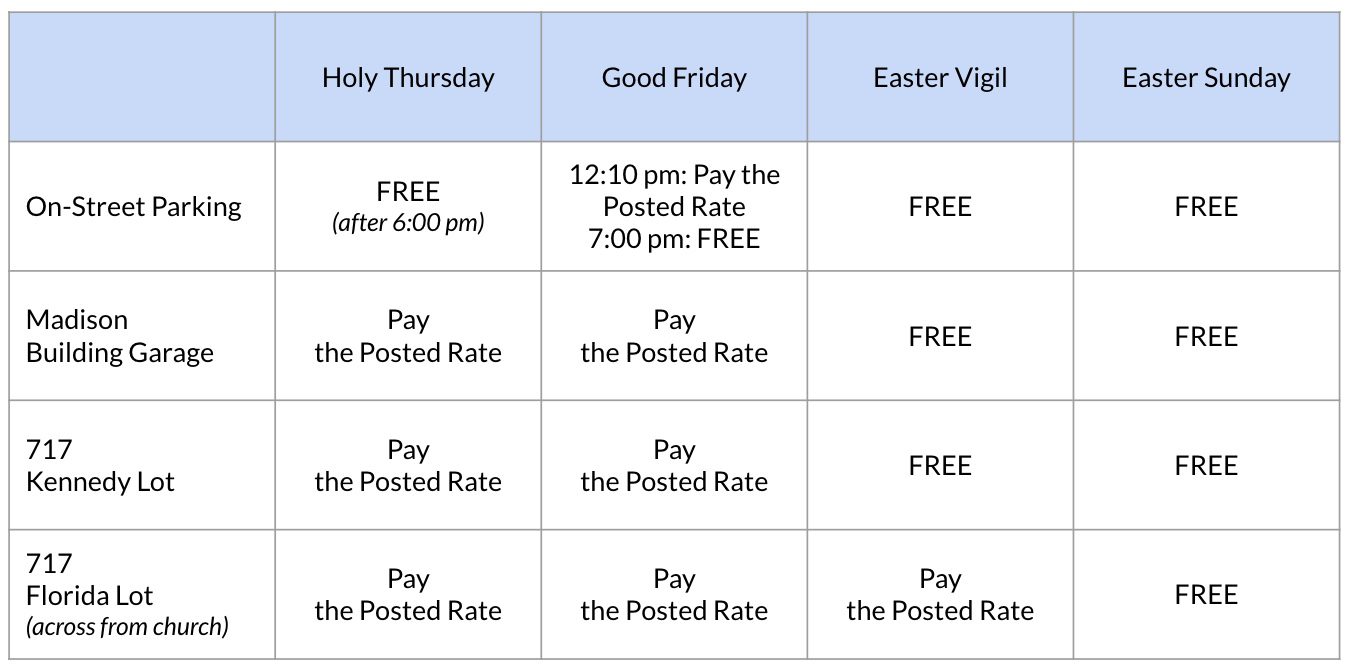 Please note: For your safety and the safety of the public transit buses, do not park in the median of the bus parkway (behind the church on Marion Street). It is not legal parking, and you may be ticketed.
Parking in the Madison Building Garage is courtesy of the Madison Building and parking in the 717 Kennedy Lot and Florida Lot is courtesy of 717 Parking Enterprises.
---
Easter Items at the Sacred Heart Gift & Book Store
It's not too late to stock up on all of your Easter gifts at the Sacred Heart Gift & Book Store. They have traditional items like pietas, Last Supper art, and rosaries, or maybe you need something more light-hearted for that special someone's Easter basket. Stop by this weekend and browse the many specialty items they have available. The store is open:
– Saturdays: Before and after the 5:30 pm Mass
– Sundays: From 8:30 am to 1:30 pm
– Tuesdays-Fridays: From 10:00 am – 3:00 pm