In an announcement made at all Masses on the weekend of 12/19/2021, pastor Fr. Stephen Mimnaugh, OFM notified the parishioners of Sacred Heart of his transfer to the friar fraternity at St. Bonaventure University in Olean, New York, effective in January, 2022.
Fr. Stephen's new assignment will see him working alongside those at the 163-year-old Catholic university,  learning the connections between higher education and social service agencies, and setting him on a path toward further service in post-secondary education administration for the Franciscan Friars of Holy Name Province.
Our own Fr. Mike Jones, OFM will assume the role of pastor on January 17, 2022, as described in a letter from Fr. Kevin Mullen, OFM, the Provincial Minister for Holy Name Province, regarding Fr. Stephen's upcoming transfer.
Coming to Sacred Heart in 2020, Fr. Stephen worked diligently to help guide the parish through the trials of the COVID-19 pandemic over the last year and a half. In a companion letter, Fr. Stephen stated his admiration for the "exemplary Christian discipleship" displayed by the parishioners of Sacred Heart, as well as his excitement for a new beginning.
The friars, deacon, and staff of Sacred Heart wish Fr. Stephen well on this new assignment.
Read the letters from both Fr. Kevin Mullen & Fr. Stephen below:
Letter from Fr. Kevin Mullen, OFM, Provincial Minister for Holy Name Province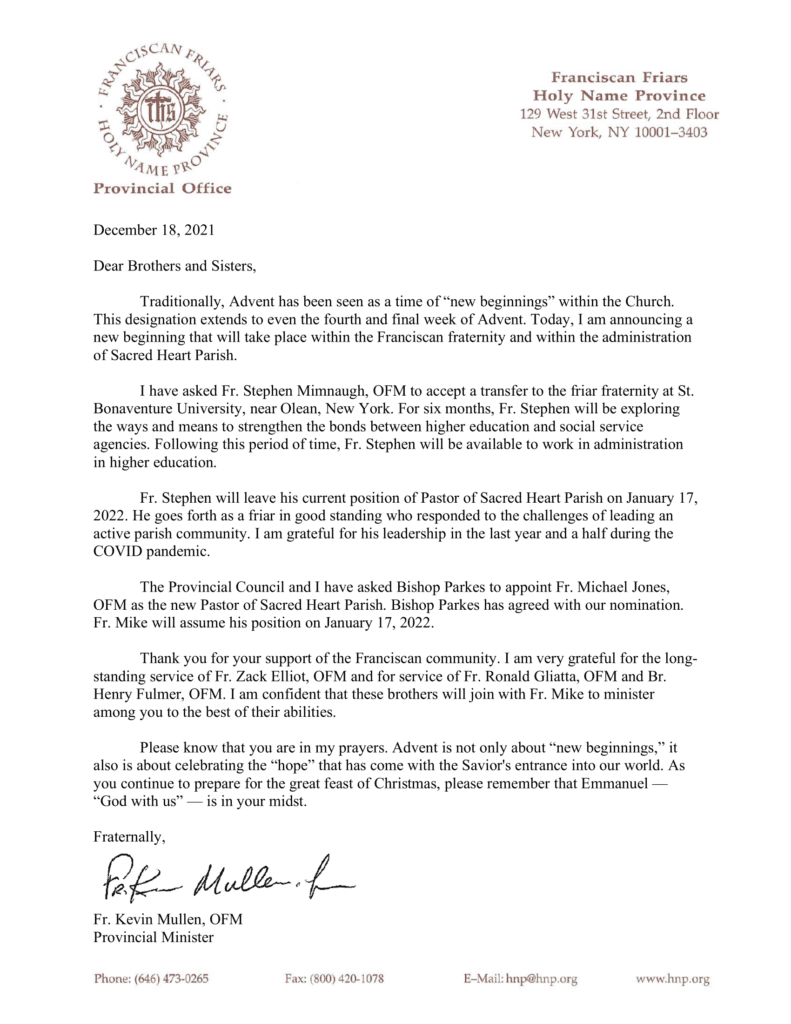 ---
Letter from Fr. Stephen Mimnaugh, OFM, Pastor of Sacred Heart Catholic Church