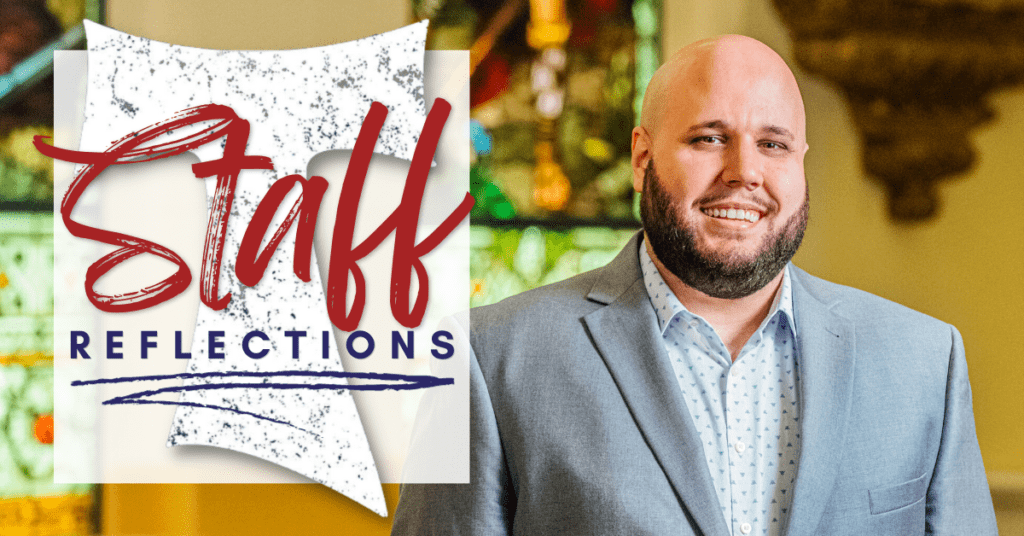 Dear Parishioners,
Since beginning work here at Sacred Heart a little over two years ago, I can easily say I have been a beneficiary of our parishioners' exemplification of this weekend's Gospel according to Matthew, at least in a figurative sense. Communications, public relations, and social media personnel are often mischaracterized as gatekeepers protecting a company's image or shills for an organization's agenda. While these negative connotations may carry a small amount of truth to specific aspects of our profession, we are more akin to story-tellers than gatekeepers or parrots. Thankfully and intentionally, I have been working to make that the more dominate descriptor for my work here, because what a story we have to tell!
Each and every week we are blessed with new examples of our parishioners, ministries, and volunteers embodying Matthew 25:35-40. I am privileged to have a front row seat to so much of that service to our neighbors. I am even more privileged to be the one to help advance these stories of service to the rest of the parish and our local and regional partners. Not that you wouldn't believe it, but many of those who work with our outreach ministries here at Sacred Heart are so camera shy when I am around to get photos or video. They don't want any recognition for what they feel is simply answering His call to action, and I respect that, even when that necessitates more effort with how we represent or advertise a given ministry or outreach.
I feel strongly that we continue to grow our efforts in covering these "Matthew 25" stories here at Sacred Heart. Not for vanity, credit, or favor, but to grow our basis for who we can help and how we can help them. Outside of a personal invitation, effective story-telling is one of the best ways to convince someone to take an action. It could be as simple as a 10-second video on social media showing the interaction a volunteer has with a donor at our Giving from the Heart drives that makes a new parishioner set a reminder to donate at the next drive, for instance.
Creating and distributing content across multiple channels (web, social, email, print) takes time, and we all know that is in short supply. While we are nearly finished with the in-office studio space, we will need experienced volunteers to join us in making the space an effective tool for telling our parish's story. A parish communications committee will be reestablished in the new year to help lead these efforts, so we can continue to grow our parish's commitment to Matthew 25.
Peace and All Good,
Rob Boelke