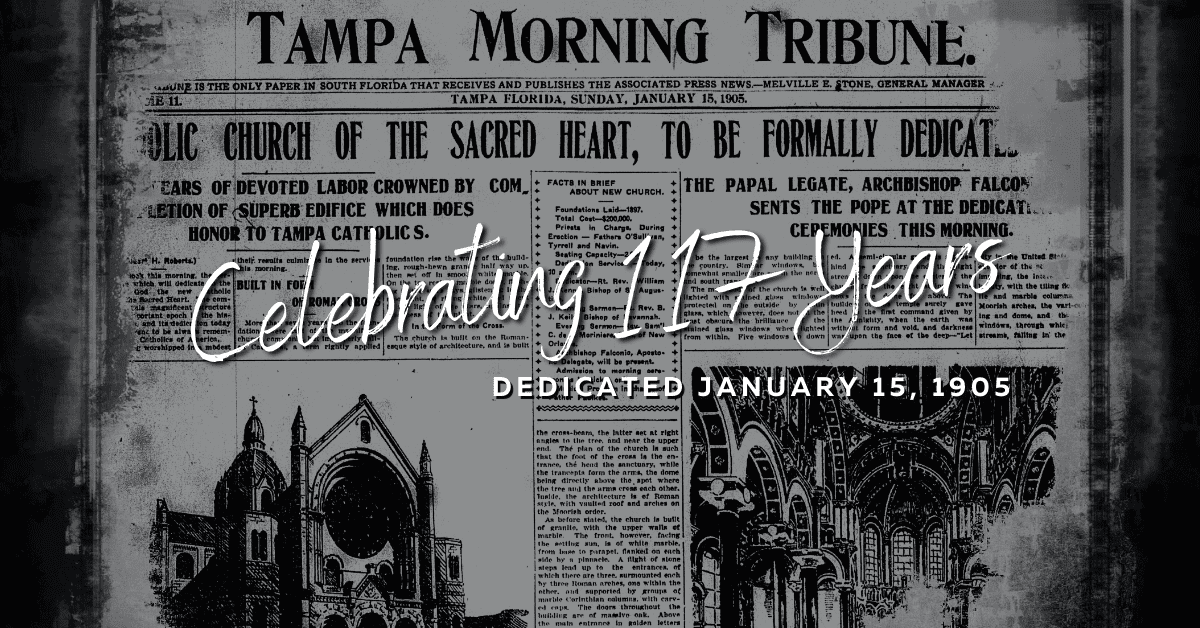 On Saturday, Jan.15, Sacred Heart Church celebrates the 117th anniversary of its dedication. On the same date in 1905, Papal Legate (representative/missionary of the Pope) Archbishop Diomede Falconio, along with a consortium of traveling bishops and priests attended the 10 a.m. dedication. This would be among the first services held in the newly completed church, a ticketed event led by the Bishop of St. Augustine, Rev. William J. Kenny.
As written for the Tampa Morning Tribune's Sunday edition on Jan 15., 1905, "the completion of this magnificent structure marks an important epoch in the history of Tampa, and its dedication today will be an event to always be remembered by the Catholics throughout America." If the event that day was not remembered by all Catholics throughout the country, surely then by our many longstanding parishioners with ancestors that settled in our relatively young city.
Sacred Heart still serves as one of the oldest churches in Florida, and also as one of the oldest structures in our rapidly changing and expanding downtown core. We see five-star hotels and world-class office buildings raised in a matter of months as our city continues to grow, but like all good things, Sacred Heart's construction took a longer period of time. Seven years in fact, from the date the foundation was poured in 1898 to the eventual completion in 1905. The reported cost was between $200,000 and $300,000. Adjusted for inflation, that is between $6.3 and $9.4 million today.
Discover more about the history of Sacred Heart by clicking here.