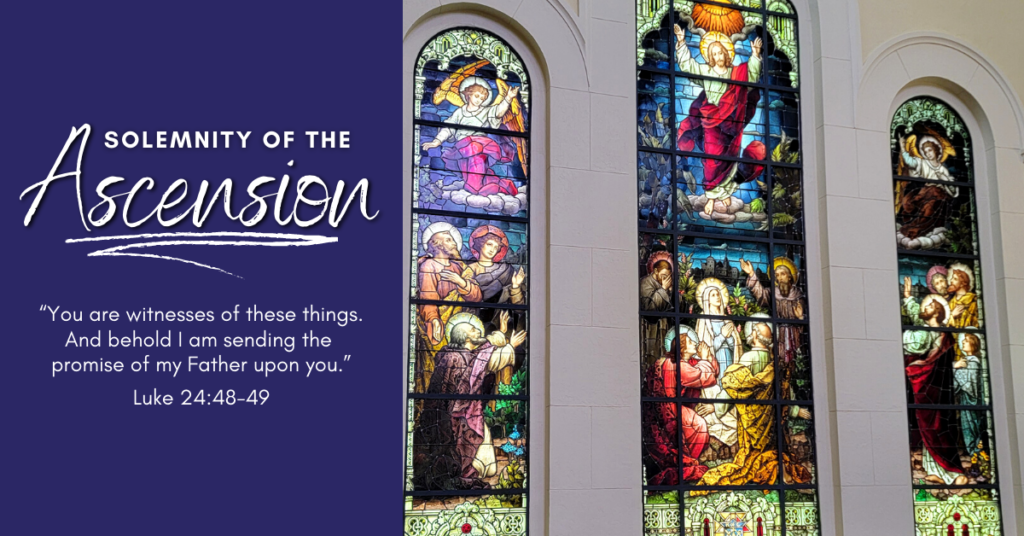 On May 29, 2022, we celebrate the Solemnity of the Ascension of the Lord. In the days following His resurrection until the Ascension, Jesus appeared to His apostles in several different ways to affirm for them that He had been raised from the dead and truly lives. They were filled with the theological virtue of faith, indicating that with God all things are possible. Soon He would leave them again, this time to sit at His Father's Right Hand.
Did you know? |  We see His Ascension depicted in the triptych of windows along the south side of the church, adjacent to the choir area, with His disciples losing sight of Him among the clouds as He was lifted. These windows were donated to the parish in 1904 by the Knights of Columbus and dedicated "to the greater honor and glory of God."
I always thought it was "Ascension Thursday." What Changed? | The Solemnity of the Ascension is a Holy Day of Obligation, occurring on the Thursday that coincides with the 40-day mark following Easter, and is celebrated as such in many regions of the country, while other regions transfer the celebration to the following Sunday. Transferring the Ascension to Sunday is actually not that new, and part of a larger trend to transfer holy days of obligation and other solemnities to the following Sunday. Doing so allows greater exposure and more solemn celebration of the holy day among the faithful.
For the Ascension in the United States, this trend started on the West Coast in the late 1990s, and eventually spread. Other parts of the world have also transferred this solemnity to Sunday including Australia, Canada, and some countries in Europe. With the approval of the Holy See, the episcopal conference (the body of bishops in a country) can transfer solemnities and change some of the holy days of obligation (Canon 1246). In the U.S., each ecclesiastical province, or the metropolitan archdiocese and its suffragan dioceses, was permitted to decide whether to transfer the Ascension or not. (Portions of this article are attributed to the Paul Christopher Lim's "From the Back of the Church")