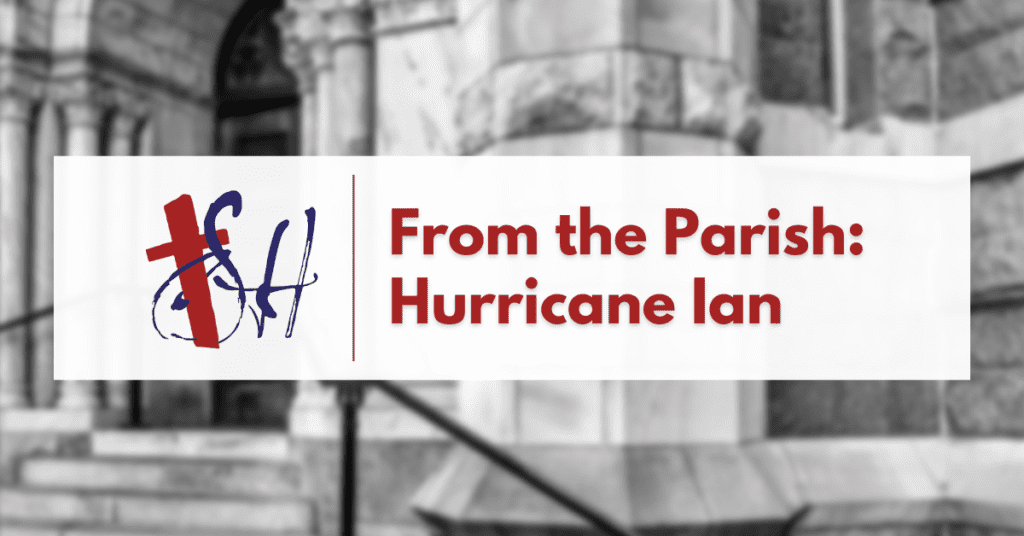 *This page will be updated as additional information is received.
---
Friday, September 30: Our Prayers Are With Those Affected By Hurricane Ian:
God is our refuge and our strength,
an ever-present help in distress.
Thus we do not fear, though earth be shaken
and mountains quake to the depths of the sea,
Though its waters rage and foam
and mountains totter at its surging.
Streams of the river gladden the city of God,
the holy dwelling of the Most High.
God is in its midst; it shall not be shaken;
God will help it at break of day.
Psalm 46:2-6
This week, the entirety of our region felt the effects of a powerful and unrelenting storm, forcing us all to pause and focus on what is most important in our lives; our safety and the ones whom we love. Many of our friends, family, neighbors and colleagues will have been affected by Hurricane Ian.
The friars are praying daily for the already ongoing recovery efforts, and invite you to join them in the following prayer:
Gracious God, we pray for the victims of this disaster, that you would comfort the lives of those who have been affected, and that you would take care of those who perished. Lord, please bless those who are doing everything they can to help these people and also make sure that things run smoothly in repairing our communities. Please help the victims to have patience as they deal with the arduous task of recovery. Lord, we pray that you will ensure that the victims do not come under any illnesses from this disaster, and we also pray that they get enough food and clean water and proper shelter for everyone | Amen.
The friars and staff will be monitoring recovery efforts within the Diocese of St. Petersburg, Diocese of Orlando, and Diocese of Venice, and providing information for how you can assist those efforts on this page and in future bulletins. Here are the current ways in which you can assist:
The Diocese of Venice: As can be expected, information from the Diocese of Venice will be slow to make its way to print, as much of their diocese is without both power and cell service. Local parishioners have been instructed to look to Catholic Charities of the Diocese of Venice for updates on how they can help, or be helped. Additionally, the DOV has published a donation page for relief efforts.
Diocese of St. Petersburg Disaster Relief: In times of crisis, many feel called to offer prayers and provide humanitarian and pastoral support to our brothers and sisters who experienced disaster. While Hurricane Ian changed paths and the Tampa Bay area was spared direct impact, several areas of our diocese have experienced damage. By joining together, the people of our diocese have made a difference in the hardest hit areas around the world through donations to the Diocese of St. Petersburg Disaster Relief Fund, and will do so again following Hurricane Ian.
Catholic Charities of the Diocese of St. Petersburg: Evacuation shelters for Hurricane Ian in both Pinellas and Hillsborough County closed on September 30, and residents at both the Tampa and Pinellas Hope Homeless Shelters have returned. Both sites are in critical need of the following items: sleeping mats, blankets, bed sheets, tents, bath towels, socks (new).
---
Thursday, September 29: Following an inspection of the church and friary, the friars reported no damage on church grounds following Hurricane Ian's departure from our area.
---
Wednesday, September 28: Staff Reflections | Calm In the Face of the Storm:
Hear from our Director of Music, Philip Jakob, as he provides a thoughtful reflection on prayer in the face of the storm, along with a selection of calming music to help ease your anxiety and accompany your prayer. You can view his reflection by clicking here.
---
Monday, September 26: Following the noon Mass on Tuesday, September 27, through Friday, September 30, our church, North Campus, and parish office WILL BE CLOSED due to weather impacts related to Hurricane Ian. ALL PARISH ACTIVITIES, including daily Mass, confessions, and parish group meetings HAVE BEEN CANCELLED through the morning of Saturday, October 1.
*Additional Groups and Ministries may appear on this list at the situation develops.
The normal daily and weekend Mass and Confession schedule will resume the afternoon of Saturday, October 1, beginning with the 5:30 p.m. Mass.
---
Additional Resources:

---
Prayer against Storms | from the Pieta Prayer Book
Make the sign of the cross when you see the (+) symbol.
Jesus Christ a King of Glory has come in Peace. + God became man, + and the Word was made flesh. + Christ was born of a virgin. + Christ suffered. + Christ was crucified. + Christ died. + Christ rose from the dead. + Christ ascended into Heaven. + Christ conquers. + Christ reigns. + Christ orders. + May Christ protect us from all storms and lightning. + Christ went through their midst in Peace, + and the Word was made Flesh. + Christ is with us with Mary. + Flee you enemy spirits because the Lion of the Generation of Juda, the Root of David, was won. + Holy God! + Holy Powerful God ! + Holy Immortal God! + Have mercy on us.
Amen!