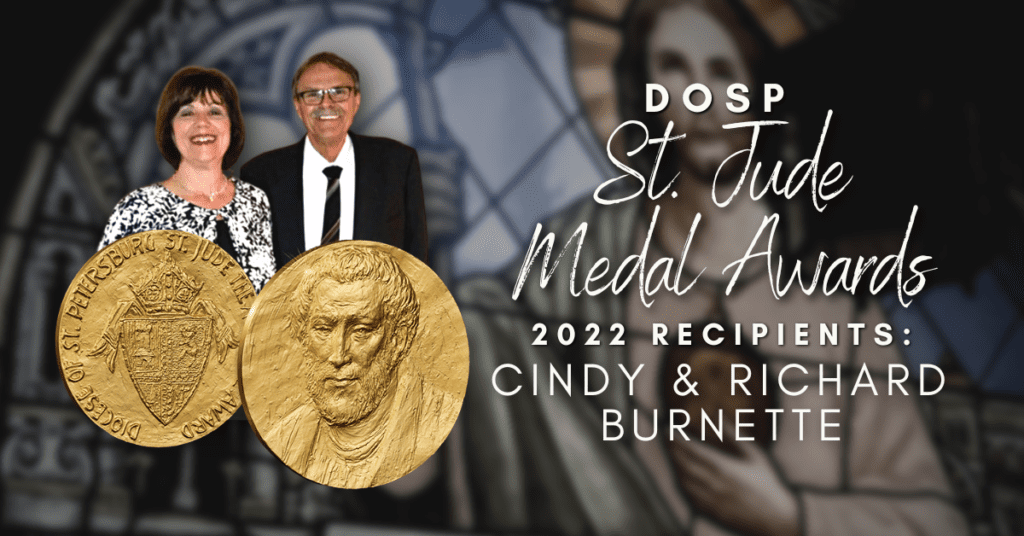 Commissioned by Bishop Emeritus Robert Lynch in 1999, the St. Jude the Apostle Medal is given each year by the Diocese of St. Petersburg as a way to recognize parishioners who show outstanding service to their respective parishes. At a ceremony on Sunday, October 30, held at the Cathedral of St. Jude at 3 p.m., parishioners Cindy and Richard Burnette will receive this year's distinction.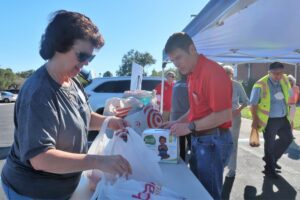 Registered and participating at Sacred Heart for the better part of a decade, Cindy and Richard continuously give of their time and talents, rarely missing an event or opportunity to volunteer. Cindy and Richard began assisting with Faith Formation in 2015, before later becoming catechists, a role which Cindy serves in to this day. The pair are regularly seen as volunteers and contributors for many other liturgical and outreach ministries at Sacred Heart, serving as eucharistic ministers, participating in our Giving From the Heart donation drives, and serving on parish committees.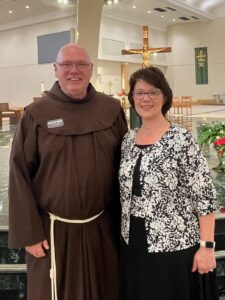 Following her completion of the Lay Pastoral Ministry Institute earlier this year, which trains laity for leadership roles within the diocese, Cindy partnered with fellow parishioner and Love INC of Metro Tampa co-founder Ann Doyle to create a new ministry within Sacred Heart dedicated to our parish connection to the non-profit.
The new Loving Hearts in the Name of Christ ministry also works alongside Love INC in their mission is to mobilize local Christian churches and their members to provide many forms of aid through outreach volunteer service. "Cindy and Richard embody what it means to humbly be in service to those in our community who deserve it most," says Evan Smith, Love INC of Metro Tampa's executive director. "They are always dependable when called to serve. Praise God for their hearts!"
Cindy and Richard's spirit of generous self-giving is an example to the parishioners and staff of the Franciscan community here at Sacred Heart. Thank you both for your tireless efforts, and congratulations on receiving this year's award. Parishioners can view the ceremony live at dosp.org/livestream.