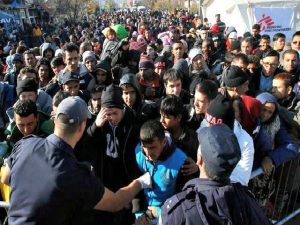 In flurry of activity, President Trump issued an executive order entitled "Protecting the Nation From Foreign Terrorist Entry Into the United States" (you can read the full text here). The key points of the Executive Order are:
90-day ban on entry into the US from Iraq, Iran, Syria, Libya, Yemen, Somalia and Sudan
120-day suspension of the refugee resettlement program
Indefinite suspension of the arrival of Syrian refugees
64% decrease for refugees admitted into the US in 2017
Prioritization of refugees who are religious minorities suffering religious persecution
Mandated review of stricter vetting procedures for refugees and immigrants.
The Franciscan OFM friars of the United States have issued a joint Franciscan Statement on the Immigration Ban:
"I was a stranger and you welcomed me" (Matthew 25.35).
Continue reading Franciscan Statement on the Recent Executive Orders →