Are you looking for ways to get involved at Sacred Heart this week? We have plenty of opportunities for you with our various ministries and events. See below for this week's highlights and consider joining us. You would be most welcome!
Knights of Columbus – Free Throw Competition
The Sacred Heart Knights of Columbus are hosting a Free Throw Competition on Sunday, February 3rd, from 11:00 am – 1:00 pm at the North Campus gymnasium. The competition is open to all boys and girls between the ages of 9 and 14.
Winners from each category are eligible to compete in the regional-and state-level competitions. The Knights will be outside the church pre-registering youths after all Masses next Sunday. You also can register the day of the event. For more information, please email Tony Miranda.

Gasparilla Parade of Pirates
Please be advised that the Gasparilla Parade of Pirates will affect downtown Tampa this weekend. Because of the pirate invasion on Saturday, January 26th, the church will be closed all day and there will be no 5:30 pm Mass or Confessions. The Sunday Mass schedule remains unchanged.
Due to the increased traffic in and around downtown Tampa, parking may be more difficult to find.  Parking options in and around Sacred Heart can be found here.
---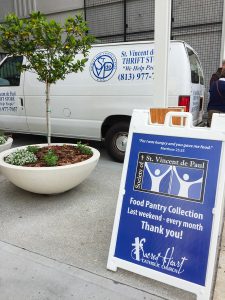 St. Vincent de Paul – Food Pantry Collection
Next weekend, January 27th, the St. Vincent de Paul Society will be outside the church before each Mass to receive your food pantry donations. Items in the highest demand are peanut butter, tuna, and canned meats. Thank you for your continued support.
The Society of St. Vincent de Paul is an international organization of men and women who strive to grow spiritually by offering service to individuals in need with material aid, encouragement, and spiritual support. Most assistance is given on a one-time basis to assist families who are experiencing a significant hardship.
We would also love more volunteers.  Please take a look at what our ministry is all about here. And if you're interested in joining, please call Susan Coppin at 813-230-0444.