Are you looking for ways to get involved at Sacred Heart this week? We have plenty of opportunities for you with our various ministries and events. See below for this week's highlights and consider joining us. You would be most welcome!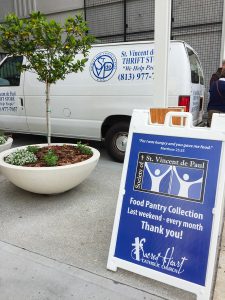 St. Vincent de Paul – Food Pantry Collection
Next weekend, June 29th-30th, the St. Vincent de Paul Society will be outside the church before each Mass to receive your food pantry donations. Items in the highest demand are peanut butter, tuna, and canned meats. Thank you for your continued support.
The Society of St. Vincent de Paul is an international organization of men and women who strive to grow spiritually by offering service to individuals in need with material aid, encouragement, and spiritual support. Most assistance is given on a one-time basis to assist families who are experiencing a significant hardship.
We would also love more volunteers.  Please take a look at what our ministry is all about here. And if you're interested in joining, please call Susan Coppin at 813-230-0444.
---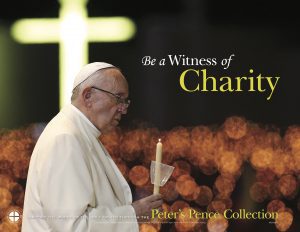 Peter's Pence Collection – Next Weekend
Next weekend, June 29th-30th, we will have a special collection for Peter's Pence, which provides Pope Francis with the funds he needs to carry out his charitable works around the world. The proceeds benefit our brothers and sisters on the margins of society, including victims of war, oppression, and disasters. We hope you prayerfully consider giving to this worth cause. To learn more, click here.
"A little mercy makes the world less cold and more just." — Pope Francis
---

Faith Formation – Early Registration
It's not too late to take advantage of our Faith Formation Early Registration discount! Register before July 31st for any of our following programs:
Sunday Morning Faith Formation (Pre-K 4 thru High School)
Wednesday Family Faith Formation (Pre-K 4 thru High School)
Children's Liturgy of the Word (5-years-old thru 5th Grade)
Wee Worship (3- and 4-year olds)
Registration forms can be accessed here.
If you'd like more information or have questions about registration, contact our Associate Director of Faith Formation, Maria Giral, via email or at 813-229-1595, ext. 214.