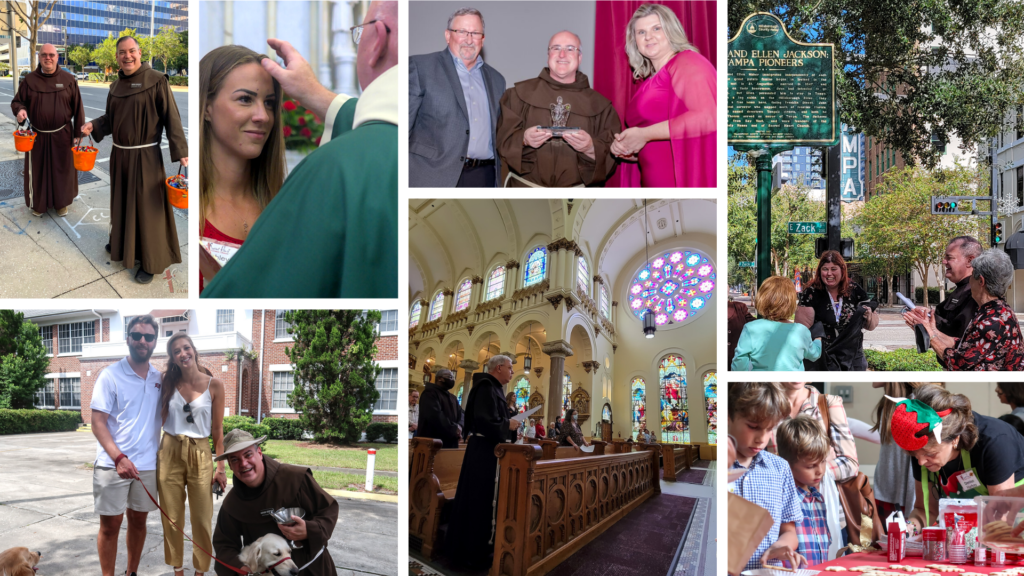 In 2021, resilience, philanthropy, and determination were well and truly on display within the Sacred Heart parish community. As we continue to struggle with the unknowns that clouded much of these last two years, paths were forged by the parishioners, friars, ministries and staff of Sacred Heart throughout 2021, evidenced by dozens of successful outreach & donation campaigns and fellowship events.
2021 saw the continuation of our "Giving From the Heart" donation drives, with six separate events taking place throughout the year, and goods being collected for charities like Love INC, St. Vincent de Paul, the Crisis Center of Tampa Bay, and many more.
Assisting our partners at Catholic Charities, the Diocese of St. Petersburg and the City of Tampa, we saw Tampa Hope, a new homeless rehabilitation facility, open its doors.
Catholic Charities recognized the parish with its annual Angel Award, in part from efforts like those just described.
We relaunched our choir, docent tours, and fellowship activities, providing a more familiar environment for our parishioners and visitors.
Service awards were presented by the Diocese of St. Petersburg to parishioner Kathy Palmer (St. Jude Medal) and faith formation staffer Maria Giral (20th anniversary with DOSP) for their continued service to Sacred Heart and the broader Catholic Community of Tampa Bay.
A new historical marker was placed in downtown Tampa by Hillsborough County and the City of Tampa recognizing one of Sacred Heart's founding families and their role in the establishment of our parish.
We are blessed to have a parish filled with kindness, compassion, and generosity, as well as dedicated volunteers who exemplify those traits in their time, effort and dedication to the church and our community. We look forward to many more blessings in 2022.
---
Take a look through the blessings from 2021 in the gallery below. (Photos will load slowly)