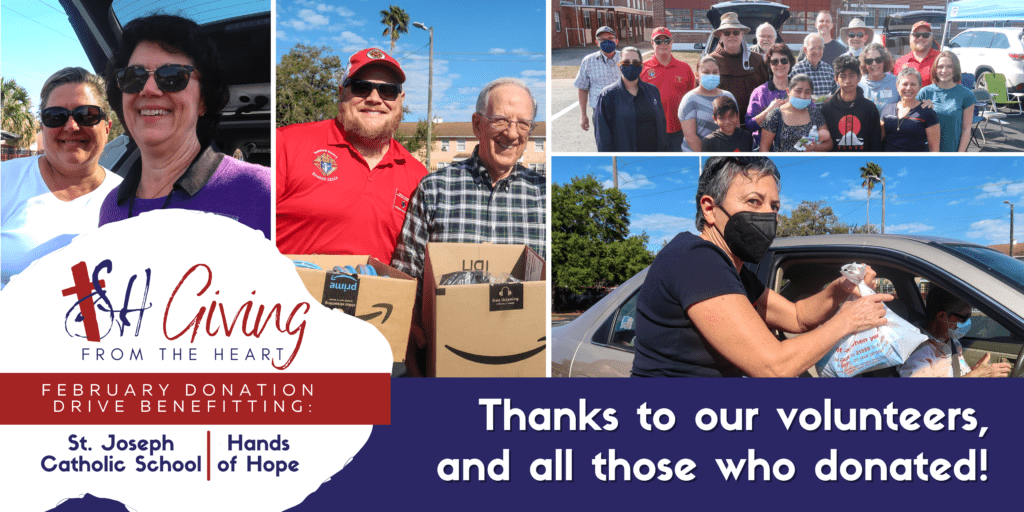 In our continued effort to meet the growing needs of the Tampa/Hillsborough community, Sacred Heart held its latest Giving from the Heart donation drive-thru on Saturday, Feb. 12, at the North Campus. The February event was an effort of both Hands of Hope and Love INC. Volunteers collected items for future Hands of Hope meal and essentials distributions, as well as Love INC's Adopt-A-School project and its beneficiary, St. Joseph Catholic School.
Volunteers from both Love INC and Hands of Hope were joined by representatives of Sacred Heart's Knights of Columbus, Council of Catholic Women, and our Friars to collect the donations.
In total, 48 vehicles drove through and provided many truck-loads of needed supplies, for the school and the meal-based outreach ministry respectively. Nearly $600 (cash and gift cards) was raised for teacher appreciation and family assistance for Love INC's adopted school. 32 bags of non-perishable food items, and 21 bags of children's clothes and shoes also were collected, with distribution to needy students attending St. Joseph's to occur soon.
Hands of Hope collected 20 bags of toiletries, garments, and personal items for distribution to the homeless the ministry serves every Saturday at St. Peter Claver. They also received more than 10 bags of food for future meal prep.
Love INC currently provides assistance to the students and families of St. Joseph Catholic School through their Adopt-A-School outreach. Since its founding in 1896, St. Joseph Catholic School has played an important role in educating the children of West Tampa. Many of the students attending the school, and their families, are underserved in our community, and need assistance with some basic needs.
Hands of Hope meets every Saturday from 10 a.m. to 2 p.m., preparing meals at the North Campus, distributing those meals to the homeless and underserved in the community gathering at St. Peter Claver School.
If you would like to participate in Love INC's Adopt-A-School project or with Hands of Hope, please contact Ann Doyle (Love INC) at 813-541-7366, or Robb Mercado (Hands of Hope) via email.
View a gallery from the latest Giving from the Heart event below: