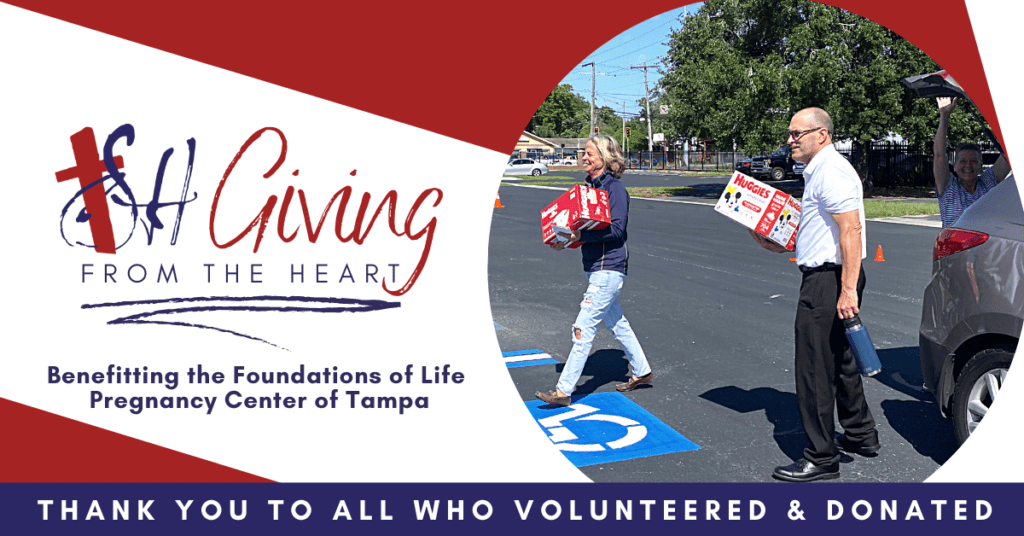 Our latest Giving from the Heart donation drive-thru event was held on Saturday, April 9, at the North Campus in support of Catholic Charities' Foundations of Life Pregnancy Center of Tampa.
More than 15 volunteers from Sacred Heart's Council of Catholic Women and Knights of Columbus were on hand to collect donations for the center, which offers support services to women and families who are facing unplanned pregnancy.
More than 20 vehicles drove through with many car-and-truck loads of needed supplies, including diapers, toiletries, blankets, clothes, and food. More than 500 individual items were collected to fill the center's shelves.
Foundations of Life focuses on developing a balanced life for the parents and their child. Nearly all Foundations of Life's clients fulfill more than 50 percent of their priorities for pregnancy and early parenthood, including healthy delivery, development of parental skills and financial literacy, furthering educational or career ambitions, and spiritual growth. Items will be distributed by the center to clients who are actively in need of supplies to support their pregnancy or newborns.
Special, hand-made donations were delivered during the drive, serving as a reminder that our Giving from the Heart events are served by a community much larger than our parishioner base. Knit baby blanket and sweater sets were donated from a non-Catholic friend of a volunteering parishioner for the second year running. Foundations of Life operates in a similar vein, holding an open door policy for those seeking assistance, regardless of age, race, or religion, with a 96 percent success rate of clients choosing life for their unborn child.
Our next Giving from the Heart event will be held in June. For more on how you can assist Foundations of Life, visit www.foundationsoflife.org.
We thank all who participated for their generosity and continued support.