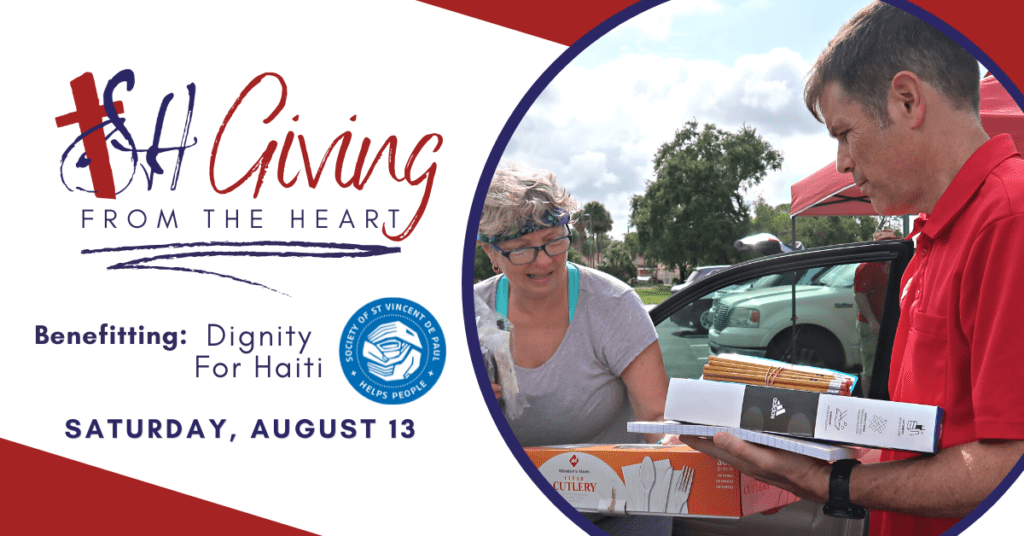 Sacred Heart is holding its latest Giving from the Heart drive-through donation event on Saturday, August 13 at the North Campus main lot from 10 a.m. to noon. The August event is an effort of both Open Doors and the Young Professionals, benefitting Dignity for Haiti and the Society of Saint Vincent de Paul.
Started in 2020, Dignity for Haiti is a non-profit dedicated to providing food, education, and shelter to people in Haiti, as well as funding and means needed to promote self- sustainability. The group focuses its mission through the parish of Notre Dame du Perpétuel Secours on the island of La Gonâve, which is comprised of three chapels and nearly 400 parishioners.
Founded in 1833, the Society of St. Vincent de Paul is a worldwide organization of lay Catholics, following Christ's call to serve the poor, the suffering, and the deprived. Operating in Hillsborough County since 1932, SVdP works to ease an individual or family's initial emergency, then shepherd them into programs that can bring lasting change. Donations made locally are used and distributed throughout Hillsborough County neighborhoods. Many will know Sacred Heart's group of SVdP volunteers as one of the 13 conferences for the non-profit within Hillsborough County.
If you are interested in volunteering for our next Giving from the Heart donation drive, contact Open Doors or the Young Professionals via email.
Below are lists from each organization highlighting the most needed items hoping to be collected during the drive.
Saint Vincent de Paul Needs:
Clothing (new or gently used), such as men's jeans and shorts, tee shirts,
Tennis shoes, slides, sandals (new or gently used; men's and women's)
Socks and Undergarments (new; men's and women's)
Nail care items, such as clippers and files
Can openers
Dignity for Haiti Needs:
Home Healthcare Items, such as antibiotic ointment, adult and children pain relievers, antiseptic solutions, cotton balls, swabs, and gauze, antacids, cold remedies, bandages and band aids, waterproof tape, anti-diarrheal tablets, burn gel, eye drops
Toiletries and cleaning supplies, such as toothbrushes, toothpaste, laundry detergent (Fels-Naptha), hand sanitizer, dish soap
Household necessities, such as batteries (9V and AA), lightbulbs (60W)
We thank you in advance for your generosity and continued support!