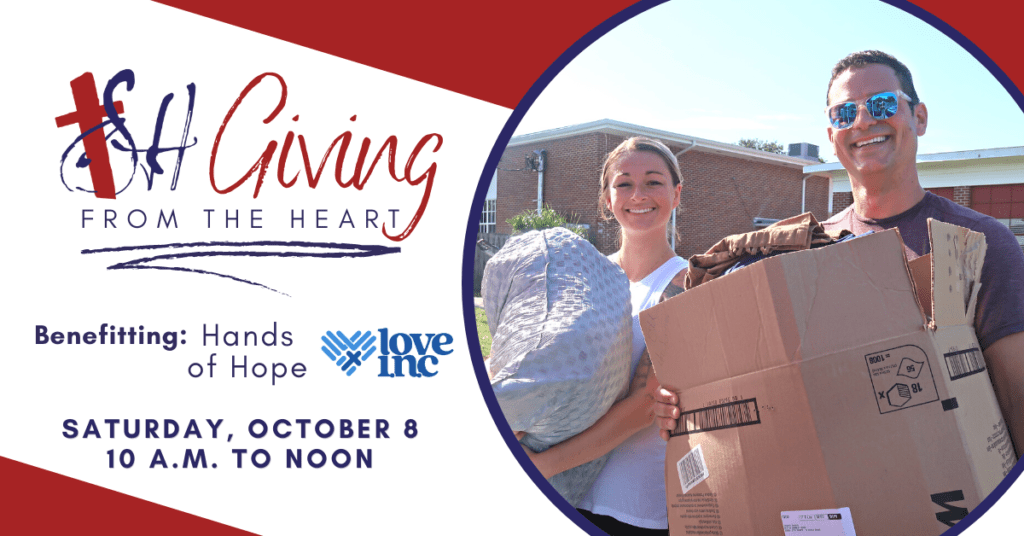 Sacred Heart is holding its latest Giving from the Heart drive through donation event on Saturday, October 8 at the North Campus main lot from 10 a.m. to noon. The October event will benefit both our Hands of Hope ministry and Love INC of Metro Tampa.
For nearly a decade, our Hands of Hope ministry gathers together each Saturday at our North Campus to prepare a meal for our homeless neighbors. They then go into the city and distribute said meal while offering friendship and fellowship to the people they serve. 
Love INC of Metro Tampa is a nonprofit whose mission is to mobilize Christian churches and their members to transform lives through outreach volunteer service. Sacred Heart was one of the six founding churches of Love INC and since its launch in 2017, our parishioners have served as founders, board members, Help Center volunteers, Resource Navigators and professionals offering their pro bono services to our most vulnerable neighbors. Love INC will be collecting for a pair of initiatives that assist their clientele: Home Beautification Program -&- Lullaby Ministry.
The home beautification project exists to help senior homeowners in the Tampa Bay area get their lawn and property back in code with the city. What senior homeowners can struggle to even accomplish, can be completed within hours by Love INC volunteers.  Once every other month, Love INC volunteers from various Church partners gather to work in people's lawns. The Love INC Lullaby Ministry is dedicated to providing support and children's items to Tampa Bay Area families that are going through a challenging time in their lives.
If you are interested in volunteering for our next Giving from the Heart donation drive, contact our Hands of Hope or Loving Hearts INC (SH's affiliate ministry of Love INC) via email.
Below are lists from each organization highlighting the most needed items hoping to be collected during the drive.
Hands of Hope Needs
Non-perishable food items, such as rice, beans, canned vegetables, crackers, peanut butter
Toiletries and personal items, such as soap bars, small bottles of shampoo, deodorants, toothbrushes, toothpaste, hand sanitizer, masks
Adult underwear, socks, and t-shirts
Love INC Needs:
Home Beautification Project: Safety Glasses, Trash Bags, Yard Gloves, Rakes, Coolers, Clean-Up Caddies, Twine, Shovels, Buckets, Pruners, Sunscreen, Brooms, Tarps
Lullaby Ministry: Diapers (all sizes), Walmart/Target Gift Cards (for families moving into housing purchasing essentials), Bus Passes, Monetary donations (to assist with rent)
We thank you in advance for your generosity and continued support!
(This page will be updated with additional donation needs and volunteer opportunities)