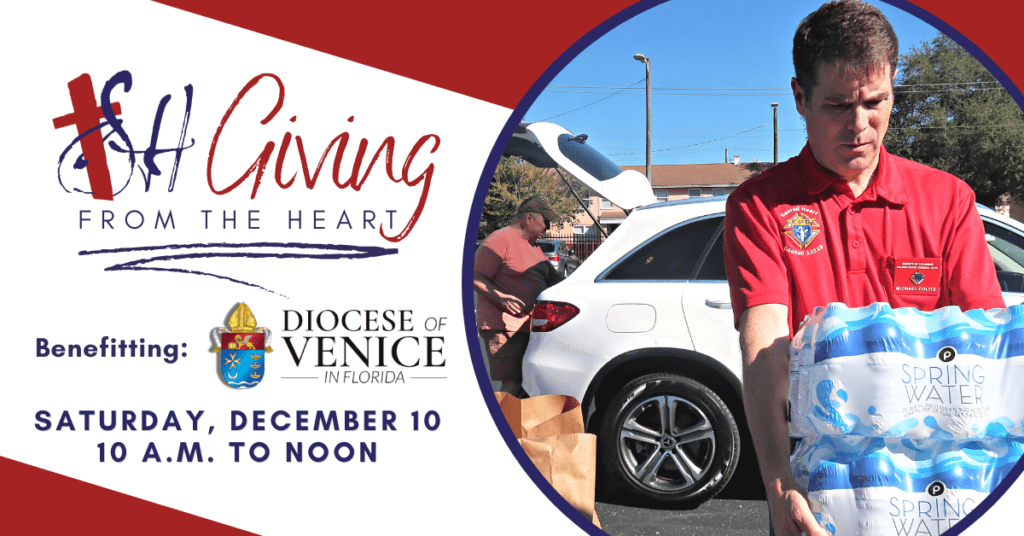 Sacred Heart is holding its next Giving from the Heart drive through donation event on Saturday, December 10 at the North Campus main lot from 10 a.m. to noon. The December event will feature a collaboration across all ministries of Sacred Heart, as we look to assist the recovery efforts of our neighbors living in the Diocese of Venice, more specifically through St. Michael Catholic Parish of Wauchula and Catholic Charites of the Diocese of Venice.
While many have seen the devastating images of Hurricane Ian's landfall off the coast of Ft. Myers in late September, many more communities were affected by this Category 4 storm's path, including our inland neighbors to the south and east of Tampa. The city of Wauchula, especially those living near the Peace River, which borders the eastern portion of the city, experienced record flooding after Ian dumped nearly 20" of rain over portions of Hardee County. St. Michael Catholic Church is a multicultural congregation in Wauchula celebrating liturgies in English, Spanish, and Creole, and currently has over 1,000 registered families. The parish helps operate a food bank, thrift store, and outreach center, and has continued to do so following the hurricane to ensure parishioners and locals have basic necessities.
Catholic Charities: Diocese of Venice has mobilized and operated four disaster relief sites across southwest Florida since Ian's departure, helping more than 100,000 residents over these last two months, serving more than 20,000 hot meals and distributing more than 2,500 tons of supplies. While the immediate needs of residents in the affected areas begins to stabilize, CCDOV central office manager Helen Rombalski says, "The most pressing need is financial assistance, as we begin to help those starting to rebuild
their lives."
Below are the needed items to be collected during the drive:
Gift cards for grocery and supply stores, gas stations (Walmart, Winn-Dixie, Save-a-lot, Family Dollar, Dollar Tree)
Kitchen and bedroom necessities, including pots, pans, dishes, cups, silverware, towels, sheets, blankets, pillows
Cleaning supplies, including disinfectant wipes, soap, detergent, sponges (no bleach, please)
Toiletries, such as toothpaste, toothbrushes, mouthwash, shampoo & conditioner, body wash, bar soap, deodorant, combs, brushes, hair ties, lip balm
Baby items, including wipes, disposable diapers and training pants, formula, baby shampoo and wash, clothes, blankets
Non-perishable food items, such as rice, beans, canned vegetables, crackers, peanut butter, cereal
We thank you in advance for your generosity and continued support! For more information on how you can assist the Diocese of Venice, click here.