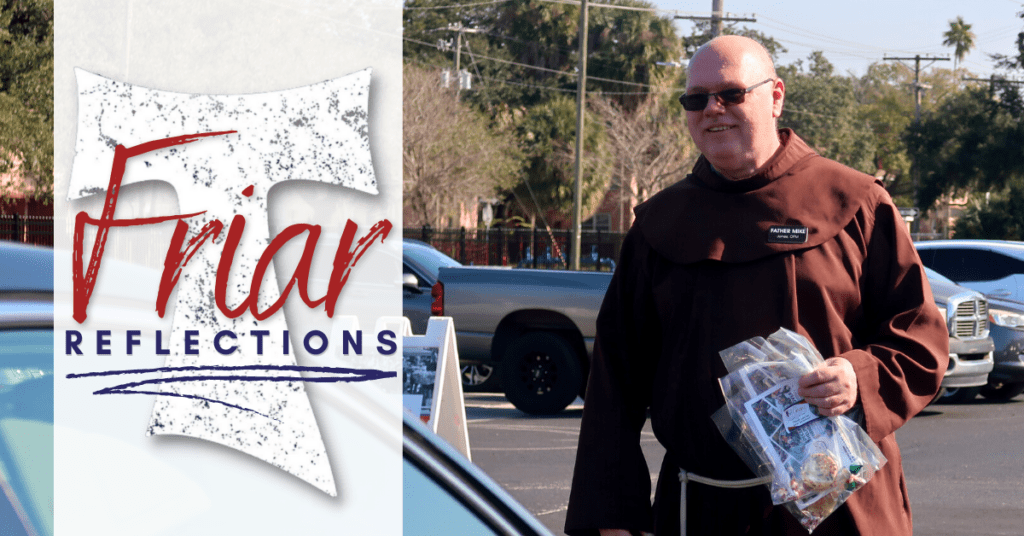 Dear Parishioners,
Happy New Year! I want to take the time to thank the people who have helped make this Advent and Christmas season a wonderful celebration of who we are at Sacred Heart.
I would like to thank our outreach committee who took charge of helping those stricken by the affects of Hurricane Ian at St. Michael Catholic Church in Wauchula. We had an excellent helping hand from those in our parish and we are so grateful to those who aided in these efforts. Our December Giving from the Heart drive saw 75 cars deliver items of need, the largest number of individual donations we've had for those events. Our Giving Tree was also a huge success, with parishioners and several ministries and groups coming together to provide Christmas gifts to the children of St. Michael's. The delivery to St. Michael's nearly filled the equivalent of two 10' U-Haul box trucks. My thanks go out to my brothers friars, the choir, our Knights of Columbus council, Loving Hearts, Open Doors, Secular Franciscans, Social Justice Committee, our conference of the St. Vincent de Paul Society, the outreach committee, and most importantly, our parishioners. Thank you all for your collaboration and determination in collectively assisting our neighbors in need.
We were fortunate to continue our parish's tradition of the celebration of the Feast of Our Lady of Guadalupe a few weeks back. I want to specifically thank Norma & Lazaro Hernandez and Alina & Joaquin Diaz for their continuous support of this event over the years. Out of all the parishes that I have celebrated this feast day, Sacred Heart is my favorite. We also were able to hold evening prayer with the help of our music director, Phil Jakob, and the choir. The choir, along with Phil, and our contemporary ensemble director Sam Corson, did a fabulously across all our Christmas Masses and we thank them for their efforts in aiding to what is always a memorable atmosphere celebrating the Nativity.
I'd also like to thank their families for sharing them with us during the holidays. Additionally, we thank our liturgical ministers, altar servers, the environmental committee, Eucharistic ministers, greeters, readers, and ushers for their hours of service. Thanks also to our faith formation families who produced this year's Christmas pageant prior to the 4 p.m. Vigil Mass on Christmas Eve. Lauren Young directed the event, and I thank her and the children who participated for keeping this annual tradition active.
When we look behind the scenes, we can truly see all the hard work that our remarkable staff and volunteers do. Each and every one of our staff members and friars have been blessed with talents and we are so fortunate to have them here. When we all work together, our parish does incredible things!
Merry Christmas and Happy New Year,
Fr. Mike