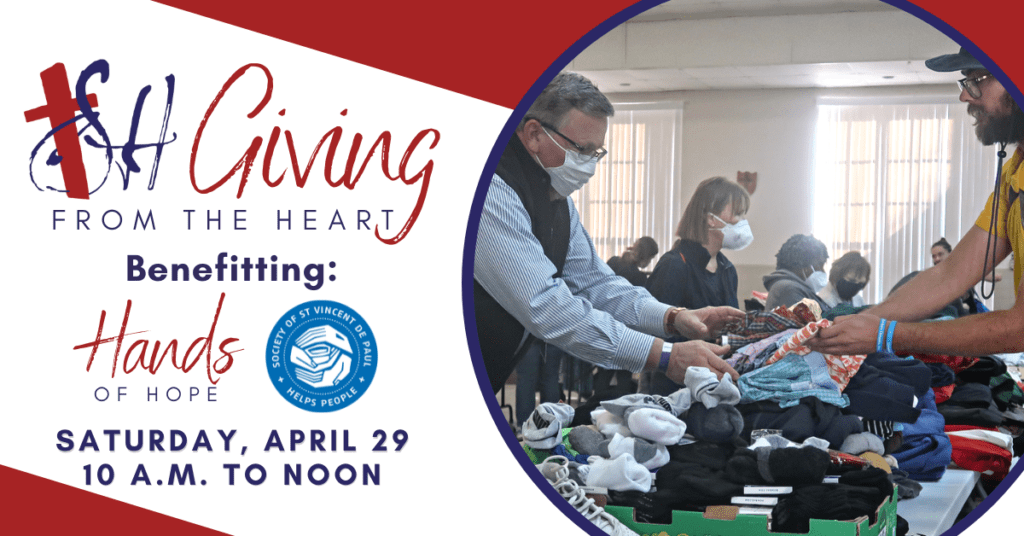 In our continued effort to meet the growing needs of the Tampa/Hillsborough County community, Sacred Heart is holding its latest Giving from the Heart drive-through donation event on Saturday, April 29, at the North Campus from 10 a.m. to noon. The April event is a combined effort of our Sacred Heart Conference of the Society of St. Vincent de Paul and our Hands of Hope ministry. Volunteers from these ministries will be on hand to collect items in support of their own outreach initiatives, in addition to the upcoming Hillsborough Community Homeless Outreach event to be hosted at the North Campus in May.
Following Christ's call to serve the poor, the suffering, and the deprived, St. Vincent de Paul works to ease an individual or family's initial emergency, then shepherd them into programs that can bring lasting change. Many will know Sacred Heart's group of SVdP volunteers as one of the 13 conferences for the non-profit within Hillsborough County. SVdP has operated in Hillsborough County since 1932.
Hands of Hope is an outreach ministry of Sacred Heart serving the poor and unhoused of our downtown and adjacent communities. Each weekend, a meal is prepared in our North Campus kitchen and is then served to our neighbors in need. Throughout the day, the group shares fellowship and resources of hope and healing for the physical, mental, and personal needs of their guests.
Hillsborough County Homeless Outreach is a partnership between the Hillsborough County Sheriff's Office, Tampa Police Department, City of Tampa, and Hillsborough County Government with area churches to host resource events with local vendors and social services that address the immediate needs of the unhoused. On May 10, Sacred Heart will host its third such event at the North Campus, with the last event in January 2022 assisting more than 125 guests and resulting in 20 receiving temporary housing at Tampa Hope.
We hope you have the opportunity to join us for this very important drive. Select items of need are listed below. Updates to the needed items listing will be published as they are received.
Needed Items: Plastic and reusable grocery bags, individually wrapped snacks, canned foods and meats, bottled water, gently used clothing and blankets, new underwear and socks, toiletries (full and travel size; shampoos, soaps, dental care)
If you have questions about the upcoming drive or would like volunteer at the event, please contact Jim Conley with SVdP, or Tony Miranda with Hands of Hope via email. To volunteer for the upcoming Hillsborough County Homeless Outreach, click here.