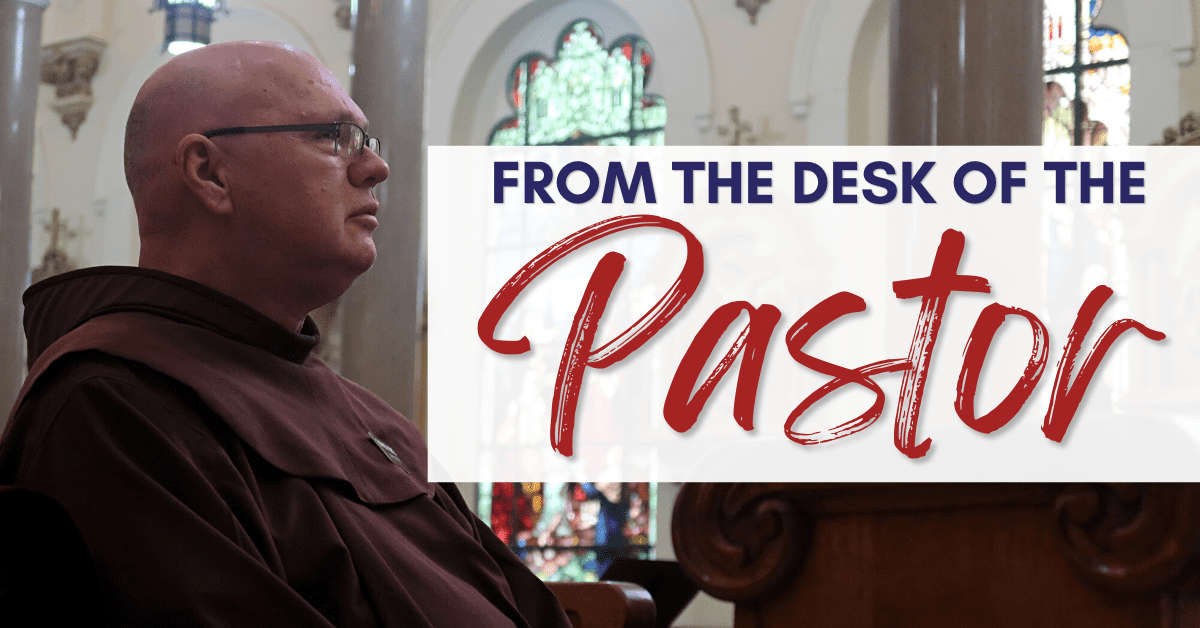 Dear Parishioners,
Pope Francis is quoted as saying "Life is a journey: when we stop, things don't go right." When Friar Henry and myself first came to Sacred Heart in September 2020, the parish, as had all things, had largely "stopped." It was hard on the parishioners, staff, and friars alike. It took time and careful planning for Masses, ministries, and events to begin again. Friar Henry was very much a part of the parish's "restart" following the height of the pandemic. His leadership, compassion, and hard work, more than many parishioners may know, helped put the parish back on a path coming out of that time. It is with sadness that we now have to say goodbye to him. As you well know, Friar Henry was appointed to be the new guardian at Holy Name College in Silver Spring, MD, where he will also work with the formation students on their journeys to become friars.
Henry will especially be missed by our local Franciscan community were he served as our guardian. Throughout Henry's time with our province and friars, he has always been willing to go and serve were he has been needed. Henry's last weekend with us will be July 8 & 9. I invite all parishioners to join us in St. Francis Hall following each of next weekend's Masses to thank Friar Henry for the time he was able to spend with us here at Sacred Heart. 
Pope Francis is also quoted as saying, "God is not afraid of new things." Neither should we be afraid of new things and where God might be leading our parish. As I have mentioned before, Angela Erb, our parish event coordinator, will also be departing from her position in the coming weeks. I cannot say it enough, just how much of a blessing it was to have Angela on our staff, as we wish her well in her new endeavors. Sacred Heart is her home away from home, and we are thankful to know that Angela will still be around, volunteering for multiple ministries and events. We recently hired a new Event, Hospitality & Parish Outreach Manager, Connie Gee, who will begin in this new position following the Independence Day holiday period. She comes to Sacred Heart experience and a lot of energy. I invite you to come and meet Connie at a reception scheduled for Monday, July 10 at 6 p.m. in St. Francis Hall.
Our parish life does not begin or end with the friars or staff, but with our parishioners. There are dozens and dozens of parishioners who put in additional time and effort helping steer our parish through their individual ministries, volunteerism, or council on committees and boards. I want to inform you of the committee members who will be aiding the friars across the 2023/2024 liturgical seasons:
Parish Advisory Board: Larry Bevis, Cindy Burnett, Sarah Daniels, Fr. Zack Elliott, OFM, Sam Ferlita, Fr. Mike Jones, OFM, Dr. Stephen Krist, Helen Lukavec, Lynda Marsh, Tony Miranda, Laura Prather (Chair), and Felix Vega. Meets quarterly.
Finance Committee: Mark Agustin, Cindy Burnette (Chair), Larry Cabrera, Fr. Mike Jones, OFM, Craig Lukavec, Laura Prather, and Anne Wiles. Meets quarterly.
Liturgical Advisory Committee: Aprile Black, Rob Boelke, Sam Corson, Fr. Zack Elliott, OFM, Barbara Ferreris, Deacon Ray Ferreris, Philip Jakob, Fr. Mike Jones, OFM, Mike Kelley, Fr. Steve Kluge, OFM, Erin McKernan, and Jeff Wible. Meets based upon the liturgical seasons, usually six times a year.
Maintenance Committee: Ed Bugel, Larry Cabrera, Sarah Daniels, Jerry DiFabrizio, Fr. Zack Elliott, OFM, Sam Ferlita (Chair), Kay Gerardo, Fr. Mike Jones, OFM, Jim McCarthy, and Tony Miranda. Meets quarterly.
Parish Outreach Committee: Larry Bevis (Chair), Rob Boelke, Cindy Burnette, Suzanne Collins, Susan Coppin, Hank Cramer, Sarah Daniels, Angela Erb, Fr. Zack Elliott, OFM, Mike Fabianski, Tom Henry, Fr. Mike Jones, OFM, Dr. Stephen Krist, Shannon Leigh, Jennifer McElroy, Robb Mercado, Tony Miranda, Don Murray, Patty Oliver, Fran Provenzano, Jim Rossman, and Olga Siegenthaler. Meets monthly.
Our parish has life because people come and share their faith with others, as Friar Henry and Angela have done. I know we will continue to build on the work from the journeys they have taken through Sacred Heart. I am truly thankful to all our leaders and volunteers, and I am grateful that I can be apart of Sacred Heart with you.
Peace and All Good,
Fr. Mike