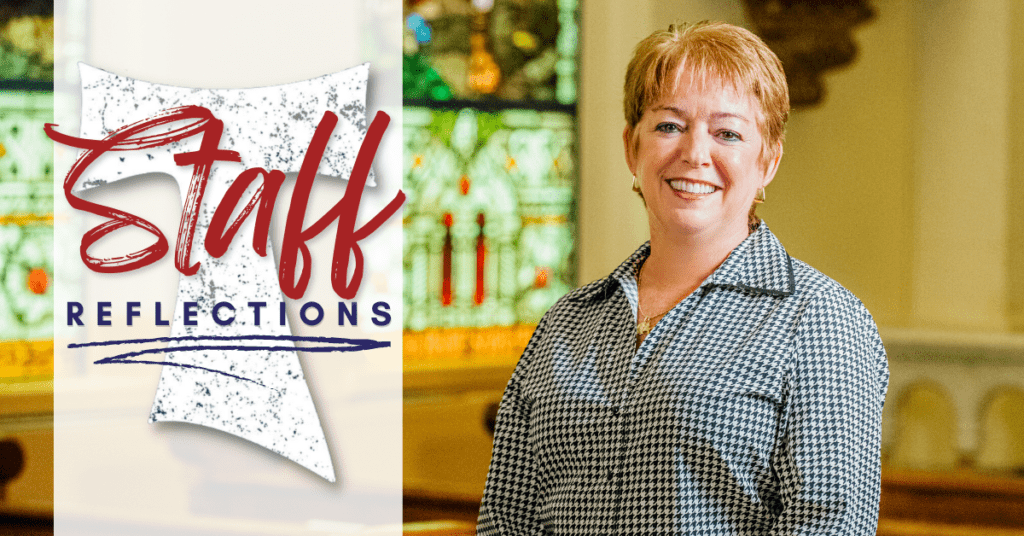 Dear Friends in Christ,
The Kingdom of Heaven is here and now and will be fulfilled when we arrive in Heaven. Jesus shares with us today the parable of a great treasure and a pearl of great price. When I reflect on these two parables, I can't help but think about my spiritual journey.
Raised as a cradle Catholic and educated in parochial schools, it wasn't until my late 20's, after I became a wife and mother, that my faith came alive. This gift of faith, which was bestowed on me at Baptism, wasn't discovered until I recognized it as a "treasure," or "a pearl of great price." Soon after that initial conversion, I had zealous fervor! I had decided to follow Jesus. No turning back.
I certainly didn't realize what that would mean for my life. It has been a wonderful, terrible, exciting, dull, event-filled, sometimes doubt-filled, story of faith. It is a very human story filled with joy, sorrow, disappointment, and success. At the beginning of this new commitment to Christ, my primary focus was making God a priority in my family's life. It is now over 30 years later and the Gospel has not changed and I'm still in love with Jesus!
Today's parable still invites that same fervor and asks us to do whatever we need to do in order to live the Gospel. Perhaps there is another reason that Jesus shared this parable with us. It is a reminder, reinforcing the parables we have heard in recent readings. Think about it for a minute. Who would not be thrilled at finding a huge treasure? The early days of the find would no doubt be exciting. Yet, the newness and the excitement of the treasure naturally would wane after years of managing the investment, giving some of it to charities, and making sure it grew. There would be a constant sense of well-being if the treasure was doing well, but would there always be that early passion and fervor? It takes work and constant diligence to maintain such enthusiasm.
---
Poem Recommendation Regarding from Barbara Ferreris | "The Find"
Looking to delve deeper for that "buried treasure?" Barbara recommends the following poem by Catholic author and poet Anthony De Mello, entitled The Find, from his 1984 book on spiritual exercises, Wellsprings.
Jesus says, "Here is a picture of the kingdom. It is like a treasure buried in a field. The man who found it went and, through joy, sold everything he had- and bought that field."

I have a treasure:
the thing I value most in life.
I relive the events
that led me to discover it.

I think of the history of my life
from the time I found this treasure…
what it has done for me
and meant to me.

I stand before this treasure (God or Jesus Christ
or a conviction, value, or ideal
or a person, task or mission)
and I say, "Of all the things I have
you are the dearest."
And I see what happens to me
when I pronounce that sentence.

I think how much I would gladly do
or give (even life itself, maybe)
in order to preserve this treasure.
If it is not that important,
I acknowledge this with sadness—
and I hope for a day when I shall find a treasure
for which through sheer joy I shall be ready to give up
everything.

I am a treasure.
Someday, somewhere, someone discovered me.
I should have no awareness of my worth
if someone had not found it.
I recall and relive the details of the finding.

I am a multifaceted treasure.
There were many things concealed in me
that different people drew out
and revealed to me.
I joyfully review each one of these
and gratefully remember the persons who
uncovered them.

Finally, I stand before the Lord
and find, to my surprise,
that he considers me a treasure.
I see reflected in his eyes in the many lovely facets
that only he could have observed in me
and I rest in the love He gives me.
---
Today's Gospel reminds me that I cannot become complacent with the great gift I have been given. Outward appearances may suggest that all is going well, but often it seems the ordinary concerns of life take precedence over everything else, and the reign of God is taken for granted. Jesus reminds us that we can never lapse into complacency. We do not know the hour or the day of the Lord's return. One way I'd test my fervor in light of today's Gospel would be to ask myself: "Do I still reach out in love to others with the same commitment as always? Is there still an urgency to preach and teach the gospel of Jesus Christ in the world?"
After surrendering to Jesus at a retreat many years ago, He took my heart and my life and placed me in a position to share this urgency to preach and teach the gospel. I am entering into my 29th year of ministry in the realm of faith formation and it has been quite a journey. I could not have found a more perfect treasure to share than my love and passion for Christ and His church through this ministry. I am humbled that God sees fit to use me, in spite of myself, to help bring about His Kingdom here and now.
How could I not respond?
Peace of Christ,
Barbara Ferreris