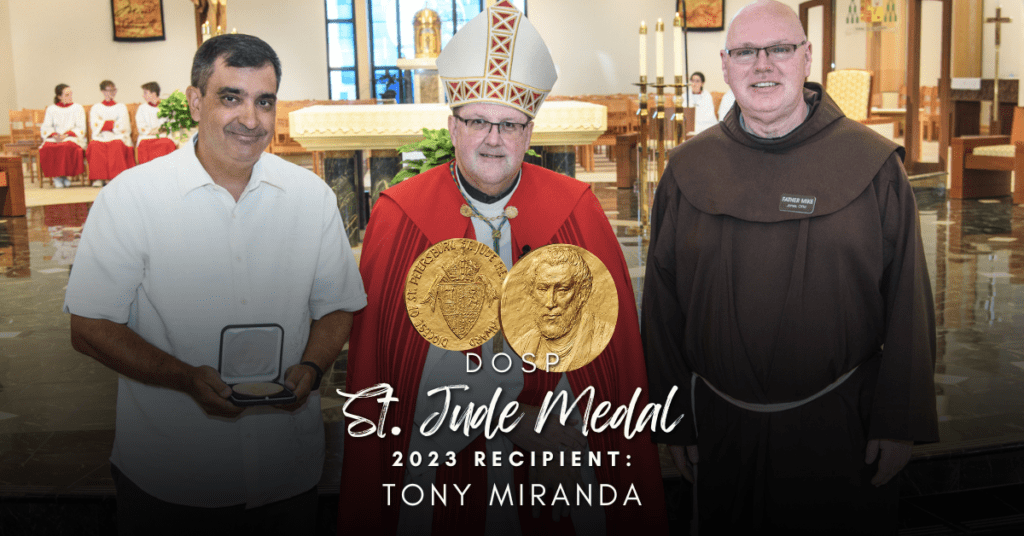 Commissioned by Bishop Emeritus Robert Lynch in 1999, the St. Jude the Apostle Medal is given each year by the Diocese of St. Petersburg as a way to recognize parishioners who show outstanding service to their respective parishes. At a ceremony on Sunday, October 29, held at the Cathedral of St. Jude, parishioner Tony Miranda received this year's distinction from Bishop Gregory Parkes, alongside pastor Fr. Mike Jones, OFM.
Registered and participating at Sacred Heart since 2017, Tony tirelessly gives of his time and talents to our parish, most notably through his participation as volunteer coordinator with our Hands of Hope ministry, as well as through his service on our parish's outreach, maintenance, and advisory committees. A Tampa native and first generation Cuban-American, Tony's commitment to service is rooted in an upbringing that showcased hard work and opportunity.
"My parents were immigrants, and so I saw from a young age the value of hard work," Miranda explained after receiving the award. "I was unaware of my nomination until I received a notice from the Diocese, and later, a call from Fr. Mike. It's a privilege to then to be in the Cathedral praying with like-minded, service driven folks, and to have that moment with the Bishop. I am humbled by this, as I just see myself as a cog."
Those who know Tony wouldn't be surprised by his humility in receiving the award, nor by the mechanical metaphor about his place in ministry at Sacred Heart. Miranda is a retired engineer, who after more than 20 years working in circuit design, primarily in Arizona, moved back east to begin a different career, paying forward the work of another influence that lead to his life of service.
"When I was in high school, at Jefferson, I had a few teachers encourage me to pursue more coursework in the STEM areas, after seeing that I had a knack for it," Miranda described. "That led me to a very successful career, and so I wanted to find a way to essentially pay back that influence."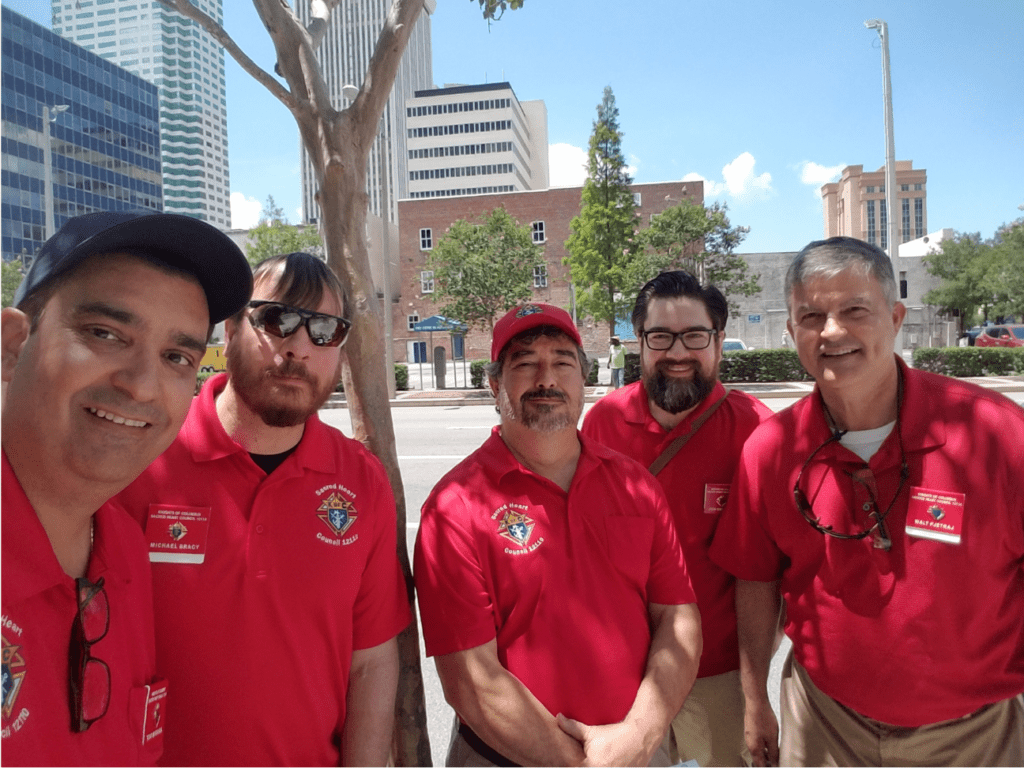 Tony joined Teach for America, and spent several years teaching math and science courses in the Bronx after leaving Arizona, before life brought him back to Tampa. Tony then taught for several years at Cristo Rey Tampa Salesian High, a Catholic college preparatory school and work study program sponsored by the Salesians of Don Bosco, which forms underserved young men and women who will actively live faith, hope, and love. When moving back to the Tampa area, Tony found that his affinity for city living followed him from New York. He moved into downtown and began attending Mass here at Sacred Heart, joining up with the Knights of Columbus Council #12110, and later, Hands of Hope.
Tony currently teaches math at Hillsborough High School, and is grateful for the friendships and respect his live of service has provided him. "Each weekend, when distributing meals with Hands of Hope, we pray before opening the food line, and we always tell our guests that it is a blessing to be there in community with them."
The parish would like to thank Tony for his continued efforts,
and congratulate him on receiving this year's award.