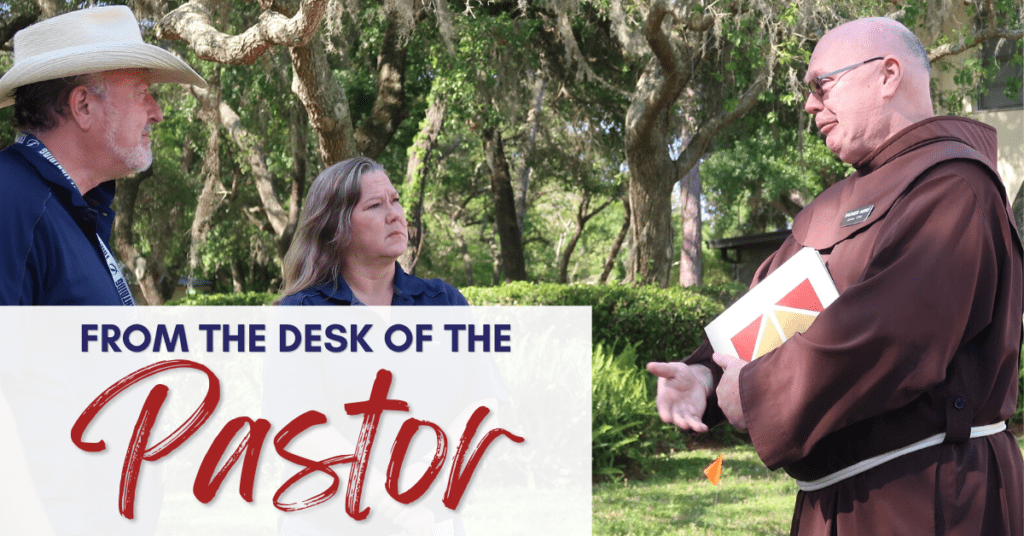 Dear Parishioners,
I would like to thank all of our volunteers and staff for helping put on a very successful Fall Festival last Sunday. It was so nice to see so many of our parishioners come out and participate in our parish life. When several of our volunteers were informed that we were in the middle of an additional transition for our event coordination position, they quickly stepped up to aid in planning and execution. Building on last year's event, we added a few new elements, including a chili cook-off, bike rally, and quilt raffle. Each gave parishioners a chance to win some great prizes for participating, but also allowed for sharing their God-given talents. Speaking of talent, Fr. Steve and I participated in the Bike Rally, but we were not the quickest. In our defense, it is hard to ride a bike while wearing a habit.
A few weeks prior to the festival, we were able to again fill the vacant event, hospitality and outreach manager position, with parishioner Vicky McCarthy stepping into the role. I told her not to panic too much about the festival because I knew our wonderful volunteers had it under control. Vicky was there on Sunday helping and taking notes, already thinking of what we can do next year.
Last Sunday was busy enough with Masses and the festival, but I was called to spend the second half of the day in St. Petersburg at the Cathedral, and for a great reason. Tony Miranda, a parishioner here at Sacred Heart since 2017, was selected to receive our parish's St. Jude Medal for 2023. The St. Jude medal is awarded annually to individuals and couples from each diocesan parish and mission for outstanding service to their communities. Tony is an amazing volunteer who helps where ever he is needed. Every Saturday, Tony works with Hands of Hope preparing and serving food to the homeless, while also serving as an active member of the Knights of Columbus, and our Parish Advisory, Outreach, and Maintenance Committees. Sunday was also a busy one for Tony as he volunteered at the festival for several hours before making the trek to the Cathedral to receive his award at the prayer service with Bishop Parkes.
Lastly, I'd like to thank all of our parishioners on behalf of the Outreach Committee for making our first Socktober drive a very successful one. In planning, we set a goal that we felt would not only be achievable, but one that directly reflected the homeless that we intended to serve within our community. The annual average population of those considered homeless in Hillsborough County is 1,600, so we set that number as the goal. That simple message must have created a spark, because we pushed well past goal by the end of the drive. A conservative count, not including any last minute donations, saw parishioners donate 4,325 pairs of socks. Many of you will remember that the Behavioral Resource Unit of the Hillsborough County Sheriff's Office, who directly interact with the homeless of our area, offered to match donations for the last two weekends of October. That match will result in an additional 2,529 pairs of socks, bringing our drive's total to 6,854 pairs. Collected socks are already in the hands of our partners at Tampa Hope, the St. Vincent de Paul Society, and our Hands of Hope ministry. When you are homeless, a simple thing such as clean, dry socks can make a difference. I've been a part of Socktober drives in several of my previous parishes, and it has always been very successful. Again, I thank all of you for your generosity, and look forward to holding this drive again in the future.
Peace and All Good,
Fr. Mike