Are you looking for ways to get involved at Sacred Heart this week? We have plenty of opportunities for you with our various ministries and events. See below for this week's highlights and consider joining us. You would be most welcome!
2018 Annual Pastoral Appeal – Update
Thank you to everyone who has responded and participated in the 2018 Annual Pastoral Appeal. Your gift is received with great humility, thanks, and gratitude by the thousands of people supported through your donation. If you have not yet responded, please know we want and need your participation! Every gift, every prayer, and every sacrifice brings hope to someone seeking the love and mercy of Christ. Be part of that blessing!  Give here.
Goal: $293,391
To Date: $271,212

---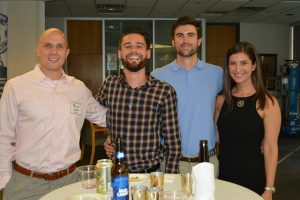 Sacred Heart Young Professionals – Upcoming Event
The Sacred Heart Young Professionals ministry consists of young professionals who share a common faith and enjoy meeting new people. Members participate in regularly scheduled events like monthly meet and greets, spiritual faith discussions, outdoor sports and recreational activities, volunteer and stewardship opportunities, and other various social gatherings.
The Sacred Heart Young Professionals will be meeting at Shuffle in Tampa Heights this Thursday, July 19th, at 5:30 p.m. If interested, please visit their Facebook page for more information and plan to meet them outside the main entrance.
---

Make it a Movie Night with Formed!
Inspire and enrich your family by watching these epic feature films about holy men and women who devoted their lives to following Christ. Discover the power of virtue, prayer, service, and resilience in the face of opposition. This epic feature film, Clare and Francis, portrays the lives of Saint Clare and Saint Francis of Assisi, the daughter of a patrician family and the son of a rich merchant, who leave everything to follow Jesus Christ. Click here to view "Clare and Francis." For additional resources visit FORMED via the Sacred Heart direct access here. This customized link will bypass the need for a special code and will only require your name and email.