Are you looking for ways to get involved at Sacred Heart this week? We have plenty of opportunities for you with our various ministries and events. See below for this week's highlights and consider joining us. You would be most welcome!
Open Doors Meets This Week
The Sacred Heart "Open Doors" ministry is an outreach and fellowship of LGBTQ people of faith, who explore their spirituality and share their experience, strength, and hope with one another. The group actively provides and promotes faith opportunities that build community for those who have experienced spiritual disconnection or rejection. The group seeks to affirm the intrinsic value and self-worth of all people and welcomes them into full participation in the faith community. All LGBTQ people are welcome, as are friends, family and anyone who might be interested in what it means to be a supportive Catholic for LGBTQ parishioners.
Their next meeting is this Tuesday, October 15th, at 7:00 pm, in the North Campus Library. For more information, please contact them via email.

---
Save the Date for Our Fall Festival!
October is here and that can only mean one thing — it's time for Sacred Heart's Fall Festival! Mark your calendars for Sunday, October 27th, for a fun-filled day at the North Campus! There will be a climbing wall, petting zoo, pony rides, and more. Hope to see you there!
Learn more and sign up to volunteer or bring a dish to share here.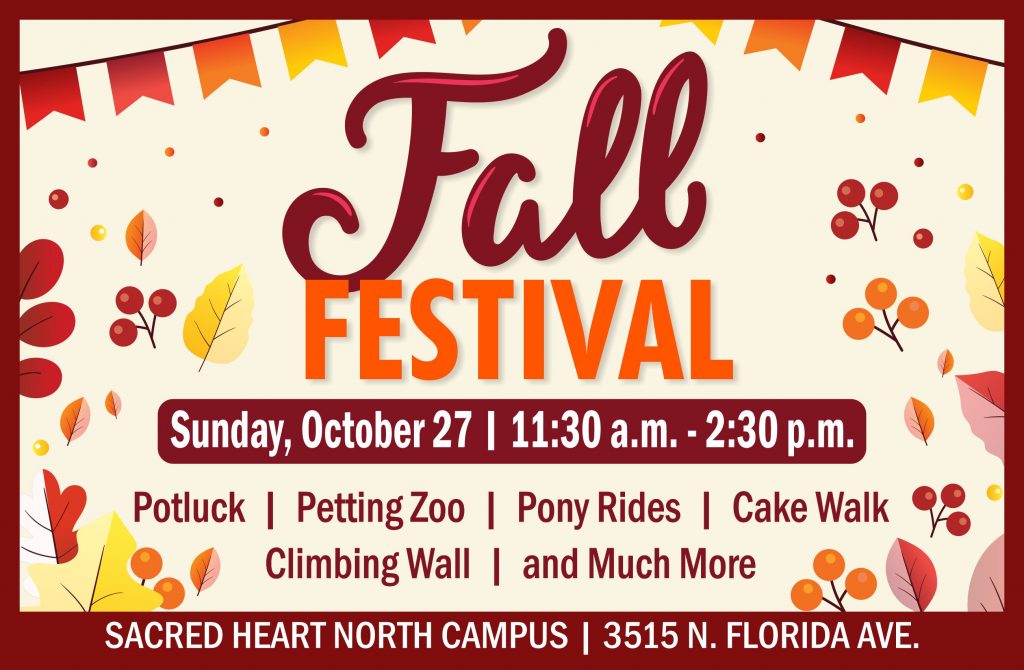 ---