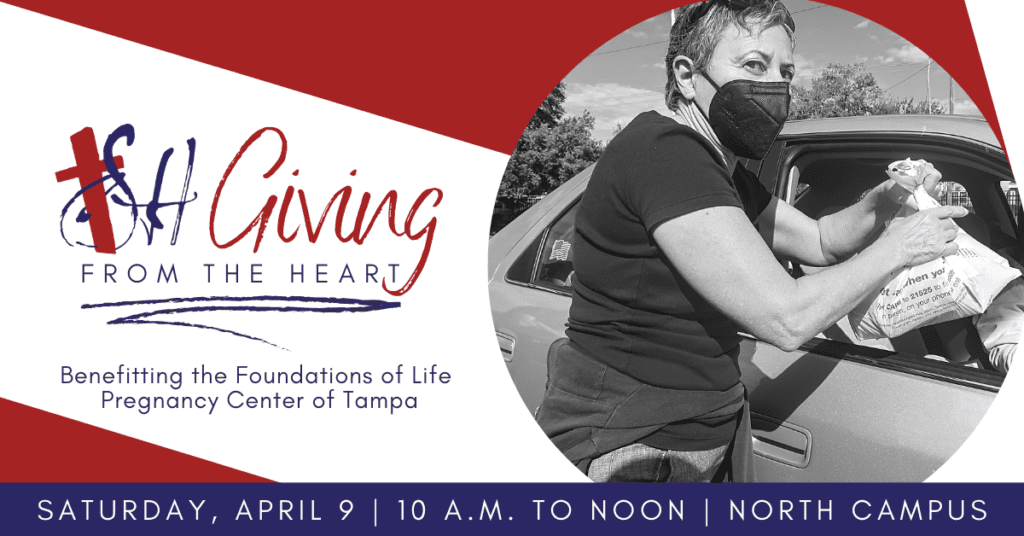 In our continued effort to meet the growing needs of the Tampa/ Hillsborough County community, Sacred Heart is holding its latest Giving from the Heart drive-through donation event on Saturday, April 9, at the North Campus from 10 a.m. to noon. The April event is an effort of both Sacred Heart's Council of Catholic Women, and the Knights of Columbus Council #12110, benefitting the Foundations of Life Pregnancy Center of Tampa.
Both the CCW and Knights have a rich history of providing for Foundations of Life, and the pair of organizations continue that relationship this year as part of our Giving from the Heart drive. The Foundations of Life Pregnancy Center of Tampa is one of four such centers operated by Catholic Charities around the Diocese of St. Petersburg, and offers support services to women who are facing unplanned pregnancy.
Needed items hoping to be collected during the drive include, but are not limited to:
Diapers – all sizes
Baby Wipes
Toiletries, such as shampoos, baby wash, baby powder, diaper rash cream, lotion
Bottles and Pacifiers
Outfits or onesies, sized 6-12 months
Baby blankets
Financial donations (make checks payable to Sacred Heart)
Foundations of Life is focused not only on helping expecting mothers with unplanned pregnancies choose life for their child, but to also develop a balanced life for the parents and their child. Nearly all Foundations of Life's clients fulfill more than 50% of their priorities for pregnancy and early parenthood, including healthy delivery, development of parental skills and financial literacy, furthering educational or career ambitions, and spiritual growth. The center also serves as a resource for women considering abortion, and holds an open-door policy for those seeking assistance, regardless of age, race, or religion, with 96% of clients choosing life for their unborn child.
To volunteer for the drive, contact the CCW at shccwtampa@gmail.com, or Michael Cabrera with the Knights of Columbus at rskinsr1@gmail.com. We thank you in advance for your generosity and support for our community members in need.