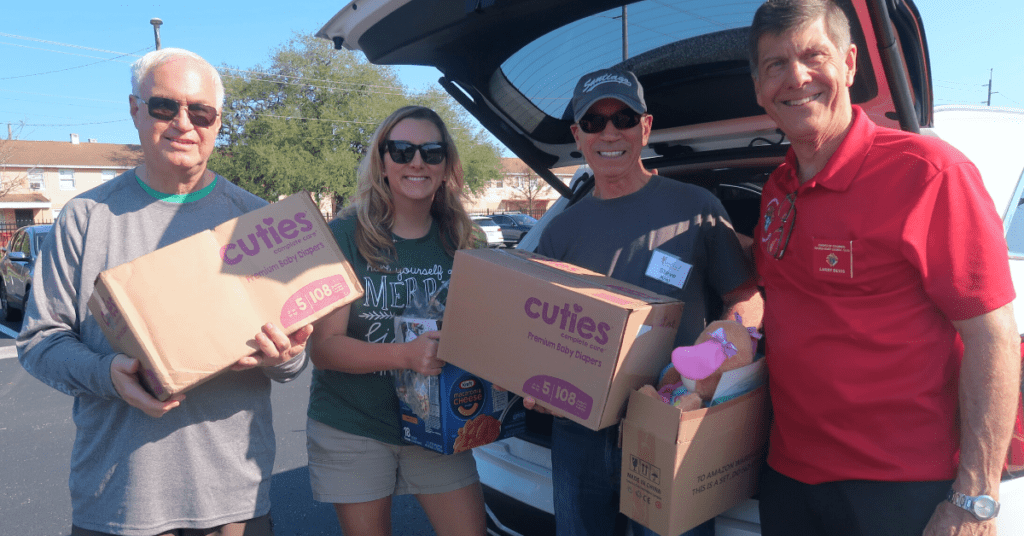 Sacred Heart held its latest Giving from the Heart drive-through donation event at the North Campus last weekend, benefitting the hurricane recovery efforts of our neighbors at St. Michael Catholic Parish of Wauchula.
The city of Wauchula, especially those living near the Peace River, experienced\ record flooding after Hurricane Ian dumped nearly 20" of rain over portions of Hardee County. In a recent Gulf Coast Catholic article, Sr. Gema Ruiz, the director of religious education at St. Michael's, shared the story of a family who lost their home to the flooding.
"My family of seven packed up a few items and headed to the shelter at the nearby junior high school. It was a long night as the storm passed over Wauchula. But we were safe. Then the next day, once the roads became passible, we went back home to look for any damage. We were shocked and dismayed to find our house partially underwater. We didn't foresee that we would be dealing with flooding," Sr. Gema recounted, on behalf of a parishioner who wanted to remain anonymous. "Our family tried to salvage some clothing items, then we returned to the shelter. The next day, we went home to find the house now completely underwater."
Several parishioners of St. Michael's have lost their homes and jobs in the wake of the floods, due to water damage and crops being destroyed. St. Michael's is a multicultural congregation celebrating liturgies in English, Spanish, and Creole, with over 1,000 registered families. The parish helps operate a food bank, thrift store, and outreach center, and has continued to do so following the hurricane to ensure parishioners and locals have
basic necessities.
Sacred Heart is pleased to announce a record number of donors turned out for this all -important event, which collected home essentials such as bedding and kitchen supplies, non-perishables, and gift cards for the affected families. 75 vehicles drove through our North Campus parking lot, providing more than $4,000 in gift cards in addition to the needed items, which filled both a 15-foot trailer and transit van to their capacity.
Additional donations were dropped off at the parish office before and after the event. We would like to thank all of those who gave of their time and treasure in support of the families at St. Michael's, including the Knights of Columbus Council #12110, who volunteered both the proceeds from their recent "Bourbon and Cigar Knight" event, as well as their time volunteering with the event. Special thanks also for members of our Loving Hearts ministry and the Outreach Committee, both for volunteering at the event, as well as for their assistance in organizing the event. Most importantly, we thank you, our parishioners, for your continued generosity and devotion to those in need by answering this call.
Our next Giving from the Heart event is scheduled for February. Please see future bulletins and parish communications for details on beneficiaries and needed items. Enjoy a gallery of photos from the December event below: