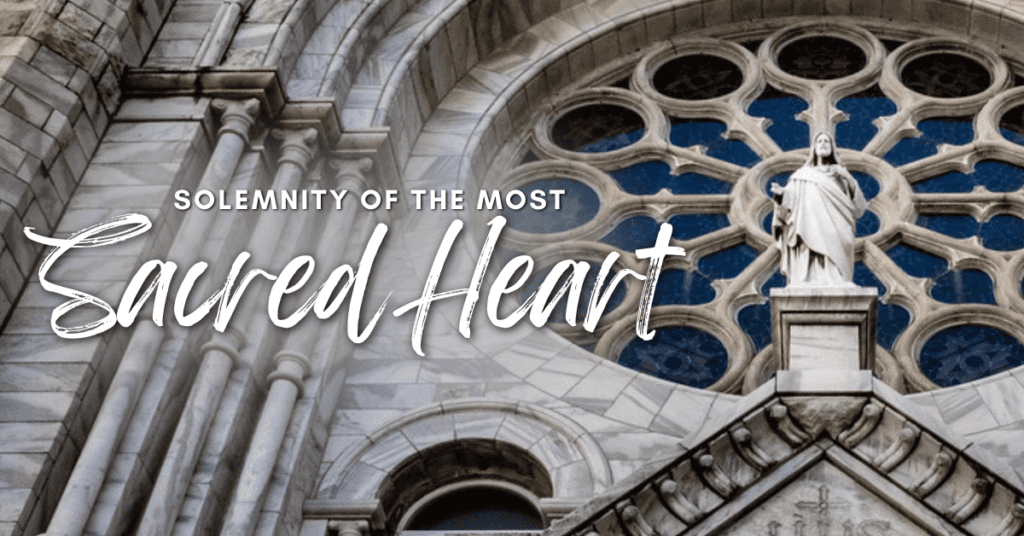 Join us on Friday, June 16 at 6:30 p.m. in the church for a special evening celebrating the Solemnity of the Most Sacred Heart of Jesus, to which our parish is dedicated and consecrated.
The Sacred Heart of Jesus is a devotional with long and historic provenance within Christianity, and in modern times has been established as a Solemnity for the universal Church. The Solemnity of the Most Sacred Heart of Jesus is a celebration that falls 19 days after Pentecost, on a Friday. In 1856, Pope Pius IX established the Feast of the Sacred Heart as obligatory for the whole Church, to be celebrated on the Friday after Corpus Christi, but the devotion, which focuses our hearts on receiving and returning Jesus' love with gratitude, are much older.
While some elements of the devotion's origins emanate as far back as the fathers of the Church, many point to the apparitions experienced by St. Margaret Mary Alacoque, a Visitation nun in France, in the 1670's. Through these visions, Jesus told her how He wished to be honored with the symbol of His heart, asking for the faithful to make amends for any wrongdoing they had done, frequently take Communion, and observe the Holy Hour. A scene depicting one of these apparitions is present in the central window of our church's apse, directly above the altar.
We will follow our regular daily Mass schedule, with the addition of music at our 12:10 p.m. Mass. Beginning at 6:30 p.m., docents from our Historical Society will provide a short program describing the 1905 dedication of our church, and the renaming of the parish from St. Louis Parish to Sacred Heart, followed by a guided prayer service. All those in attendance in are invited to a reception in St. Francis Hall featuring light refreshments following the prayer service. For more on this Solemnity, and our church's devotion, click here.