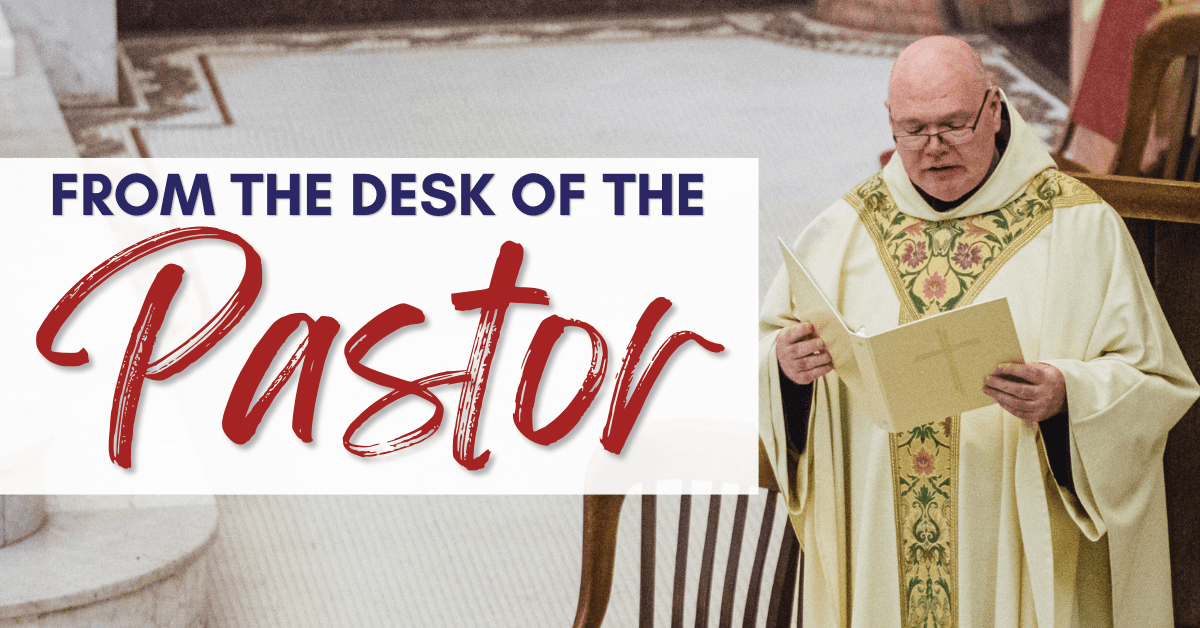 Dear Parishioners,
As we enter the summer months, and reenter Ordinary Time, you would think the friars and staff would be collectively exhaling, following back-to-back liturgical seasons, the parish gala, and many recent outreach initiatives. While that may be true, and I do hope many of us, yourselves included, find some peace following a busy period in our year, we are also presented the opportunity to address planning, staffing, and long-range projects during this time, and I wish to update you on a few of these fronts.
I'll start by mentioning that Angela Erb, our parish event coordinator, announced last month that she would be stepping down from her position in order to pursue other career opportunities. Angela has been a parishioner of Sacred Heart since childhood, and assures us that she "isn't going anywhere," offering to assist not only with the transition of the role, but also as a volunteer for events and more in the coming years. While there is no immediate timetable for this transition, we have begun a search for the position, with the new Event, Hospitality & Outreach Manager responsible for implementing, organizing, or assisting with the various experiences, meetings, outreach, and events conducted at Sacred Heart. This role will become a full-time position. We thank Angela for all of her hard work and dedication to the parish. The Fall Festival and Gala are just two of the very successful events that Angela organized.
A few weeks ago, the parish advisory board met to continue providing valuable input into the vision and mission of our parish, while also reviewing the results from the recent parish survey. The advisory board works alongside the finance, maintenance, and outreach committees to provide leadership for our parish. The board is comprised of eleven parishioners, including the chairs of the aforementioned committees, and the friars. Each of the current board members are parishioners who all who serve in one or more ministries. The board will meet again in June to establish a clear set of short and long-range plans for the parish following the recent years of transition. One of those goals will be with the North Campus, and how we can best reorganize previously arranged plans for development.

Our maintenance committee has also been busy with various projects. While I wish I had better news, we are still waiting for the restoration company to finish with the punch list for the first set of doors at the southern front entrance. It has also been difficult to find a company that will assist us in resetting the stained glass above that entrance. The maintenance committee is garnering additional quotes regarding the restoration of the remaining sets of doors. You can see especially the Twiggs St. (handicap) and central sets of doors are in desperate need of repairs. The first set of doors have ended up costing twice as much as originally anticipated. Additional upcoming maintenance will include a cleaning of the church exterior, and addressing several minor leaks. We will also be adding additional closet space in the sacristy.
The maintenance committee has been looking at other long-term projects at the North Campus as well. We are moving forward with a replacement of the roof on the main school building. A contractor has already been procured, with agreements now being finalized. After receiving several estimates regarding the renovation to the kitchen, the committee has established a sub-committee to work specifically on this endeavor.
New volunteer opportunities are also being developed this summer, through our Loving Heart's Ministry and their Adopt-A-School program. The ministry is looking to provide mentors and tutors to students at St. Joseph School in West Tampa and St. Peter Claver School here in Downtown. It would require a background check, safe environment training, and a few hours of your time each week, but that pales to the impact your time can have on these student's lives. If you would like to learn more about this opportunity please contact Loving Hearts via the information in their advertisement in this week's bulletin.

Also on the ministry front, there is a new ministry in development, committed to repairing and restoring used bicycles so that they may be given to those in need. The new Bikes from the Heart ministry debuted at our Homeless Outreach event last month, assisting several clients with on-site repairs, and developing a list of those applying to be given the refurbished bicycles. Last week, I was able to accompany the ministry as they made their first delivery of eight bicycles to the Tampa Hope homeless shelter. We know transportation might mean the difference between landing a job or not being able to work. If you have an old or disused bike, or additional parts that are sitting around, please get in touch with our new ministry, as Bikes from the Heart will certainly put them to good use. You can learn more about Bikes from the Heart here.
Peace and All Good,
Fr. Mike