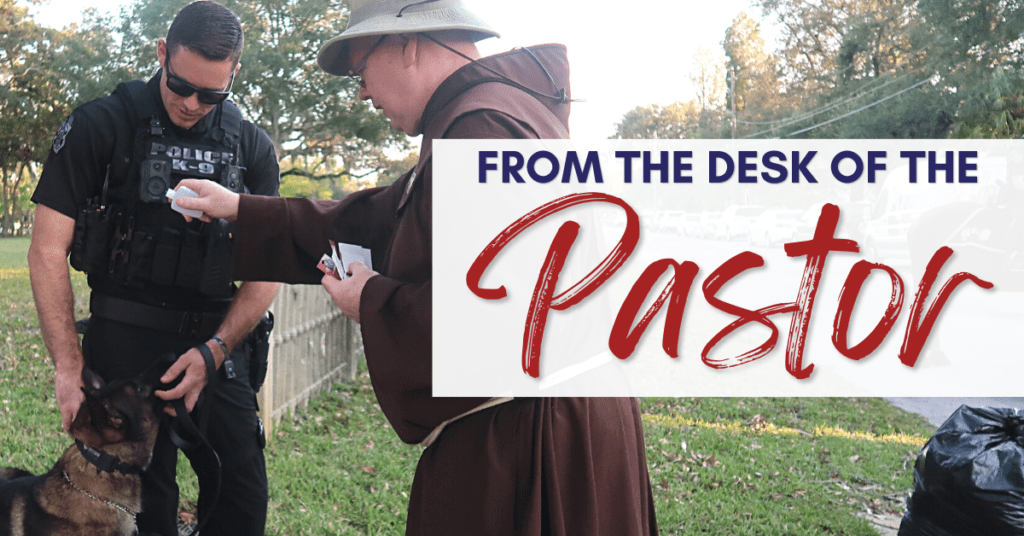 Dear Parishioners,
This week we begin our celebration of St. Francis of Assisi, the founder of the Franciscan Order. On Tuesday, October 3, we will celebrate the Transitus of Our Holy Father Francis, a prayer service which remembers the passing of St. Francis, followed by a reception in St. Francis Hall. All are welcome!
Before his death, Francis asked that a letter be sent to Rome to his friend and benefactor, Lady Jacoba of Settesoli, to inform her that his death was approaching. The two had met when he had been preaching in Rome, where Francis would stay with her and her family. Lady Jacoba would later join the Third Order of the Franciscans, or Seculars as they are now called. The stories say she would often bring Francis food that he enjoyed. One such treat was an almond cookie. Many friar communities bake almond pastries as part of their Transitus and Feast Day celebrations. Ten years ago today, the staff at St. Anthony's Shrine in Boston shared this recipe:
St. Francis' Almond Cookies
1 ¾ cups whole almonds
1 cup sugar
2 tablespoons flour
1 teaspoon salt
4 large egg whites
1 teaspoon almond extract
¼ cup sliced almonds
Toast almonds in 300° oven for five (5) minutes, then cool. Place almonds in food processor with sugar, flour, and salt. Process until finely ground. Add and process egg whites and extract. Drop by teaspoonfuls on parchment covered baking sheet 1" apart. Sprinkle with sliced almonds.  Bake at 300° for 25 minutes. Yields four (4) dozen.
---
This Wednesday, October 4, we will celebrate the Solemnity of St. Francis of Assisi at the 7 a.m. and 12:10 p.m. Masses with musical accompaniment at the 12:10 Mass. With Sacred Heart being a Franciscan parish, this feast day is elevated to a Solemnity. Finally, this Friday, October 6, we will be joining the Franciscan Center for the Blessing of the Animals. Details for each of these liturgies and events are in this weekend's bulletin, and online at shfla.org/francis2023.
---
I think the best way to truly celebrate St. Francis is by imitating his example of taking care of the poor. Our parish will have several opportunities to embody that example throughout the month of October, as we feature two drives dedicated to those efforts. The parish will participate in Socktober,  where we will collect new socks all month long to be given to the homeless through three of our partner ministries. Drop boxes will be present in the back of the church, as well as the Gift and Book Store. We will also host our next Giving from the Heart drive on Saturday, October 14, at the North Campus, collecting items for Hands of Hope and the Society of St. Vincent de Paul. Again, details for each of these specific initiatives are available in this bulletin.
---
Last Friday, we were notified that the Catholic Foundation of the Diocese of St. Petersburg awarded a Fall 2023 Community Impact Grant to one of our newest ministries, Bikes from the Heart. Our application successfully demonstrated that Bikes from the Heart meets their mission to courageously live the Gospel by serving Christ by serving others. Learn more about the ministry at shfla.org/bikes. Congratulations to the group on this award!
All of these good works help us to follow the example of St. Francis. St. Francis lived his life following in the footprints of Jesus. His Rule of life was the Gospel. He recognized God in all things and people. St. Francis continues to inspire many to follow his example. For those men entering the Franciscan Order:
The Rule and life of the Friars Minor is this,
namely, to observe the holy Gospel
of our Lord Jesus Christ
by living in-obedience, without property and in chastity.
May our brother who promised to observe all this
be filled in heaven with the blessing of the most high Father.
Amen.
Peace and All Good,
Fr. Mike